Wesley Snipes, Tiffany Haddish And More Take A Comedic Crack At The World Of Male Strippers With 'Back On The Strip'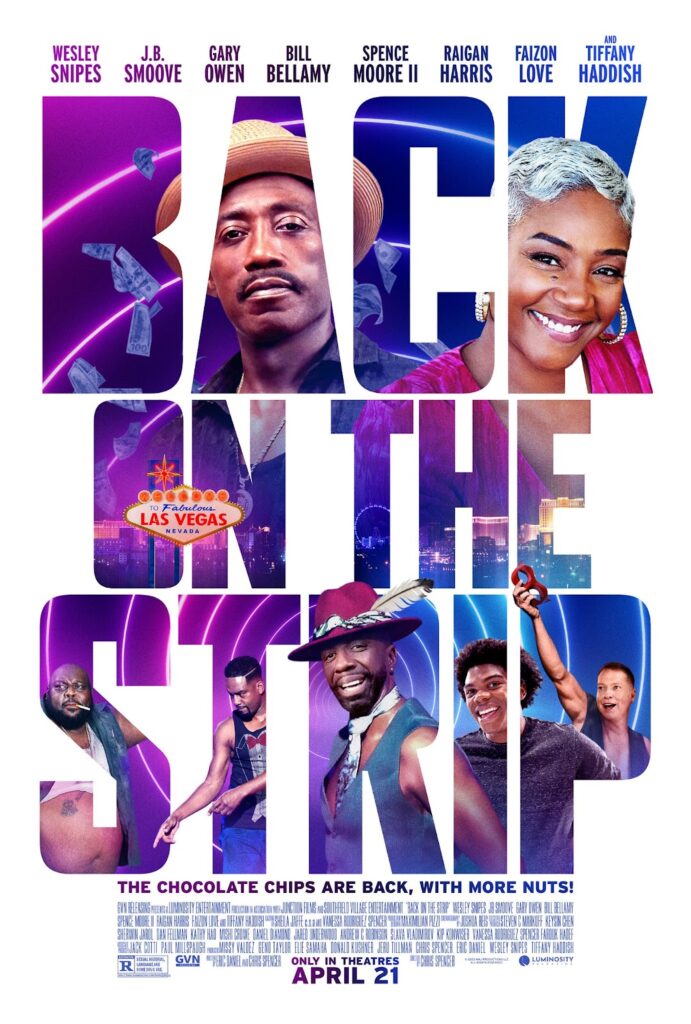 Move over Magic Mike! Make room for the Chocolate Chips… the all-Black male stripper crew at the center of the new film Back On The Strip.
Back on the Strip stars Spence Moore II as Merlin – who, since childhood, has dreamed of becoming a great Las Vegas magician. The only greater love he had was for his best friend and magic assistant, Robin. As long as he had magic and Robin, there was no trick he could not do.
Ten years later, Merlin's big dreams have come to a halt. Instead of performing magic tricks in a big arena, he is making balloon animals for bratty five-year-olds as a party clown.
Unsatisfied with life, Merlin decides to go after the only thing he has ever truly loved – Robin. To Merlin's dismay, he quickly learns Robin is engaged to social media star Blaze. Although Blaze is a clear unfit match for Robin, Merlin is finally pushed to go to Vegas to pursue magic by his unfiltered, but loving mother, Verna.
When his magician audition goes left, Merlin ends up getting hired as the frontman in a revival of the notorious Black male stripper crew, The Chocolate Chips. Led by Luther – now broke and broken – together they go on a quest to reunite the troupe. As suspected, former Chips: Des 'Da Body', Tyriq 'Da Face', Amos 'Slim Sexy' and Xander 'Dr. X' have all moved on with their lives. Nonetheless, the men remain nostalgic for the past, while being unfulfilled in the present. Once the men finally agree to reassemble, old conflicts arise as they attempt to don the thongs again. However, soon they regain their rhythm and teach Merlin what it means to be a Chip and fight for true love.
Check out the trailer below:
This is quite the ensemble cast right? Tiffany Haddish, Kevin Hart, Wesley Snipes, Gary Owen, J.B. Smoove, Faizon Love, Spence Moore, Bill Bellamy, Raigan Harris and Colleen Camp.
AND Back on the Strip was directed and co-written by none other than Chris Spencer himself!
Are y'all tuning in to this one?
Back on the Strip will be in theaters 04/21/23!