Halle Bailey & Yara Shahidi Headline Our List Of Barbies Inspired By Famous Black Women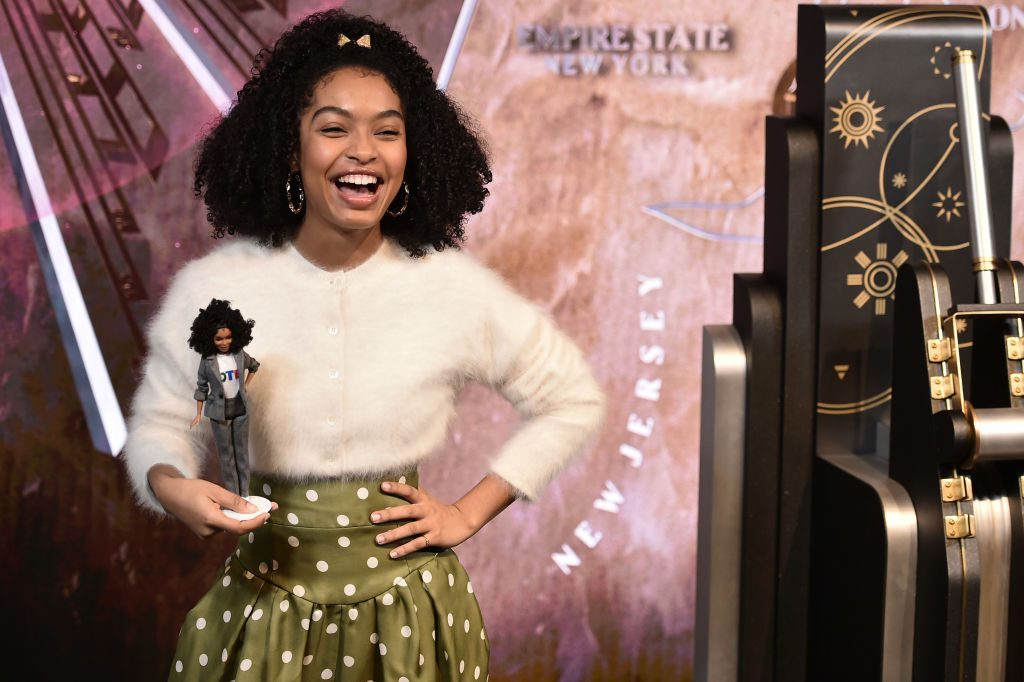 Young stars Halle Bailey and Yara Shahidi showcase the Barbie dolls inspired by their latest Disney characters on social media. Since it's Women's History Month and Black History Year never ends around these parts, we wanted to honor all of the Black women celebrities who have Barbies inspired by their likeness or portrayal through the arts. Check out a gallery of Barbies inspired by beautiful Black women celebrities inside.
Bailey shared her reaction to having her own Princess Ariel Barbie on her personal social media accounts. The actress and singer says, "The little girl in me is pinching herself right now." She describes the doll's mermaid tale and red hair as she chokes up a bit with enthusiastic emotion.
Meanwhile, Shahidi is celebrating her second doll. This time, she relishes in the splendor that is Tinker Bell inspired by her character in Disney's upcoming film Peter Pan and Wendy. The "grown-ish" star captions her beautiful photo with the doll saying, "Can you believe it…My very own wings, covered in pixie dust🧚🏽."
These two make history as the first Black women to portray two of Disney's most iconic characters, Ariel from The Little Mermaid and Tinker Bell in Peter Pan. While their accomplishments are impressive, there were a few women who came before them to appear in Barbie's long history of doll-making.
Famous Black women like Diana Ross, Brandy, 90s girl group Destiny's Child, Naomi Osaka and Civil Rights leader Rosa Parks all have dolls made in their likeness. The list includes beloved actors, musicians and global impact leaders.
Check out a round-up of our favorite Black women celebrities with Barbie dolls made in their likeness below:
1. Halle Bailey

Source:Halle Bailey
Bailey is filled with glee to witness history in the making. The star now has her own Barbie doll inspired by her character Ariel from The Little Mermaid.
Her caption reads: "omg 🥹💗the little girl in me is pinching herself right now ..i have my own Little Mermaid Ariel doll !!! I can't believe how much she captures my version of this iconic character 🥹💕brb gonna go cry now …"
We love to see it.
2. Yara Shahidi

Source:ToBeMelanated
This isn't Shahidi's first doll rodeo. In fact, the "grown-ish" actress was left in awe when she discovered she would be honored with her own Barbie doll in part of the "Shero" collection. 
"It's really surreal just because this was never within my realm of possibility. I never thought, 'Oh yeah, one day I'll have my own doll' or anything like that," she told Mashable.
Now, Shahidi returns with her "very own wings, covered in pixie dust🧚🏽‍♂️." Go girl! 
3. Naomi Osaka

Source:MeWeFree_
Naomi Osaka's Barbie doll sold out in minutes. Like Shahidi, she has two dolls that have gone on to inspire a new generation of young women and future leaders. 
The tennis star is also part of the commemorative "Shero" collection. Born to a Haitian father and Japanese mother, Osaka when she became the first Japanese player to win a Grand Slam singles tournament after defeating Serena Williams in the US Open finals. 
Osaka is more than deserving to be featured amongst other notable celebrities. 
4. Rosa Parks

Source:AvengeTheVixen
Legendary civil rights activist Rosa Parks was honored with a doll to commemorate Women's Equality Day. Known as the "first lady of civil rights," Parks refused to give up her bus seat to a white passenger in Alabama in 1955.
Parks' Barbie doll has a stark resemblance and had fans wondering if the bus came as an accessory. It's about damn time is all we have to say.
5. Adwoa Aboah

Source:evilrashida
The British-Ghanaian model was part of Barbie's "Shero" collection that was released to mark their 60th anniversary and International Women's Day in 2019.
According to Vogue, one of the reasons behind Aboah's selection is her Gurls Talk online community which she founded in 2015. The community talks about issues pertaining to mental health, education, and relationships.
"I'm passionate about encouraging girls to be anything they want to be, and I'm honored to be a Barbie Shero," she said.
The doll is such an accurate depiction of Aboah's natural beauty from the detailed freckles to fashion forward fits. We love! 
6. Lerato "Lira" Molapo

Source:Lerato "Lira" Molapo
The South African singer made history when she became the first African woman to be honored with a Barbie doll in part of the "Shero" collection.
"I'm deeply honored to be Barbie's first African role model and am excited to align with brand that is on a mission to show girls more diverse role models," she shared on her Instagram. "I have always been someone who endeavors the celebration of my skin tone and natural hair, and it is amazing to see this reflected in my doll which I hope will inspire girls across the African continent."
Yasss Lira! 
7. Brandy

Source:itstoogood_
We all remember the iconic Brandy doll with micro braids and a powerful feathered orange collar. She is everything and the it girl of the '90s so it made sense for her to secure her very own Barbie. 
Did you have a Brandy doll growing up?
8. Destiny's Child

Source:mefeater
An iconic girl group deserves an iconic doll set. Destiny's Child had their own set of Barbie's inspired by the dynamic trio: Beyoncé, Kelly Rowland and Michelle Williams. Name a better trio… we'll wait. 
And, Happy Belated National Barbie Day! 
9. Zendaya

Source:shaylajeanb
How THE doll not have her own Barbie? Zendaya slays and there's a doll to match. We love to see her faux locs included in the look of the Barbie created in her likeness. 
Go off! 
10. Diana Ross

Source:iamkennieg
Diana DPWH Ross! This doll is absolutely stunning to match the beauty that is Ms. Ross, honey! We're obsessed with this one and the gorgeous gown is everything. 
11. Ava DuVernay

Source:avaduvernayfans
Another easy sell is having notable director and producer Ava DuVernay on your lineup of wondrous Barbies. Her Barbie sold out in less than twenty minutes, and stands as one of the more diverse dolls to date. When have you ever seen Barbie in the director's seat? 
Iconic.
12. Nicki Minaj

Source:This_PettyPapii
The Barbs had a field day with this one! Nicki Minaj's doll sported her pink tresses and a "barbie" chain that was fit for a pop icon. Say what you want about Nicki but how could Barbie not support the Barbs? 
Legendary collaboration.