Fan Reactions: Abbott Elementary's Fun Festival Is Organized To Combat Charter School Change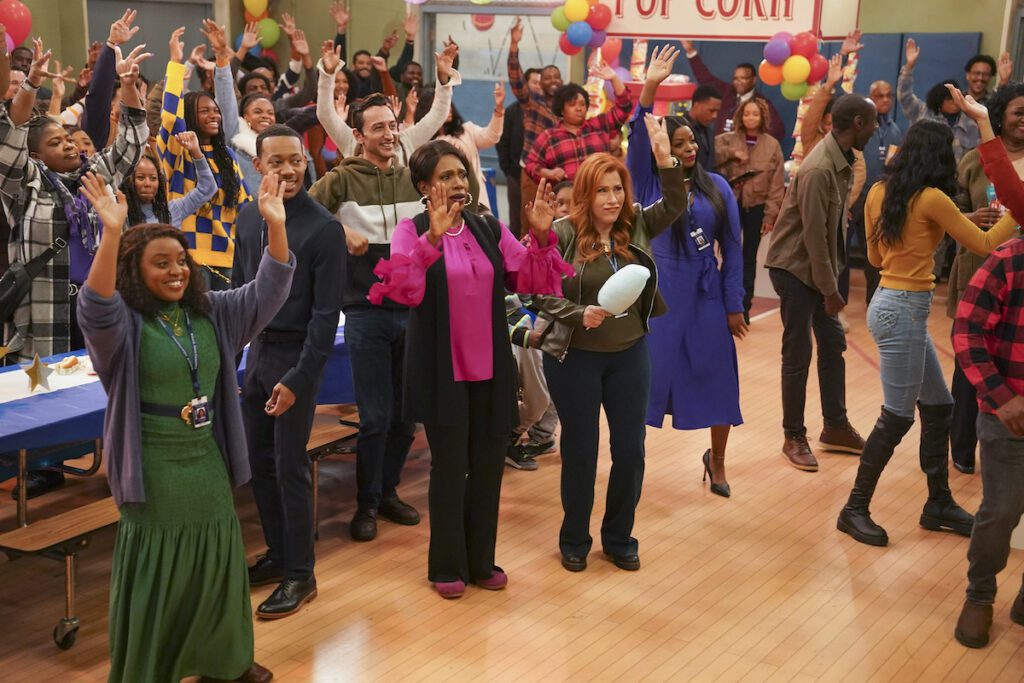 "Abbott Elementary" hosts a "fun festival" to garner support toward the fight against its potential transition to a charter school. Principal Ava pitches the idea to help collect more signatures for the petition, and the entire staff bans together to pull off this special community event. Check out our season two, episode 19 recap and fan reactions inside.
Episode 19 is simply titled "Festival," showcasing how the faculty works together to fight the impending threat from Legendary Charter Schools against Abbott. As they put together a huge community event decked out with cotton candy, dry and wet macaroni (don't ask), a dunk tank and an advertised performance from Philly-born singer Jazmine Sullivan, they were met with former Abbott student and Legendary Charter Schools founder Draemond who shows up to derail their plans.
It's an entertaining episode from the start when they reveal the seriousness of the potential charter transition for the school. During the teaser opening, Barbara compares the school's new name to a Lee Daniels production, which leads Jacob to ask Siri who the TV and film producer is. Before they tried it Ava's way, the staff tried to canvas for signatures themselves with little to no luck. Ava regurgitated the idea from Janine, but of course added her own spin to market the festival as A.V.A. (A Very Abbott) Festival. And of course, Principal Coleman somehow makes it about her.
The teachers began utilizing their unique skills to offer assistance to the planning and execution. Barbara prepared a motivational speech, Jacob prepped for the dunk tank with swim goggles and trunks, Janine assists the step and dance team with moves for their Ice Spice music filled performance and Mr. Johnson polishes his cleaning tools.
Though they prepared as best as they could, parents were displeased to discover Sullivan would not be pulling up to perform. Naturally, Principal Ava lied. So, thinking ahead, Gregory invites Tariq to give an all-star performance for the fun festival attendees. Draemond attempted to interrupt the festivities with his own motivations of persuading parents to support the charter school change, but they saw through his ego-driven intentions. So much so, one student yelled, "Get outta here with that nut a** suit."
The bigger conversation Abbott covered in the latest episode is how problematic the privatization of public schools can be on the American school system. While it may sound like glamorous, it's proven to be dangerous for students who are often thrown to another overcrowded local public school once the shift happens.
Ten out of ten. We highly recommend watching this episode for some entertainment and enlightenment.
Check out our favorite fan reactions below:
1. New Abbott

Source:zackfox
2. Quinta Is All of Us

Source:quintabrunson
3. Not Jacob Getting Buck

Source:protagoniste221
4. A Mood Forever

Source:cat0233
5. We Love Tariq

Source:sxarlights
6. Just Kiss (Again) Already

Source:sxarlights
7. Zack Fox Is A Star

Source:protagoniste221
8. A Solid Friend

Source:AroundTheWayMM
10. So Awkward CTFU

Source:sxarlights
11. Ava's A.V.A. Idea

Source:AbbottElemABC
12. More Great Guest Stars

Source:AbbottElemABC
13. And Probably Still Confused

Source:shersters
14. Nut A** Suit!

Source:MsIngridA
15. She's Silly

Source:protagoniste221
16. Tariq Has Matured?

Source:protagoniste221
17. Protect Tariq

Source:protagoniste221
18. Consistency

Source:ungodlywests
19. Mr. Johnson As The Sandman

Source:ErinSavage3722
20. Jacob & Morton's Beef

Source:ashlynlaughs