Drive The Boat: Celebrating Megan Thee Stallion's 28th Birthday With Our Favorite Photos Of Her Being A Hot Girl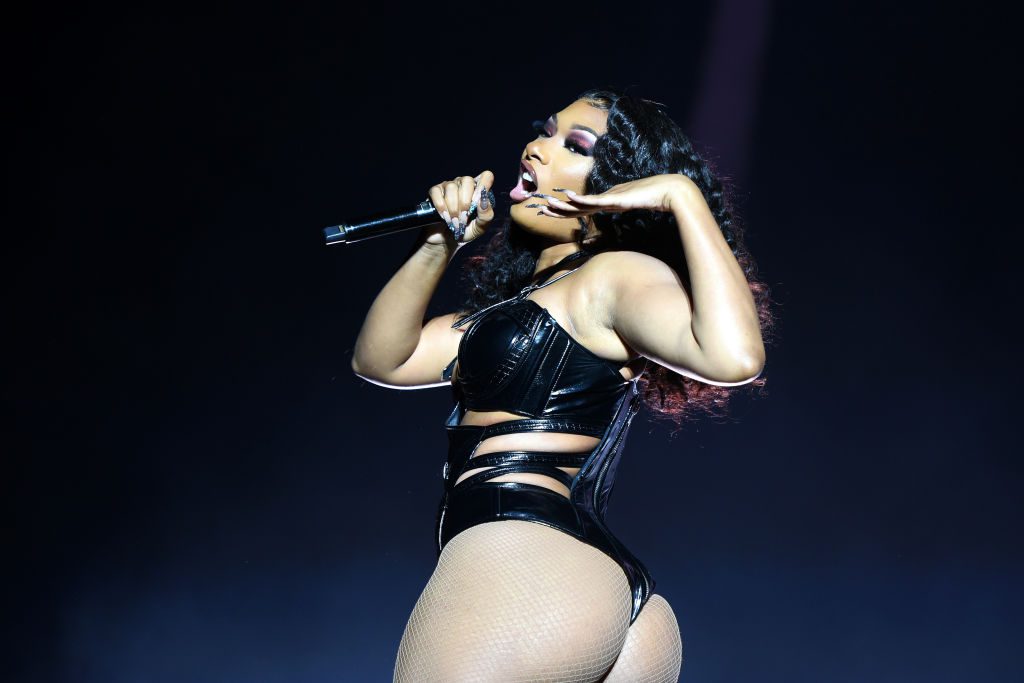 Megan Thee Stallion, one of the most talented women in the music industry, turns 28 today! To celebrate her, we put together a gallery of her doing what she does best…being a hot girl! Click inside to check it out.
Megan Pete was born in San Antonio, Texas. Immediately after her birth, her and her mother relocated to Houston. As a child, Megan's mother would bring her to recording sessions with her instead of putting her in daycare. These experiences obviously stuck with her considering that Megan started writing raps at 14. While attending Prairie View A&M University, Megan started to get a buzz after uploading videos of her freestyling on social media. Her large digital presence and social media following boosted her early Soundcloud mixtapes (and YouTube videos) enough that she was eventually signed to 1501 Certified Entertainment.
Tina Snow was released in June of 2018. Later that year, Megan signed to 300 Entertainment, becoming the first female rapper to be signed by the label. In 2019, she charted on the Billboard Hot 100 for the first time, released her second mixtape, Fever, and was named to the XXL Freshman Class. She would become an even bigger star the following year. She released the mixtape Suga, which featured the song 'Savage' in March. Beyoncé hopped on the remix and it ended up becoming Megan's first chart-topper in the country. A few short months later, she got her second one when she was featured on Cardi B's 'WAP.' Since then, the three-time Grammy Award winner has released two albums (Good News and Traumazine) countless features and more quotable than we can count. She has become one of the leading voices in female rap and continues to show that women are just as good (if not better than) as the men doing it.
She's not just a powerhouse when it comes to music. Megan makes it a priority to give back to her community. She has donated  an abundance of money to help bring Houston a food bank, a nursing facility and a host of scholarships among many other things. The Mayor of Houston honored Megan for her philanthropic and humanitarian efforts by proclaiming May 2nd 'Megan Thee Stallion Day.' Although she's a rap star, she didn't let that stop her from graduating from college. She resumed her studies and graduated from Prairie View A&M University with a Bachelor of Science in health administration. Tina Snow always has her hands in other ventures also. She is a Global Brand Ambassador for Revlon, has a promotional campaign with Nike and has dabbled in acting including appearing on Good Girls, P-Valley and She Hulk: Attorney At Law. 
Everything that Megan Thee Stallion does, she does it with unapologetic confidence and beauty. That's why the world loves her. That's why we celebrate her. Check out a gallery of her showing off both attributes. HAPPY 28TH BIRTHDAY MEGAN!!!
1. The Hate Don't Work

Source:theestallion
2. Hot Girl Flows

Source:theestallion
3. Peace Signs

Source:theestallion
4. BODY

Source:theestallion
5. HER

Source:theestallion
6. BLACK EXCELLENCE

Source:theestallion
7. POSE

Source:theestallion
8. Revlon Hottie

Source:theestallion
9. Sailor Megan

Source:theestallion
10. Cut Different

Source:theestallion
11. ALL NATURAL

Source:theestallion
12. Introducing The MCU To Twerking

Source:theestallion
13. FACECARD

Source:theestallion
14. 1st Place

Source:theestallion
15. BADDIE IN BRAZIL

Source:theestallion
16. iHeartMeg

Source:theestallion
17. SAVAGE

Source:theestallion
18. Red Head

Source:theestallion
19. SNL Hottie

Source:theestallion
20. Pretty In Pink

Source:theestallion
21. Larger Than Life

Source:theestallion
22. Tina Snow
23. THEE STALLION

Source:theestallion