Amber Rose Keeps It Candid About Her OnlyFans With Her 9-Year-Old Son Bash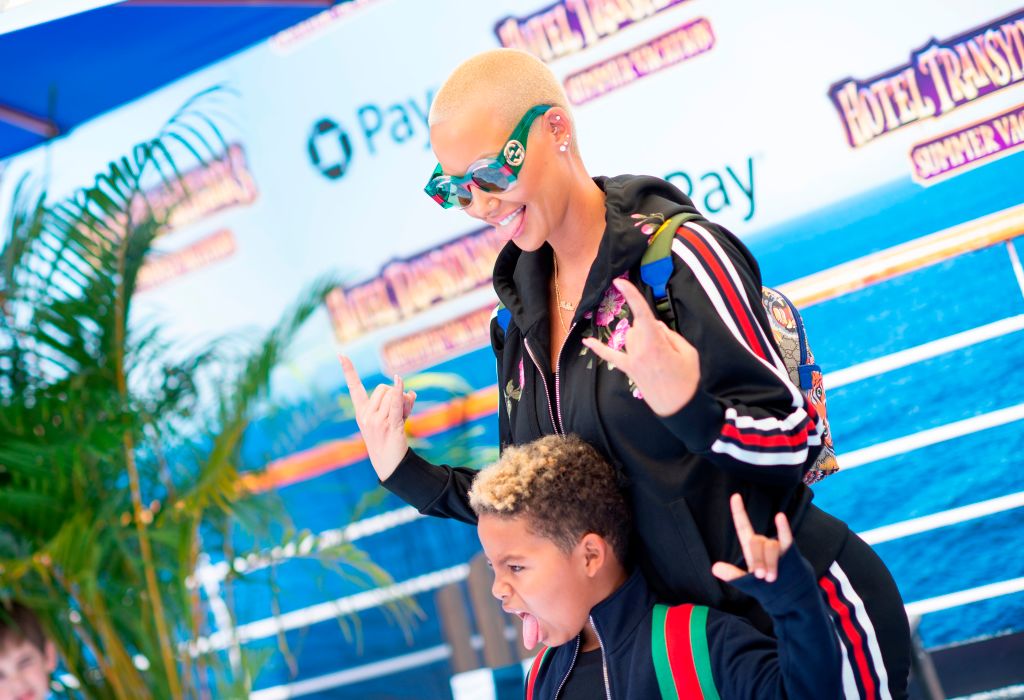 Amber Rose keeps it honest with her 9-year-old son Sebastian about her OnlyFans account. The model and personality discussed her approach to motherhood with model Emily Ratajkowski on her "High Low with EmRata" podcast. Read more and listen to the interview inside.
On Tuesday (Feb. 7), Rose was a guest on Ratajkowski's latest "High Low with EmRata" podcast. The model pair talked about misogyny, classism and the inspiring work Roses' annual "Slut Walk" event continues to do. Rose also shared her experience as a mom, explaining how she handles speaking with her son Sebastian asking about her line of work. Sebastian is Rose's adolsecent son with her ex-husband, Wiz Khalifa.
Rose said that her son, affectionately referred to as "Bash," said that "someone told him that your mom is on OnlyFans." The 39-year-old model confirmed her line of work, sharing, "It was the pandemic, I had to work."
She keeps it candid with young Bash about her work, and she recognizes that everyone doesn't raise their children the way her and Wiz have with him.
 "I had a whole conversation with him about it," she continued in the conversation. "I said that whoever told him that, their parents are ignorant because, obviously, he got it from his parents."
Rose noted that kept their conversation completely transparent, making sure Sebastian understood this was how she made a living.
"When it comes to women, you have to let women do what they need to do to support their families," Rose told him. She also made it clear that without her work on OnlyFans, Bash wouldn't be attending private school, going on vacations and visiting his favorite places like Six Flags.
Rose noticed that these conversations were sticking with her impressionable son. During the show, the mommy of two revealed that during a ride home, one of Bash's school friends said he "wouldn't want a girl that has an OnlyFans."
Rose was proud of Sebastian's response, recalling his words, "Bro, you can't say that. You have to let a woman do what she wants with her body. That's not cool. You can't do that."
She admitted that moment made her emotional saying, "A tear rolled down my cheek. I was like, 'That's my f**king baby.' I instilled that in him from birth."
Rose credits her son's progressive thinking to him being a "feminist from birth." She went on to share recollections of a much younger Bash discovering the woman's menstrual cycle.
"Anytime I use the bathroom [since] my son was 2, 3 years old, he'll be like, 'Mommy, do you need a tampon? Do you need a pad, Mommy? I'll go in a drawer and get it for you,'" she said on the show. "I've told him about everything."
Rose "desensitized" Bash to these things early on, like her OnlyFans account and her past life as a stripper, so his classmates weren't the ones breaking the news (nudes). Way to go Mama Rose! Bash is growing up to be an amazing young man, who respects women and honors his mother. How could you not love these two?
Listen to Amber Rose's full High Low with EmRata podcast interview here.
Check out a snippet from the episode below: