What The Future Of Dance Music May Look Like, Post-Pandemic – FUXWITHIT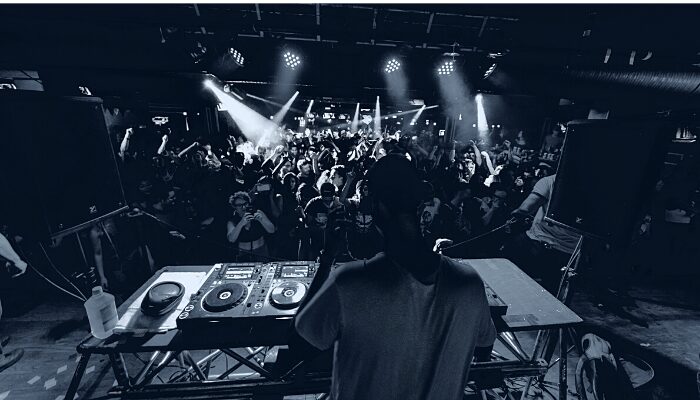 The chaos of a global pandemic is bringing electronic culture's financial instability to light, leaving industry contributors frantically searching for the next paycheck. As the industry takes on an economic struggle, the focus is rapidly shifting towards the aspects of art, opening the doors of opportunity for emerging talents. However, are these opportunities enough to promote underground artists, replacing more significant acts for live shows once the pandemic has subsided?
There isn't a massive amount of money freely circulating within dance music, to begin with, and the pay distribution is always far from equal. Considering the pre-pandemic mechanics of the electronic industry, live performances rarely ever provide viable recognition to emerging artists. These artists are, in turn, expected to settle for incredibly low rates in exchange for their services. It is customary for an up-and-coming producer to receive the bottom-barrel leftovers of a show's budget as compensation for filling a time slot. Because of this, less-established creators often rely on the wages of a standard 9-5 occupation meaning the monetary loss of live shows proves less significant.
However, this community of young creatives can now utilize a priceless portion of the lockdown period unavailable to them before: Time. Time to perfect their craft, build connections, network, enhance their skill sets, finalize track submissions, and catch the attention of grander performing acts/labels. These creators now have the opportunity to showcase their abilities on a more diverse and consistent basis through the medium and mass influx of online festival streams. Many fans believe the online sector of the scene may contribute to a higher demand for newer artists in live settings, post-pandemic.
I spoke to Mary Agan, an artist manager and director of operations for the label Electric Hawk, to gain insight into the conversation. Electric Hawk steadily rises to the forefront of online streaming events, widely recognized for its diverse lineup curation and financial contributions to artists. Agan explains the future possibilities of dance culture after streaming:
"I really think this pandemic has forced a lot of artists to expand their creativity within their music projects, which a lot of fans are magnetized to. Streams are being broadcasted with international viewing possibilities, as compared to playing a show for an actual physical crowd in front of them. There also aren't huge marketing budgets spent on streaming advertisements, so a lot of 'fluff' has been cut. The streaming numbers tell the truth on an artists' ability to pull a fan base. By diving into their creativity further, many talented underground-born artists have been proving their musical talents and their marketing demand with such transparency. I'm not sure if we would have been able to see this without the pandemic. If talent buyers want to stay ahead of the booking game for showcasing up and coming talents at festivals and shows, they will be paying attention to who consistently draws a dedicated streaming crowd."
While online events provide a viable outlet for artists to showcase their work during the global quarantine, major streaming platform Twitch is doubling down on copyright strikes with the DMCA (Digital Millennium Copyright Act). Because of this, producers are rushing to create virtual sets that will no longer be subject to infringement takedowns through creative workarounds. The quickest and most straightforward option, in some cases, is to include both unreleased and underground tracks of fellow up-and-comers into pre-recorded sets, allowing the hidden gems of SoundCloud producers to take center stage.
I briefly caught up with The Dub Rebellion founder to gain perspective on the current situation and how the popularity of online streams may contribute to a shift in live bookings. The Dub Rebellion continues to maintain an iconic reputation in providing underground bass artists with a platform for greater recognition via YouTube since 2011.
"The artists that are adapting to the change of landscape will rise to the top…As long as Covid-19 is around, online festivals are king. Although (live streams) might have an effect on the demand for these artists when the pandemic has subsided, there is such a thing as oversaturation. So, too much exposure could actually hurt (emerging artists) booking value."
Although underground creatives are receiving more abundant opportunities to advance their careers, the future of live events lies heavily on the shoulders of promoters and their corresponding budgets. Realistically speaking, an industry (of any kind) cannot exist without money. Regardless of whether or not fans of the scene demand new-faces, that option may not be immediately feasible.
To expand on this, I joined in conversation with Li Perez, producer and label manager of Philippines based platform A Spur Of The Moment Project. The project focuses on event production for live bands.
"If things go back to normal, I'm positive that there will be demand for newer artists but not right away. I believe concert-goers will most likely want to see acts they haven't seen for a while before they go looking for newer ones. Big-time promoters won't be risking it on new acts considering the losses the pandemic has brought. Promoters, in general, are likely to play it safe. But eventually, when concert goers start looking for newer acts, and when promoters have regained their losses, there will definitely be room. And when these conditions are satisfied, I believe the independent players would be the first ones to get on it.
However, if we have to adapt to a new normal, there are several factors to consider. What will the new guidelines be? What is the implication cost-wise? Do the new guidelines require social distancing at all times? Would concert-goers be as keen if (social distancing) is enforced? How does it affect the live music experience? If the cost of production will be too high, even the independent players won't be able to mount shows, which leaves the live music business to the big-time promoters or independent players who can foot the bill.
There's also a concern about how many of the live venues are left to cater to the promoters. It is predicted that many live music venues won't survive the pandemic, and the few left might not be enough to cater to all these shows.
Of course, it does not dismiss the effort of the newer acts to get heard. As a promoter myself, I always consider how busy the artist has been and how engaged the listeners are. While I'd like to push for music discovery, it's still important that I don't incur a loss. But in general, I feel like I'll be more inclined to book a new act that listeners remember versus an old-timer that listeners haven't heard from in a while.
There's also a question of how live music in the digital landscape will look like by the time the pandemic ends. Right now, online platforms are fast-tracking and boosting their live broadcast offerings to serve as new avenues for live events in general. Musicians, labels, and promoters alike are quick to get on it to sustain marketing efforts and figure out a way to generate revenue on these platforms. I don't believe that live streaming can replace the live music experience, but if the pandemic and its aftereffects go on for a few years, there may be an effect on how people consume live music in general. Did it level the playing field? Have artists and their labels resorted to self-produced shows? Who are the main bookers now? There are so many questions that may arise from this, and the answers to these we've yet to find out. But only when we find out what those answers are, we'll be able to say how newer acts can carve their space in the industry."
The music industry is, by definition, business and in business, money talks. Dance fans may not be able to safely attend large festivals for an additional year or two, given the current rate of quarantine procedures and social distancing practices. Considering the further economic decline of the industry as a whole, the live appearance of up-and-coming artists may be few and far between, if any, until losses recover.
Additionally, if the call for new faces is prominent, fans of the underground can vocally join forces to contribute to the shift in culture on a local level. Fans can (and should) contact local promoters and/or venues in request for new artists. Successful promoters are continually looking to gauge interest from an audience, in turn, recognizing/responding to a greater demand for fresh talent once financially possible.
However, if local promoters are unable to respond in quick fashion, underground fans have the ability to change the scene on their own terms by independently hosting events. Curating and executing a live event is an expensive but creatively rewarding alternative to showcasing emerging talent. Through this path, fans retain complete control over the diversification of lineups while taking responsibility for the financial burdens local promoters may try to avoid.
The dance scene is in desperate need of an underground revolution and the possibility may be on the horizon. Although the future of the scene lies in uncertainty the global pandemic's lockdown period will, at the very least, continue to benefit less established creators in diversifying a fan base and furthering potential opportunities.