Tiedye Ky Achieves Audible Zen With Debut Album 'Baby Blue And The Super Moon' – FUXWITHIT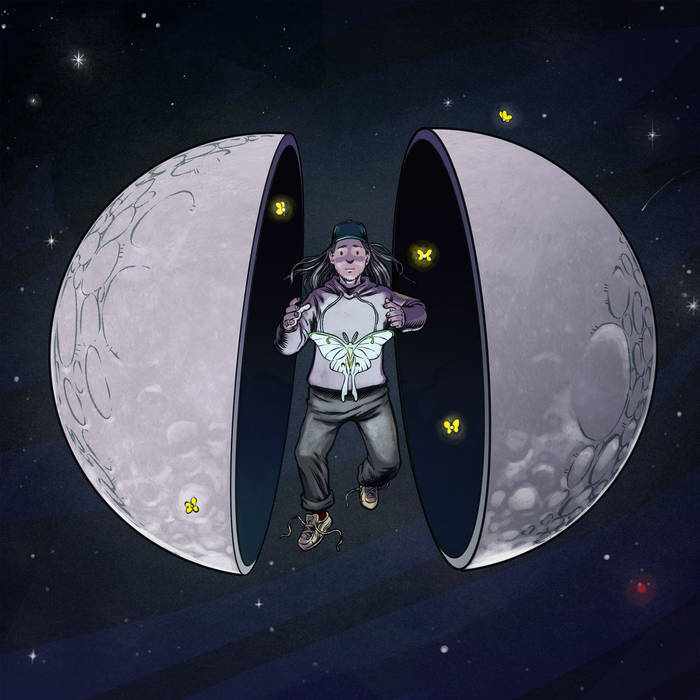 When an outsider thinks about the city of Philadelphia, Pennsylvania, the first thing that usually comes to mind is the token phrase "the city of brotherly love." Those that actually live there though, know that the ecosystem and depth of the city runs much deeper than cliche catchphrases. One of the brightest points is the ever-growing music scene, and one of the brightest bulbs on that string of lights is the expert vibe-curator Tiedye Ky. Mixing experimental forms of bass music with an almost indie/alternative feel, he's stamped his own distinct imprint on the city's diverse soundscape. His Color Palettes EP's both Side A and Side B were met with raucous applause from all corners of the music industry, garnering him major praise and heightened attention before he struck once more with Basspunk Loverboy. Now, he's gifted the world a body of work that plucks at the heartstrings and broadens the consciousness in a truly unique way with the release of his debut studio album Baby Blue and the Super Moon. 
You've had a rough day. Life hits you with a left hook while you're expecting the right, a common theme for 2020. Your lust to get away and lose yourself in a mental reprieve is at the forefront of your mind, your car acting as your vessel to solitude as sunlight starts to dwindle, night slowly taking hold of the landscape before you. You turn the key in the ignition and 'Over Again' comes on, and for the first time that day, life doesn't seem so hopeless. Initiating your gentle descent into this sonic journey, you'll be immediately gripped by the first luscious plucks from the guitar and the soft vocals that create a peaceful bubble of serenity around your being. A familiar tale about the sadness and desperation that we all feel when interpersonal connections are broken and we're left to pick up the pieces on our own, 'Over Again' makes you feel something in a world where we're told to push down raw emotions. Utilizing somber, soft vocals and a homey-feeling guitar that makes you feel like you're being serenaded by a friend around a campfire, you'll be transported to simpler, easier times.
Arguably one of the most magical tracks to be released in all of 2020, 'Never Cage a Butterfly' is the sonic healing we all needed. If you closed your eyes and put this piece on, from the very beginning you'd feel like you were transported into the air, floating gracefully on a cloud made of silk. They say music is the best medicine, and this is the ultimate course of treatment. You should never try to trap the things that you love, and that's the ethos behind this piece. If you love something beautiful, you have to let it spread its wings and roam the Earth unencumbered. Love, as a force, is so majestic and powerful, but it can also leave us feeling completely empty when the things that we love are no longer present, the most potent drug on the planet. Some things in life we feel such an attachment to that it takes over every fiber of our being, but acting through love and love alone, we have to let those things flourish on their own. Maybe one day they'll make their way back to us, but that's only for time to tell.
Spicing things up with a distinct hip-hop undertone, 'Hold On' perks up your mood after the emotion-filled thoroughfare that is Never Cage a Butterfly. Bassy, yummy, and delectably delicious, you'd be lying to yourself if you said this track didn't put a grin on your face. The ever-present guitar is still immaculately sprinkled throughout, but unlike the previous tracks, it isn't the major focal point. This gives 'Hold On' a much more energetic feel, gifting you new feelings to digest during this audible therapy session.
Continuing the upward trend of momentum throughout Baby Blue And The Super Moon, 'Maintaining It All' ignites listeners' inner fires, feeling distinctly like the theme song for the hero of our current story. A tell-tale dark, yet powerful, aesthetic that articulates the trials and tribulations of our main character, we are thrust ever-deeper down the rabbit hole into the beautiful mind of Tiedye Ky. You can feel the struggle and the forthcoming push-back against it, a concrete mindset of defiance against both the physical and mental demons that we all face bravely. A much more industrial style of bass music compared to the first 3 tracks on the album, 'Maintaining it All' proudly showcases the immense range this wondrous artist is capable of.
Taking a sharp turn towards gorging the ego rather than the feels, 'Don't Do Me Like This' forces you to put on shades and gangster walk in-style after you've had your fill of fervent tears. Did your ex just break up with you of nowhere? This is the feeling of having your friends pick you up for a joyous night out to help you cope, throwing sadness and loss out the window and replacing it with swagger and pride instead. Saucy, sassy, and stylistic sexy, this piece ratchets up the jollification to 11, infusing ecstatic energy into even the most tired of bones.
If there's anything to be gleaned from Baby Blue And The Super Moon, it's that Tiedye Ky is an absolute master craftsman, more than capable of tackling a diverse array of soundscapes and eliciting complex, deep-rooted emotions from his listeners. Music is so special because it makes us grapple with our most primal of emotions, and Tiedye Ky expertly makes them all bubble aggressively to the surface. This is a body of work that will be revisited by all who check it out for many, many years to come. Take your initial dive into the rest of the project below!