Music Industry Blackout Coming Tuesday In Response To Death Of George Floyd – FUXWITHIT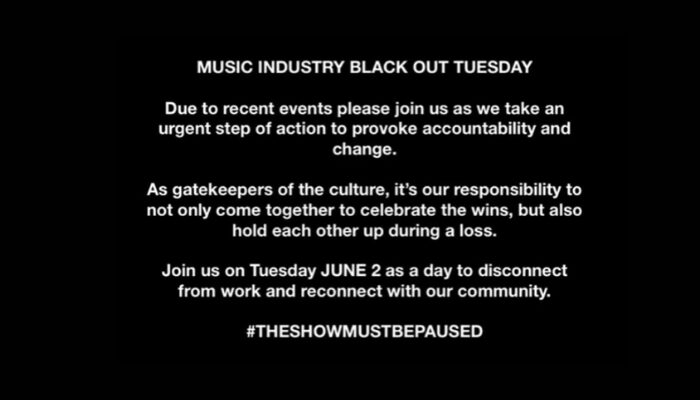 Prompted by the murder of George Floyd at the hands of a Minneapolis police officer, the music industry will be observing a blackout on Tuesday, June 2nd. The effort has been spearheaded by a number of prominent labels, industry personalities and artists with the hashtag #TheShowMustBePaused. The day is meant to serve as "a day to disconnect from work and reconnect with our community" and "an urgent step of action to provoke accountability and change." The full message can be seen below. We will be joining our industry peers and will not be doing any business on Tuesday, June 2nd.
View this post on Instagram

All of my shows are cancelled. I will air replays of conversations with community activists, politicians and revolutionary music. #TheShowMustBePaused
We stand with the black community and against racism. Injustice has gone on for far too long. The black community is responsible, in some way, for ALL of the music we love and support. Whether it's creating, inspiring or influencing it. We appreciate everything you've done for the world and stand with you. Black Lives Matter.
If you'd like to get involved please visit the links below. For additional options click here.
Justice For George Floyd Petition
Official George Floyd Memorial Fund
Minnesota Freedom Fund
Black Lives Matter
NAACP Legal Defense Fund
Color Of Change
ACLU