mau5trap's Lamorn Talks Pressures of Being A Protégé, Proudest Moments, and 2-Track Between Us EP [Interview] – FUXWITHIT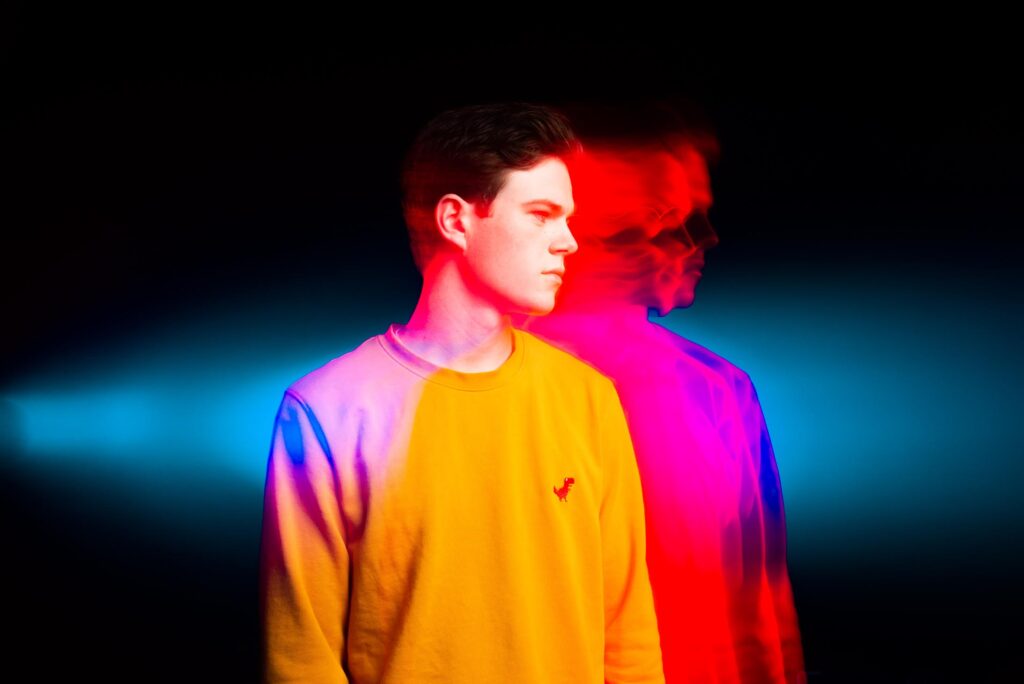 There's no shortage of young people doing huge things in dance music. 18-year old Seth Person, also known as Lamorn, became one of the latest additions to mau5trap's roster and hasn't looked back since. After making his debut on the label with 'Physical Layer' back in June, the artist's career trajectory has skyrocketed, even going onto play shows with his Deadmau5 himself. Today, Lamorn releases 2-track Between Us, that includes 'Between Us' and 'Lance Mountain.'
Between Us has the perfect balance of electronic and rock music, which makes total sense given his background. Both sides flaunting the Lamorn's impeccable instrumentality and emotional songwriting, his sound has the mainstream appeal everyone wants, without losing authentic artistry.
Lamorn was kind enough to take time out of his busy schedule to talk to us about what he has going on, but before getting into the interview, check out Between Us below.
Thanks for taking time out of your schedule to chat with us! How are you doing?
I'm doing great! I've had a pretty relaxed month or so to hang out with family and work on some music.
I was able to catch your set at Brooklyn Mirage last month and was gobsmacked at how you were able to work the stage and crowd! I know your debut live show was back just in June of this year, so I'm super impressed. To what do you think you can attribute your natural ability to perform in front of large crowds?
Although that was my first 'Lamorn' show, it definitely wasn't my first show ever. I have been in rock bands starting around age 12 or 13, so I probably have a couple hundred shows under my belt already. I didn't start off with any natural stage ability actually. I used to be a statue up on stage. It took a lot of time and effort to break through that barrier, and realise I can do whatever I want. Once I did, I found I could better connect with the crowd, and overall have a lot of fun up there.
It's widely known that you're Deadmau5's protegé. He even signed you to the label on the spot! Do you find any pressure being associated with such a legendary name in music? 
The pressure has gone in waves! At first I didn't feel much pressure at all. I was cranking out a few songs a week for a bit after the initial exchanges with Joel and his team, but that confidence dwindled away. I started worrying too much about making songs that I thought people would like, and lost track of what I wanted to make. I have found staying in touch with all the reasons I love music in the first place helps keep me inspired, and not worry too much about the pressures surrounding what I'm doing. It always goes in waves, so I try to approach music creation lightheartedly. 
I always notice a lot of, sometimes resentful, sentiments around young producers growing so quickly. Have you found that there's any pushback from other producers who have been in the scene longer than you?
This is an interesting question, and it can honestly be hard to tell. No one has come at me with any aggressive comments, but certainly not everyone is going to be on board. You can really psych yourself out, and come up with things in your head that don't exist when you think about things like that though. With social media being such an important part of marketing and sharing music these days, there can be places that you look for validation that isn't really needed. People say nasty things online, and it is unhealthy to take that stuff in. I've chosen to try and avoid looking at that stuff as much as I can, because one bad comment can really bring me down. On the other hand, I've talked to a lot of producers who have been nothing but supportive, and have made friends with them along the way. There are a lot of nice people out there, so I would like to try and focus on interacting with them.
How has your experience in the industry been so far? You pretty much went straight into it, guns blazing.
It's been a great experience so far. I am lucky to have landed in such a valuable position, with so many experienced, supportive people working with me. Being so young with very little industry experience, it has been valuable to have people there to help guide me through the business aspects of building a music career, and give advice on what to avoid and what to look for etc. I have learned so much from them this past year, and am already getting a better grip on all the stuff that is going on and what I need to do to move forward with where I want to go in music. 
You play instruments like bass, guitar, and drums… even incorporating some of them in your live set! I know you have a rock background, or what you call a "rock phase"—do you have any non-electronic artists that you can attribute some influence to in your current sound?
I remember calling it a 'rock phase' but thinking back I don't think that was a very fair way of putting it. I still listen to a lot of that music. My music taste has been pretty fluid through my teen years, and recently it has all come together into the music I am making now. It feels like all the alt/rock influence I have had fused with my ongoing love for electronic music. Through highschool, I listened heavily to bands like Royal Blood, Tame Impala, Foster the People, Twenty One Pilots, Phoenix (I could go on forever haha). While at the same time I was still listening to the likes of deadmau5, Daft Punk, and Justice every day. It all became a huge pool of music I liked, and as I made more and more music I started disregarding genre, and just using the sounds that I liked from all sides of what I listen to. There are a ton of crossovers between all the genres I love, so I want to continue to push the envelope on what that can sound like.
With a large list of accomplishments in your first year already, do you have any large goals you'd like to achieve in the next few years?
There are so many things I want to work toward, it's hard to narrow it down to specific goals. Right now I want to work hard and take advantage of such a great opportunity to see where I can take my music career. I want to write more songs, play more shows, and try to continuously challenge myself to go an extra step further and improve every time.
With your first Lamorn show, you also debuted 'Physical Layer' on mau5trap. And today, you dropped a 2-track project called Between Us What has it been like to release with the iconic label?
It's been unreal. It was a long-time goal of mine to get at least one release on mau5trap, and I am blowing that goal out of the water. They have been great to work with, and I look forward to continuing to work with them in the future.
Do you have any other special plans for the rest of the year?
So many! I will be playing both nights with deadmau5 at Red Rocks this November, and will be playing the day of the deadmau5 weekend in Miami prior to that as well. There are a lot of things that I can't talk about yet, as well as more popping up all the time. It will be a busy rest of the year going into 2022, and I'm excited for it all.
Lastly, what advice do you have for young musicians who might not think a career in music is possible?
It was only about 6 or so years ago that I was a complete newb. I had no idea how to use a synth, or Garage Band, or anything really. I have a clear memory of sitting in front of my computer, having no idea where to start, but wanting to learn really bad. I watched youtube videos, searched forums, and looked for any bit of information I could. But overall, I was having fun with it. If you want to do it, then do it. Don't put it off or make any excuses, because you really can do it if you have the drive and passion. And have fun 🙂
Is there anything you want to talk about, that I haven't asked?
I have a lot of music just about ready to release, going to be putting it out soon 😉
Thank you again! I hope you have a great and safe rest of your year!