Louis Futon Talks Health, Ranks Punny Artist Names, and Gets Nostalgic About 'Couchsurfing' [Interview] – FUXWITHIT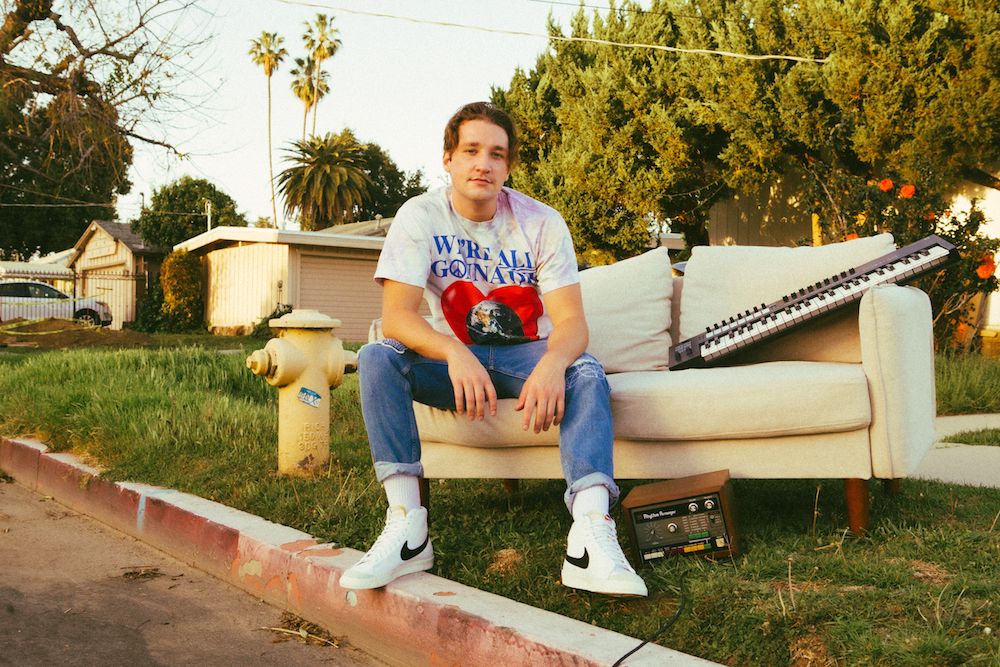 Last month, Louis Futon blessed us with the masterpiece that is Couchsurfing. The way the LA-based producer is able to find the perfect balance of modern and vintage sounds, there's no doubt this album will stand the test of time. It's the ideal medley of electro-soul, funk, and hip-hop and the artist managed to bring together artists from all over the music scene to collaborate. Whether he's teaming up with incredible rappers like Armani White, iconic producers like Bad Snacks, or doing it all himself—as per standout track 'Ms. Intentions'—Couchsurfing is a one-of-a-kind album that the musician holds close to his heart.
Noting that this project was personal to Louis Futon, we wanted to take some time to dive deeper into the album by speaking to the man himself. Re-listen to Couchsurfing while you check out the interview below.
Hey Louis Futon, thank you for taking the time to talk to us! You had a pretty big health scare that landed you in the ER recently. How have you been since then?
Been doing great! Turns out it was just stomach acid that was causing chest pains. It was crazy to see all these messages coming in from people who had similar health scares. Health is wealth.
And how have you been feeling since the long-awaited release of

Couchsurfing

?
Relief. I feel this physical release in my body and my mind whenever I release new music, it keeps me moving forward. It's been great seeing the positive reception towards it as well.
Can you pinpoint the light-bulb moment where you realized everything was all coming together and this could be a complete album?
At a certain point in time, I was just sitting with 20 or so tracks that I felt like couldn't go together at all. But I thought "What if I could actually tie these all together and make it flow like a journey". So that's when I started all the transitions between tracks and actualized the project itself.
Couchsurfing

represents a time you moved to Los Angeles from Philly and were literally doing just that. I read that you actually met your girlfriend while

couch surfing

during this time. Do you have any other funny anecdotes you can share with us?
Yes. My friends didn't make me pay rent, so in return, I would buy an ice cream cake for them every Sunday with a different funny message drizzled on it each time. Kinda became a tradition.
You're sharing a really personal moment in time and a turning point in your life with this record. Is there anything you want listeners to learn from their listening experience?
You gotta trust your gut and go with the flow. There are going to be uncomfortable and confusing moments, but if you let yourself go through it your future self will thank you.
I caught one of the featured artists on the record, Armani White, performing as a secret special guest at a Good Society show in LA. And I know you've actually worked with both of those names before. I notice when you work with someone, you usually continue to find other capacities to continue a collaborative relationship with them. Is there any reason for that?
When I find someone who I love to work with in the studio AND hit it off on a personal level, we stay in each other's lives and create a lasting relationship. This usually results in new musical collaborations, but it doesn't have to. Armani and I really get each other because we know our relationship goes beyond music.
In your experience, how does the music scene differ in LA? Any plans of ever moving back to the east coast?
There's nothing like LA. Access to the most amazing musicians/studios in the world, jams happening almost every night, and of course the weather. No plans to move back as of now, LA definitely feels like home.
So, not many people get that your name is a punny for Louis Vuitton, and while you say you were not taking it that seriously back then, the name almost acts as a time capsule for what was popular in that era. With that being said, can you rank these punny artist names? San Holo, Run DMT, Chet Faker, The Samuel Jackson Five, Louis Futon.
C'mon now…in this order:
Louis Futon
San Holo
Chet Faker
The Samuel Jackson Five
Run DMT
We love to see the self-love! Last question: Why didn't you name the album Futonsurfing?
Fuck.