Guest Mix + Interview – X&G – FUXWITHIT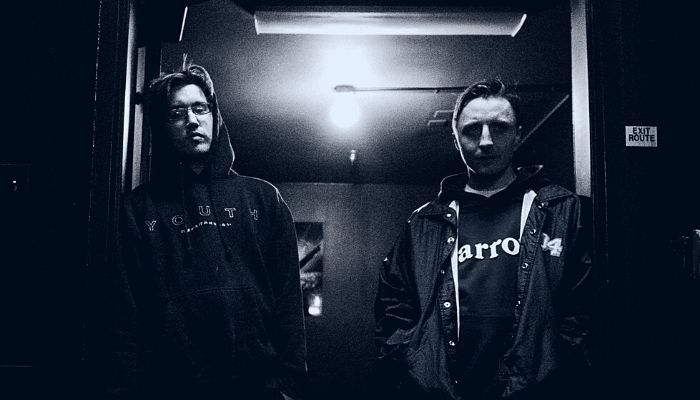 If there's one duo who's been able to navigate the dance music scene with graceful and intricate artistry, it's X&G. The Salt Lake City-based duo has been tastefully making moves throughout the years, landing on esteemed labels including OWSLA, Deadbeats, and Sable Valley, amongst others. X&G continue to be leaders in the space by redefining the bounds of electronic music and showcasing the global talent that has pioneered various electronic music subgenres that influence them. All doing it in such a way that's palatable and accessible for members of the dance community both old and new.
The twosome made up of Xian (kollaba) and Gaszia metamorphosize what it means to be a beatmaker. Constantly evolving their sound and creating cutting-edge new projects like 2Point, they've undoubtedly made an imprint as one of the most innovative artists of our generation. And they were even named on ThisSongIsSick's list of '20 Producers Who Don't Sound Like Anybody Else.'
We had the honor of chatting with X&G about the transformation of their sound, their solo projects, and their go-to local spots, as well as invited them for this week's FUXWITHIT Guest Mix. While you read more about them, listen through the mix and enjoy the first listen of some of their unreleased music!
Hey! I know your schedules are busy, so I really appreciate you taking the time to talk to us. First and most importantly, how are you doing?
Thanks for being patient with us! We're both doing good but also we've had a rollercoaster of emotions and mental phases especially over the course of the last year and a half. It's been hard, but also grounding, and also eye-opening. But we're excited to have things kicking back up and are crossing our fingers they stay that way. 
Everyone knows our team at FUXWITHIT loves trap, but it's always been clear to us that your music has always been on the more "experimental" side. How did it feel to have almost been pigeon-holed as "trap" producers since 2015?
When we first got into music, we were as naive as anyone else entering a new field. We didn't know that making some hip-hop/trap-influenced stuff would pigeonhole us as exactly that. Lately, we've been more on a house/club/breaks kick and just really vibing with that stuff. We also have loads of indie/RnB/funk stuff we've been toying around with, too. I think audiences hear certain tracks from artists and associate them with that sound and (for good or bad) artists will tend to stick to that mold cuz it's what they are known for. They blew up off of one sound, why not do it again right? For us, it's not always about recycling. It's about making exactly what we love and just doing what we enjoy. Why do anything else? 
It's about making exactly what we love and just doing what we enjoy. Why do anything else? 
Genres are definitely a marketing construct, but if you could name your own genre that really defines the X&G sound, what would you call it?
That's tough, I like to think of us as "chameleon" producers. When working with others we are pretty good at putting our own sound on the back burner and molding ourselves to the environment we are in. So we tend to be all over the place, but if I were to put us under one sound… maybe just 'dark'. We have a very dark sound palette that we pull from (Radiohead, Woodkid, Noisia, Boys Noize, etc.) that anything we do, we just make dark. I remember we made a song called 'Gravity' that was basically just us thinking, 'What if we made future bass, but dark?' 
You've previously described your sound as "cinematic," which is very apparent with the audio-visual experience we get from just listening to your music. If you could score any film (or even make one of your own), what would it be?
We've worked on one film, and were in the process of working on another before Covid hit. But we'd love to do more film and backend production stuff. Making dance music is fun but for us, we're maximalists when it comes to that stuff. It's easy to go over the top, but with film your practice going minimal, doing this 'less is more' approach and I found it to be a really good exercise for us. But as for scoring a film, would love to do Bladerunner.
With all of that being said, what can listeners expect from this guest mix?
We always like to shake things up, play things we've been digging, and throw in little curveballs of music that might not necessarily fit a DJ set but is good for home listening. We like taking our listeners on a journey of sound all over. 
We're super excited for everyone to hear it! You two are doing so much in the scene right now. You even recently started releasing as 2Point. Can you tell us more about the project and how it differs from X&G?
Yeah, so 2Point is a bit more of a honed-in project on club/house/breaks. We both love stuff like jersey club, vogue, global club, UK garage, bassline, etc. just anything with super unique rhythms and lots of energy. We've dabbled in some of these sounds with songs like 'Platinum,' 'Get Em,' 'Paradise,' etc. but this project is specifically focusing on that sound. The initial idea came from seeing X&G as an umbrella project, a world of diverse sound. From X&G you can expect anything and everything. From 2Point it will still be the dark sound we do but more honed in on sounds we love. There will be other future projects coming underneath the X&G umbrella that will focus on certain sounds as well but for now, we just wanna push what we are super vibing within the dance music space under 2Point. 
We always like to shake things up, play things we've been digging, and throw in little curveballs of music that might necessarily fit a DJ set but is good for home listening. We like taking our listeners on a journey of sound all over. 
Back in 2017, you told Time Out Shanghai that you don't release music separately because you might want to save it for X&G. You have another joint project together, but Gaszia has somewhat recently started dropping tracks solo. What's changed since then?
G: For a long time, both of our focus was just on X&G. It became our baby and we wanted to just nurture that. Over quarantine, we both took some time to ourselves away from X&G and did our own separate thing for a bit. I think we both had been around each other musically for so long it was nice to take a step back and find what we each additionally liked doing. It allowed (at least myself) to find my own identity with music and find what I love personally. At the end of the day, we still push all of our separate demos to the X&G project, but for both of us, just having the ability to just spontaneously release some stuff is a nice feeling. It was what fueled us in the early stages of X&G. I also suffered from imposter syndrome heavily and so doing these self-releases under Gaszia again kinda helped me overcome that. Participating in Baauer's bop battles over quarantine was a fun challenge that helped push me to just not overthink and just do what feels right. I'm super thankful for that community and what transpired there during quarantine. Shoutout Bopfest & Baauer. 
[Editors Note: Xian has also released his first solo single in years under his alias kollaba. Listen to 'IfYouWant' now!]
I'm really happy to see your name on huge lineups with artists like Zeds Dead, Rezz, and Tsuruda. Do you have any must-have items on your list that you need either for travel or performing?

Thanks! Yeah, it's not an item specifically, but just feeling good. We didn't really take care of our physical health when we first started touring and so as we get older we realize our bodies need to be maintained especially during travel. It's super taxing taking early flights after playing shows super late on only a few hours of sleep and no food and getting home afterward and needing a day or 2 to recover. Now we are both wanting to be smarter about our choices with that and just take care of ourselves and our wellbeing, both mentally and physically. It's so crucial for those who travel a lot. 
Even with all the travel, you've always been proudly ingrained in your local scene. If people are visiting Salt Lake City, what are 3 places people need to visit?
One of our fave places is this spot Ensign Peak. It's a quick 15-minute hike just above the city but at the top, you can see the entire valley. It's incredible really. Additionally, check out the Clark Planetarium (free) and People's Coffee which is a dope local coffee spot run by some friends. 
Thank you again! Hope to catch you at one of your sets soon.
Tracklist
X&G – ID
X&G – ID
MEGAN THEE STALLION – SAVAGE (DEFFIE BAILE EDIT)
MC Charli do XCX ― Good Ones (umru, Aaron Cartier, DJ RAMEMES, warpstr, Milkfish & Mu540 Remix
X&G – BAILE CLUB TOOL
MILKFISH – CAN YOU FAST MY FURIOUS
SOPHIE – MSMSMSM (GIRL TOOL PULSE REMIX) 8. TWIKIPEDIA – SENTA W/ ERICDOA
GASZIA – ID
PLAYBOI CARTI – SLAY3R (JAYDA ORCHESTRAL MIX)
MEGAN THEE STALLION – CASH SHIT (MILKFISH COMPANY HOTSPRING EDIT)
GRINLESS – NOT A RAVE TOOL 05
X&G – CRASHED MY RIDE
GASZIA – ID 15. X&G – ID
ID – ID
ID – ID
SEBII – PLAY POKER REMIX
ID – ID
X&G – PLATINUM CHAOS QUICKIE EDIT
ID – ID