Guest Mix + Interview – RamonPang – FUXWITHIT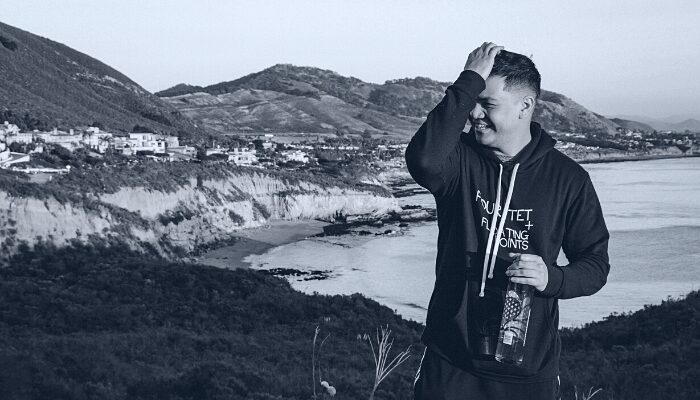 RamonPang is an artist that rises above any one designation. The craftsman dabbles in different genres and facets of the music industry, not only as a producer, but also as a selecta, curator, label head, a&r, visual designer, writer—We can't think of one thing RamonPang can't do, which is exactly why he's become an integral part of the underground dance music scene.
The Filipino-American based out of Los Angeles sets himself apart with his way of balancing the dichotomy of his art. He displays the optimal equilibrium of sound design and sample-based music. Despite his esoteric resemblance to names like Aphex Twin and Four Tet, RamonPang still resonates with large audiences. His playful approach to taking his craft seriously inspires any type of artist to create wholeheartedly. And his ability to create a lifeline between the underground and the mainstream while maintaining pure artistry is admirable.
Learn all about RamonPang's many hats, how he feels about Nature System six months later, and his views on authenticity. And while you're reading through that, make sure to listen to our last FUXWITHIT guest mix of the year.
Hey, Ramon. So glad to have you host our latest guest mix—thank you so much for taking time out to do this with us. First and foremost, how have you been?
I'm doing wonderful – cozy on a couch wrapped in a warm blanket.
Congratulations on so many amazing bookings lately! Not only are you playing shows, but we know you also have a full-time job, you're a label head for Tabula Rasa, you're a part of Soul Food Music Collective, and help out with Brownies & Lemonade. You used to often express how much of an outsider you felt in the music industry, but with all of this support from different teams, it seems like things have changed drastically since then. What do you think you can attribute this shift to?
All these opportunities came to me because I kept pushing my unique taste. I'm a DJ at heart forever. Even with all these opportunities, I feel like an outsider that's barely made it inside. Having a full-time job definitely hinders me, logically because of the amount of my time I have to allocate to something I need to do just to survive. Now I'm working with a wide spectrum, from the biggest artists in EDM to some very leftfield music for artists with less than 1000 monthly listeners. They're all very different fields of work, so everything is always a challenge. What works for large artists doesn't work for small artists, and vice-versa. But the more I'm in everything, the more my knowledge of the collective consciousness of electronic music works.
In an age of transparency, people want to always talk about how 'real' they are, which to me is just another performance in some way. How authentic you are doesn't strike me as a standard for how good your work is. Therefore, I don't do anything or take on any job for any particular reason and I definitely don't share the reason if I do think of it; I just want to do work that brings me closer to personal truth and keeps things fun for myself. And that keeps me sane, rather than thinking about where I fit in in the industry or a career path or whatever.
The more you fill your circle with good people that care about the same issues as you, the more that circle gives back to you.
Do you have any words for people, especially people of color, who are currently feeling like they don't, and may never, fit in?
In my experience as a musician, I found that finding both a role model and a community with other people of color (or other like-minded people) helps the most. Early on, I looked up to Four Tet, who's half-Indian/South African, and I found best friends at Soul Food Music Collective (mostly made of POC, who I talk to all the time in Discord). What motivates me is less-so fitting in, but being in that position for somebody else. If I can succeed and get as far as I can on my own terms, then maybe I can be that Asian IDM-adjacent artist I wish I knew about growing up. Simultaneously, if I can be a friend to artists in the Philippines + my niche who are doing similar things to what I'm doing, I can put them on in ways that feel the fairest.
It takes time, but you will find your people. And sometimes to do it, you have to break off from expectations of what feels "uncool" or "a bad business move" from your peers. I'm privileged in America now to even have fast & easy Internet access and other freedoms, I have no excuse NOT to do these things. Through these couple of connections, you slowly grab over time, you can really sculpt and build your own label/team/community in a way that feels most tailored to you. The more you fill your circle with good people that care about the same issues as you, the more that circle gives back to you.
You're a producer and DJ. You're a graphic designer. You're a writer. I feel like because you have your hand at different mediums, this is why you're an artist who constantly stresses the importance of anyone who creates art being an artist. In the music industry, that's a polarizing opinion. Some people say the artist is only the vocalist. We always hear how DJs aren't artists. Producers have told me that even though I'm a writer, I'm not an artist. Why do you think people—who are all actually creative and create art—like to challenge the definition of art and what makes an artist?
Short answer is if you do creative work, you're an artist. If you want to call yourself one, then you're an artist, regardless of if it's your full-time job or not.
For the long answer – I need to comment about graphic design and writing specifically because I feel like they're both mediums seen purely as functional in the music industry. These mediums serve a purpose in this world that is just as important as art, if not more. Music can be powerful, sure, but design and writing shape the world around us and how people talk about the music. 
Designers and writers set the tone for the 'myth' around the art. They are responsible for the socio-political context around any work that they work on. And if it's given to the wrong hands, it can have dystopian consequences. For example, misinformed sources disregard the work of POC-artists in a comprehensive-genre guide. Or a clean website rebrand did so that the general public forgets about how shady their label/blog was. Stuff like that. Maybe writers and designers aren't 'artists', depending on how philosophical your definition of that word is. But it's some of the most important work that can be done around music, and music artists that don't think so are narcissistic in my opinion.
Designers and writers set the tone for the 'myth' around the art. They are responsible for the socio-political context around any work that they work on. And if it's given to the wrong hands, it can have dystopian consequences… Maybe writers and designers aren't 'artists'… but it's some of the most important work that can be done around music, and music artists that don't think so are narcissistic in my opinion.
Back to your art, in June, you released your debut album, Nature System. It's been 6 months since then, and it's gotten critical acclaim from the whole community! Has your perception of the record changed at all since you first released it?
I'm not tired of Nature System yet. I still really love it a lot, I put it on quite often when I just want to listen to my own thoughts. My mom and my lola would get nostalgic from looking at all these old photos of themselves, but for me, listening to sounds from the past invokes that same feeling of nostalgia. I inserted a lot of personal things in that album, like field recordings of myself walking through the beach, feedback from my 13-year old-self playing electric guitar, phone recordings of me watching TV, things like that. In 'Webs' there's a cool field recording of me shaking my desk so my hydroflask makes a rocking metallic noise.
These things are mixed so quietly that no one can hear them, but I know they're there. So when I listen now, 6 months later, I just remember how much fun I was having making this album.
Nature Sussy?
Okay, so earlier this year in September, I was up in San Francisco at a G Jones 2 hour DJ set. He had just played one of the most incredible sets I've ever seen, mixing old-school classics from Rustie, HudMo, Aphex Twin, etc. with his songs. I was on such a high and feeling absolutely euphoric. That was all ruined when I was leaving the venue and I heard someone yelling "YO WHO WANTS THEIR NATURE SUSSY ATE?!" referencing an out-of-pocket tweet I made the day before. I honestly did a double-take. This dude was trying to get my attention and was starstruck to talk to me. He and his girlfriend were telling me about how they're obsessed with the Plurgatti Boy 420 stuff and how they listened to that mix about 30-40 times this year. I confirmed this through the SoundCloud stats. I considered dying when I got home.
In seriousness, I learned a few things. 1) The Plurgatti to Nature System pipeline is very real for many people. People would ask me how I felt about making 'joke' music versus 'real' music and honestly, all music is jokes. 2) I need to be more careful about the shit I say on Twitter because you never know what will stick. 3) I'm probably going to ignore that last point.
Anyway, talk to us about your newest side project, DJ WINDOW.
Kelbin, one of my favorite producers on Tabula Rasa Records has a side project called DJ Floor where they release incredible house/breaks/techno / etc. As a joke, my friends and I started other DJ side project named after household furnishings (DJ Floor, DJ Window, DJ Ceiling, DJ Foyer, etc), so we can eventually become DJ HOUSE MUSIC.
While I was conceptualizing this, a hip-hop side project seemed the most natural. From IDM to trap music, hip-hop is unmistakably a huge influence on everything I love. But, I didn't want to make a hip-hop side project that was just 'beats', I wanted to use source material that was extremely referential to the past. I'm challenging myself to see how much I can reuse and chop up the same 5 GBs of samples and transform them into something new. Its biggest influences are guys like DJ Premier, DJ Kentaro, DJ Shadow, Bruce Smear and DJ Jazzy Jeff. I make the tracks in about an hour and slam them to make them as loud as possible without much care for sonics. It doesn't feel very hip-hop to be worrying about your shit distorting. I'm in the works to release a DJ WINDOW album in 2022 that's about 30-40 tracks long on all streaming platforms.
How many side projects do you think you'll have in 5 years?
I'm aiming for at least two more lmao. Maybe an anonymous collaborative corporate-parody one like Gescom or Micro Men or how some people still think josh pan is like 20 people.
I like the idea of side projects because I feel like I can complete them. Whereas the main music stuff as RamonPang will likely never end. I don't see myself quitting anytime soon, this shit is too fun. I don't believe making music is hard – it's instinctual to me what I should make next. I think it just takes time.
Say you're bringing a friend to a Filipino restaurant and they've never tried the food before. What three dishes are you going to order to convert them?
Crispy pata is my all-time favorite (one of the most sinful foods ever, also my grandma's favorite). Tocilog for the dream Filipino breakfast. And some halo-halo for the desert.
You Tweeted that you "don't make experimental music" on November 1. Have you tried experimenting with some bitches?
The FitnessGram™ Pacer Test is a multistage aerobic capacity test that progressively gets more difficult as it continues. The 20 meter Pacer test will begin in 30 seconds. Line up at the start. The running speed starts slowly but gets faster each minute after you hear this sound (amen break). A single lap should be completed each time you hear this sound (808 cowbell). Remember to run in a straight line and run as long as possible. The second time you fail to complete a lap before the sound, your test is over. The test will begin on the word start. On your mark, get ready, start.
I mentally checked out halfway through reading that. But back to the music – we're honestly so hyped to hear this mix. What can listeners expect to hear today?
This mix is a lot like this interview – chaos with brief moments of clarity and brain-tickling sprinkled in. Mainly RamonPang music, about 80% of it is unreleased. Couple of tunes from my friends. Wanted to pace this so you can see where my music is coming from before I pull the rug out with some brain mangling in the second half. 
This mix is a lot like this interview – chaos with brief moments of clarity and brain-tickling sprinkled in.
Who do you think we should have next?
I'm always going to stan for my Tabula Rasa Records and Soul Food Music Collective kiddies – I think Falldren, Mike Snatchers, ROBY, and Kelbin are going to have massive 2022s. Also, has TSU NAMI had one yet? She's one of the best DJs I know.
Is there anything you'd like to say that we haven't asked about? Anything you want to plug?
Shoutout to the r/trap boys too, my first electronic community ever. They're harsh at times, but we need that to keep the uninteresting stuff out. But also don't take it too seriously.
I hope these long answers don't offend anybody reading this for some reason. If you think something I said is about you, it probably is lmao.
Tracklist
RamonPang – Mondegreen
RamonPang – Thin Sand
Billie Eilish – Therefore I Am (RamonPang Remix)
Asterisk Youth – Plant Loop
Keeth – Folklore
⣎⡇ꉺლ༽இ•̛)ྀ◞ ༎ຶ ༽ৣৢ؞ৢ؞ؖ ꉺლ (Four Tet) – △▃△▓ – ؞ؖ؞ৢ؞ؖ؞ৢ؞ؖ؞ৢ؞ؖ؞ৢ؞ؖ؞ৢ؞ؖ؞ৢ؞ؖ؞ৢ؞ؖ؞ৢ⠀(Kelbin Edit)
Sam Gellaitry – Desert Mirage (RamonPang Remix)
Kilamanzego – Anxiety (RamonPang Remix)
Flume & EPROM – Spring (RamonPang Remix)
RamonPang – Barker Against the Clock Edit
RamonPang – Lambs Garbage Montage
RamonPang – Too Sexy
RamonPang & Mike Snatchers – Harp Freak
RamonPang – Kalimba Soulja Hot Ass Beat Clap
RamonPang – Glass on Grass
RamonPang – Glass on Grass (Kelbin Remix)
RamonPang – ID
RamonPang – ID
ISOxo – Chamber (RamonPang flip)
RamonPang – Poked Out
RamonPang – THX
Autechre – latentcall (RamonPang Remix)
RamonPang – ID
RamonPang – ID