Guest Mix + Interview – Pocket – FUXWITHIT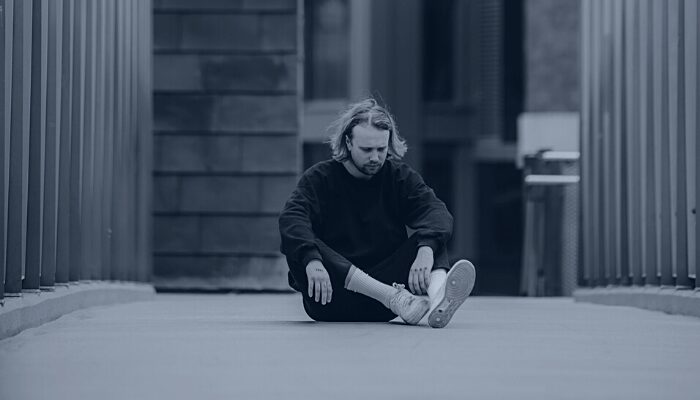 Almost one year since the dawn of the Pocket project, the artist has amassed over fifty thousand monthly listeners on Spotify alone, has remixed Zeds Dead and Rohaan, and has built an individual discography that is incredibly unique. Few are able to accomplish these feats in the span of twelve months, attesting to the talent and drive behind the Scotland-based creative. Throughout 2021, we've had the pleasure of watching Pocket grow from an artist looking to make his mark in electronic music to a champion bringing fresh sounds to an often stagnant scene. Embracing an uplifting, luscious style categorized as garage but bringing much more to the table than just that, Pocket has displayed a tenacity and authenticity that is nothing short of amazing.
Today, we have the extreme pleasure of showcasing what a potential Pocket live set would sound like, in addition to diving into the mind of the talented artist. In thirty minutes, Pocket delivers one of the most feels-riddled guest mixes we've ever had the pleasure of hosting, while also providing insight into his journey as an artist, his relationship with his home country, his future plans, and much more. Dive in below.
Welcome, Pocket! Let's get right to it. The dawn of 2021 saw a drastic change in your artistic representation, namely a significant change in sound and the switch from Watgood to Pocket. What was the main motivator behind this alias change?
I had felt myself drifting from wanting to create club orientated tunes for a little while, specifically the more American brand of EDM. It wasn't a reflection of my views of that scene particularly but personally it became less fun for me having to focus on loudness and sound design as the central motivator of the whole project. Even in my final Watgood EP the sound was changing drastically. When it came to making music as Pocket I found that spark and excitement that I had lost over the years and began revisiting styles of music I had always wanted to pursue but was able to put my own twist on it all.
I'm making music for the listener within myself and it's been very rewarding.
Almost one year in, how do you feel about this change? Any regrets? Best decision of your life? Somewhere in between?
It was absolutely the best decision I could have made. I'm blessed to have a great manager now that understands what I want to achieve down the line and shares the excitement for discovery that I've rekindled with this project. It also just feeds into the idea that people are drawn to authenticity and I've felt that more in the last 9 months of Pocket than I ever had before. I'm making music for the listener within myself and it's been very rewarding.
You were recently in the States, correct? How was your trip? Was it for business or pleasure?
Pleasure mostly. I wanted to get away and spend time around my friends. Sometimes it can be isolated living so far away from the people you surround yourself with. But it was such a great trip and I got to connect with friends and loved ones who I have known for a long time. Americans certainly have a way of making you feel accepted as part of a family, at least in my experience.
Did you play any gigs? Are any gigs planned for you in the future, whether in North America or in the UK/Europe?
I didn't play any gigs, no, I was visiting on a travel visa so wasn't allowed to perform or work. But went to plenty of events and fell in love with the energy a little bit. In 2022 we're going to be putting a lot of emphasis on live performances and seeing where we can take the project in a live music capacity.
There are plenty of people I want to work with but I definitely feel an urge to carve out my own space as an artist and show people what I have to offer before I start associating with different artists and sharing a track.
On social media, you're quite vocal about not loving Scotland. Why do you feel like you don't belong in your home country?
To clear this up, I absolutely love being from where I'm from. Scotland is a beautiful country with a lot to offer. What I really mean is, like anywhere, if you spend your life somewhere you also experience the lows of daily life and the trauma of your experiences in that place. I associate Scotland with parts of my life that I'm ready to move past. It's a two-steps-forwards one-step-back type situation for me being home. I'm at the point in my life where I'm ready to live elsewhere permanently. Some might call that running away from your problems, but I don't want to feel bogged down somewhere that doesn't make me happy.
On the other hand, what made you feel so at home when you were in the States?
The people. I met so many incredible people that made my experiences so wonderful. Being around like-minded creatives and somewhere where I felt free of judgment. There is less pessimism in daily life than what I know, and I felt that rubbing off on me which became quite addictive.
We definitely intrinsically revert to creating from a perspective of escapism.
You recently posted an excerpt from a Sam Gellaitry interview that resonated with you. Can you speak to this cultural phenomenon, perhaps relating it back to what you said about Scotland? Do you feel a pressure to create music that counteracts the gloomy surroundings?
Absolutely, and I hadn't even thought about it in this way until I read the interview. We definitely intrinsically revert to creating from a perspective of escapism. Here in Scotland generally we're so far removed from these big creative hubs, studio sessions, festivals and the optimism that places like LA and London (to an extent) offer. Most of the time it's a case of "how can I create an environment in the confinements I'm in that promote the excitement one would get from being less isolated."
You're also a vegan, right? When did you make the decision to go vegan? Why did you make this decision?
I'm less strict on this right now. But I was a vegan for over 2 years and plan on cutting back on the extras again soon. I just find I feel my healthiest on a vegan diet, and I also often do feel guilty if I'm not eating vegan considering the moral and environmental impact of consuming meat and, in my case, the occasional bit of dairy.
Aside from your work with Rohaan (which is phenomenal, by the way), 2021 has been a year filled with individual works. Is this a conscious choice? Do you prefer working alone? How does your workflow differ when working with someone else?
Thank you! It hasn't been too conscious but I think I'm probably quite picky when it comes to collaborators. It also takes a long time for me to land on demos that I feel confident finishing when I work alone. I'm very specific about what I want to put out to the world. There are plenty of people I want to work with but I definitely feel an urge to carve out my own space as an artist and show people what I have to offer before I start associating with different artists and sharing a track. I love collaboration though, it's so important to invite other people's workflow and ideas into your space.
What do you have in store for the upcoming year?
We're working on a lot more releases, remixes and hopefully get on the live circuit in the next year. I'm very excited to switch things up aesthetically after my next couple of singles are out.
Any final words?
Thank you to everyone who is supporting my work. I've worked so hard over the years and I am very grateful to have landed on something that makes me this happy. And if you feel how I was feeling when I made the switch to a new project, I really suggest taking a step back to discover what makes you happy. Don't let uncertainty eat away at your creative process because it's fragile enough as it is. Love you all.
Tracklist:
Brent Faiyaz – Fuck The World (Huna Edit)
Trampique – Fake Love
ID – ID
Eocene Nine – Chasm
Pocket – Different Ways To Love You
Crematorium – What I Need
Overmono – So U Kno
Pholo – 2WISH
Four Tet x Ariana Grande – Lush/Positions (Gaszia Edit)
Wen – Swerve (El-B Remix) x Odd Mob – Soulja Tool
Volor Flex – 1.12
Direct – Grow Cold (w Brandy – Right Here)
Pale Outsider – Fractured Disparity
ID – ID
Beshken – Like You Do
Four Tet – Killer
Lion – Visage Androgyne
ID – ID
Overmono – If U Ever