Guest Mix + Interview – Pauline Herr – FUXWITHIT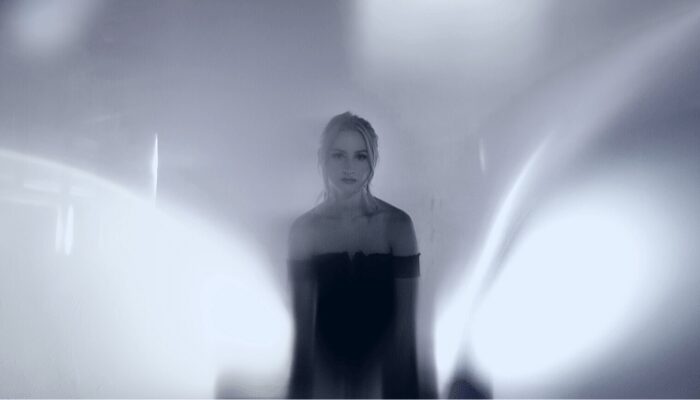 Pauline Herr has been an everlasting and special spirit within the industry. Her angelic vocals mixed with top-tier production have always shown her to be one of the greats. Whether you've been a fan for a while, or are just discovering her art now, you'll experience the same amount of emotional feelings throughout your body with each piece. Even from the beginning, you can tell her passion for music burns as hot as the sun. Putting in the same amount of energy within her work. Taking her to the top no matter what.
From impeccable original music to stir up emotions to teaming up with heavy hitters, her range is insanely unique and completely shows how flexible her style is. The impact she's made from the past to the present has been nothing but memorable and positive. And with her skills becoming stronger and stronger, she's taking over the scene with grace and organic frequencies. She's even appeared on multiple big-time labels such as Sable Valley, NIGHTMODE, and more! Gifting us all with her colorful abilities. Crafting a brand new world not yet discovered. And now, it's with our greatest pleasure to introduce her to the family with her very own guest mix and interview! So sit back, relax and enjoy a beautiful and shining journey from the legend herself.
First off, Happy New Year! What can listeners expect from this mix?
A little bit of what I was jamming to in 2021 and/or playing in my sets, some new IDs from the homies, and a few of my own tracks + collabs!
2021 was such a wonderful time for your art, what do you hope to accomplish this new year? 
This year I'm hoping to play a lot more shows and festivals and make/release a lot of music! More specifically I wanna start making some heavier music that I can play at shows so I'm in the process of upping my production in that sense. It's also been a dream of mine to play EDC so that's definitely a goal of mine this year.
It's funny because 6 months ago I was deathly afraid of playing shows and now I can't get enough of it.
What was it like going on your very first tour?
It was incredible. I couldn't have imagined a better first tour experience because I've been a huge fan of RL for a while now. The crew we had and the crowds at all of the shows were amazing and so supportive. It's funny because 6 months ago I was deathly afraid of playing shows and now I can't get enough of it.
You've made quite the impact with the Sable Valley crew! How did that relationship come to be? 
I've been homies with some of the Sable Valley guys for a few years now and one day a friend of mine from RL's team hit me up about a song I posted that RL was interested in releasing on Sable Valley. After finishing up the song and getting it ready for the Sable Valley Comp they asked if I'd be interested in joining the next Sable Valley tour. I'll never forget when I got that email and how surreal it felt seeing as I hadn't even played a single show of my own yet. I wish I could go back in time and relive the whole Sable Valley tour experience again.
Did you always want to pursue the path of art from the beginning?
I think growing up I'd always been drawn to music and art but for a while it was just a distant dream for me to pursue a career in it. I went to nursing school for a year and that made me realize more and more that it wasn't what I really wanted to do and my heart was in music. A year and a half into college I decided to drop out and apply to ICON Collective and shortly after that I made the drive out to LA from Wisconsin to attend their music production program. I'm so glad I followed my heart because I definitely feel like I've found my passion.
The lyrics and production within your pieces are always so genuine and real, where do you find your inspiration and overall strive?
I think most of my inspiration comes from my relationships and struggles with mental health. I tend to write the best music when I've just experienced some turmoil in my life, whether it be with a significant other or my own struggles with depression, but recently life has been perfect in both of those areas so a lot of the music I'm writing is more uplifting. For example, I wrote a song about friendship recently and being there for your best friends which I dedicated to my best friend Rossy. In terms of my production, I find inspiration in various ways but mostly from music I'm listening to at the time. In 2021 I listened to a lot of hyperpop, wave, and trap, so most of my music this year has kind of reflected that.
Your second EP, Contradictions was a huge step for your vision. What was the process like creating it? Did it come naturally or were there specific challenges you had to overcome?
It's funny because Contradictions wasn't originally meant to be an EP and was just a set of songs I had written that didn't really go together. I decided to put them all into a cohesive project and call it Contradictions because that word feels very personal to my art and embodies the way that my taste and production/vocal style is constantly changing. Each song on the EP gives you individual pieces of my personality and taste.
A little off topic, but how's your dog Rue? We, as well as your listeners always enjoy seeing her happy and thriving!
:') Asking the important questions… Rue is doing great! She's a huge reason my mental health has improved drastically and I love her to death (so much so that I include her in my visuals). She's also grown to be a wonderful studio dog and helps bring good vibes to my sessions.
It's funny because even though I graduated 4 years ago I still remember bits and pieces of things I learned that didn't click for me at the time.
Along your travels, you attended Icon Collective. How was your experience and what did you take away from that journey?
I can't say enough positive things about Icon. The teachers are all incredible people and so knowledgeable and passionate about their individual crafts. At Icon we had to start and finish a song pretty much every week and that in itself really accelerated my production skills. On top of that, the curriculum is really valuable and I can't imagine where I'd be without everything that I learned there. It's funny because even though I graduated 4 years ago I still remember bits and pieces of things I learned that didn't click for me at the time. We learn so much at Icon so it's like I have a secret chamber in my brain full of knowledge that's just waiting for the right time to shine.
What are some passions or interests you enjoy outside of the music realm?
I really love cooking, reading about health and nutrition, snuggling with Rue, and playing video games in my free time. I got super into Warzone and Stardew Valley in 2021. Video games are kind of my therapy in a way and a chance for me to give my creative brain a rest. Cooking is somewhat therapeutic for me and I love to be creative with how I plate things or make up my own recipes.
Are there any underground artists you've been listening to recently that you feel should get more recognition?
The first one that comes to mind is my good friend Pocket. He's one of the most amazing artists in the electronic scene right now and he definitely deserves more recognition. I'm hoping to see him blow up this year but everyone reading should definitely give his stuff a listen! ("Pocket" on Spotify / Apple Music / SoundCloud)
Throughout the years, you've collaborated with many artists while putting in everything you have into your own impact on music. What qualities or characteristics did you gain along the way that you'll carry with you for the rest of your life?
My music career originally started with me just doing features for other artists and eventually turned into me releasing my own solo project. I'm really happy with the route I took because I learned so much just by collaborating and with each song I worked on I felt like I became a better vocalist and writer. Once I finally started working on my own productions I had a lot of practice under my belt with vocal stuff and found my voice so I didn't have to worry too much about that and could focus more on my production skills.
I create art for myself and I think it's important to love your own art because people will feel that and see your authenticity.
Lastly, are there any words of wisdom you'd like to share with artists who are afraid to really take that leap of faith and showcase their own special flair?
I've always told my music peers to just be themselves and try not to worry about whether your audience will vibe with something you've created. At the end of the day I create art for myself and I think it's important to love your own art because people will feel that and see your authenticity. Also, don't get caught up in the numbers game because we all have to start somewhere and it takes hard work and persistent releasing to grow your fan base. Just have fun with it and don't let "no"s from labels or blogs etc. discourage you from creating more art. It took me about 3 years of releasing my solo music for anyone to give me a shot and I'm so glad I never gave up.
Tracklist
Pocket – Aquarium
ISOxo – Beam
Frosttop – Dream State
Whipped Cream – I Do The Most (Feat. Lil Keed) [Knock2 Remix]
What So Not – The Change (Feat. DMA'S) [Just A Gent Remix]
Kill Feed – Without You
ISOxo – ID
Remnant.exe – Moonlight
Sully – ID (Ned Flanders Remix)
Effin – N2K
Tisoki – GLASS
Pocket – Different Ways To Love You
Sublab – Unbound Passion
Baauer – Gogo! (Kiwie VIP)
Sublab – Airway
Remnant.exe – Interference Pattern
Juelz & SSOS – Drive By City
Pauline Herr – care about u
Pauline Herr x Hex Cougar x So Sus x Sejo – Everything At Once
TWERL & Heimanu – Nightrider
DJ Ride – TAKETHISWAY
BAARIC – ID
ISOxo – Nightrealm
ODEA – ID
TWERL, Slumberjack, ShockOne, HWLS, Loston – Inferno
Sublab & SEVEN – Castles In The Sky
Pauline Herr x Hex Cougar x So Sus x Sejo – Your World
REAPER – Barricade (Poni Remix)
Frosttop – Rush
Volt & Slushii – Rattle Your Bones
Moore Kismet – Parallel Heartbreak (feat. Pauline Herr)