Guest Mix + Interview – JEANIE – FUXWITHIT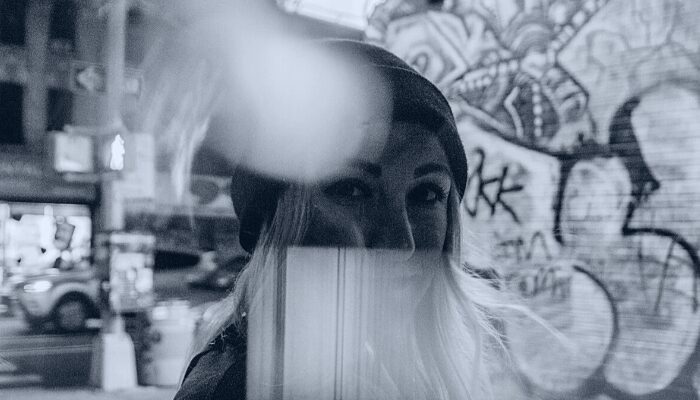 Brooklyn/Buffalo-based JEANIE has been on a steady ascent over the past few years. First catching our ears with her bangin' trap sounds, she's been continually evolving with her style getting harder and more dubstep leaning. Recent releases like 'SPEED,' 'PURGE' and 'HEADSHOT' showcase her solo talent, while collabs with Godlands x Jelacee, and LEVEL UP x MADGRRL x SIPPY prove her collab game is as strong as anyone's. Outside of her artist project she's also the Founder and driving force behind GRL GANG: an artist collective that unites females within the music industry and works to create a sense of community. With her JEANIES BOTTLE mix series becoming a fan favourite, we thought it was about time we had the rising star join us for an exclusive guest mix + interview. The mix is a heavy-hitting half hour of bass music with IDs sprinkled throughout from the talented producer and her friends. In the interview we discuss the evolution of her sound, her job as Editor-In-Chief at Noiseporn, GRL GANG, uplifting women in dance music and more.
What should we expect from the mix? Where are you taking us?
Tons of unreleased music from me and my friends as well as some fire underground shit and some of my favorite songs to play at the moment!
Your sound has been drifting more towards the dubstep and heavy bass realm. Is this the direction you're headed in for the foreseeable future?
Absolutely. I've been playing dubstep in my sets for a while, but I think a lot of people still associate me with just trap for the most part because that's what I started out with. I have definitely been incorporating more of it into both my production and sets though, so it's only heavier from here.
If your DJ sets were a cocktail what would the ingredients be?
It would be like an adios motherfucker – looks harmless but will fuck you up. 🙂
Has your job as Editor-in-Chief at Noiseporn helped at all with your career as an artist? If so in what ways?
Sort of. It definitely helps me discover new artists and keep up with who's making cool shit, but I tend to keep that part of my career completely separate. I've always wanted the focal point of my project to be my music and not my other work, but it's funny when people find out and are like WTF?! It's an important aspect of the business to know though.
Your life seems to be pretty ingrained in music. What do you enjoy doing when you need a break from music?
It really is. But I love thrift/vintage shopping, watching horror movies and reading as much as I can. Also I've been addicted to TikTok lately, haha.
Earlier this month you celebrated your 2 year anniversary (congratulations!) and you noted how you don't share much of your personal life on social media. What can you tell us that some people would be surprised to know about you?
Thank you! Hm… I'm 100% Russian, I was a cheerleader for 6+ years and I'm an awful singer. Also I'm a huge perfectionist when it comes to my work.
You started GRL GANG about a year and a half ago. How has the experience been so far? What are you most proud of to date?
It's been incredible – I consider GRL GANG my family. I never started it for my own benefit, but it's brought so many amazing people into my life and I'm so grateful to have built such an accepting and uplifting community. I'm probably most proud of GRLFEST, which was our first virtual festival last month. It was one of the most stressful, but rewarding, things I've done to date.
What are your goals for GRL GANG for the remainder of the year?
I'm working on planning a GRLFEST 2 and starting to expand the brand in other ways. We had some live shows planned as well, but those will have to wait.
People often discredit the success of female producers by either pinning them against each other, gossiping about ghost producers, objectifying them, etc. What can we do to help combat the hate and uplift women in dance music?
In my opinion, it starts with promoters and labels, etc. to lead by example. I think in general, providing more opportunities for women creates a less competitive and more welcoming environment overall. I will say, I feel like there's been a lot more support for women in the industry the past couple of years and it's really dope. Also, just don't objectify women or assume they have ghost producers for no reason… it's wack.
What do you have planned in terms of releases for the remainder of 2020?
An EP coming soon. 😉
Tracklist:
BLURRED VZN – THROW IT UP
BADRAPPER – VERSACE PILLZ (CODE ZERO REMIX)
TRXGGX – TRIGGA (FEAT. NJ)
JEANIE X LEVEL UP – ID
RUVLO X SLUSHII – ID
ALRT – BLOOD
GRAVEDGR – RAMPAGE x NVADRZ & ALIAS – RUNDOWN
PEEKABOO – NUT CASE
JEANIE – ID
PIERCE X K-NINE – ID
BOOMBOX CARTEL – MAQUINA
JEANIE – ID
CYCLOPS – ID
JOSH CASSIDY – SYSTEM FAILURE
WVCHIN X ALIAS BEATS – ID
TVBOO X BLVK SHEEP – ID
CONTROL FREAK – SIX FEET DEEP
JIQUI – SANCTUARY
SKRUDE – LOCUST
HELIOS – MIDNIGHT
RUVLO – ID
HYDRAULIX & AFTERTHOUGHT – LET EM DRIP (FT. WIFISFUNERAL)
DROPWIZZ – BALL SO HARD
JASIAH – REBEL x BRAINWAVEZ – SICK IN THE HEAD
BLVK SHEEP – BREAK (SUPERAVE. REMIX)
QO & TRILO – PUSH IT TO THE LIMIT