Guest Mix + Interview: ION – FUXWITHIT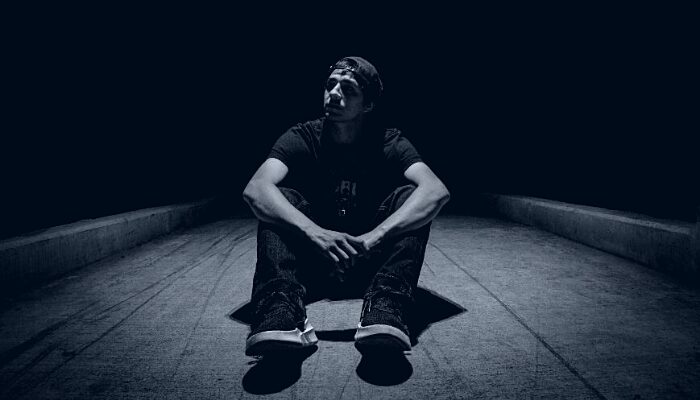 Southeast of San Francisco and just north of Los Angeles resides a city called Visalia. A place in California that is known for its breathtaking views of the Sierra Nevada foothills and a vibrant agriculture industry. It is also home to the high-spirited artist Jimmy Mosqueda, aka ION, who has steadily driven his sound to permeate throughout the underground. With his recent release of the Digital Beings album, ION only further demonstrates his ability to experiment with atypical frequencies and construct mouthwatering soundscapes. From spending a bit of time talking to ION at a show he played in Arizona to seeing the continued hunger of this artist, it is our pleasure to further discuss his upbringing in the industry, the 'Connecting Through Sound' project and more. Get comfortable as we dive into the depths of his IDs and peep the interview below.
When did the ION project come to life?
I started ION in 2009. First began djing, I was 15 years old, wasn't really producing much at the time but I was always making edits and mashups of my favorite tracks. In 2015 I started producing & sound designing my own sounds, this is when I felt my project fully came to life & still everyday I feel like I'm still continuing to bring my project to life even more <3
Were you born and raised in California? If so, what's it been like growing there? If not, what brought you there?
Born and raised in Visalia, California. It's been positive. Packed cities & tons of people but I personally love it. I've met some of my best friends out here & have been very grateful to be able to spread my sounds to all kinds of amazing surrounding cities like Los Angeles, San Francisco, Sacramento, San Diego.
What are some of the things that inspired you early on to push your sound into the forward thinking direction you have?
I've always been inspired by Surrealism art. Always been fascinated with all types of art and the process of people putting their emotions into their work & going outside of the box. I feel like seeing other artists do whatever they want and however they want really pushed me to where I'm at now.
I remember you distinctly talking about your mom when you were in Arizona for a show a while ago. Has she always been supportive of your creative endeavors or was it something that took time to convince her of?
My mom & dad have always been my #1 supporters, always supporting me no matter what. Big or small they will support it tremendously! But I think once they started seeing me play shows consistently & travel out of state and such is when they started showing way more support, I definitely feel more support now <3
You released some merch titled 'Connecting Through Sound.' Can you talk to us about this project a little bit and the idea behind it?
"Connecting Through Sound" is something my project is based on & my intention. Bringing people together with music & enhancing safe communities and simply helping our fellow people. I soon plan to take part in local community & charity events for the youth, homeless & the needy. Just a way I can give back to the community.
How has the quarantine affected you and what are some things you have done to help stay creative? Any new hobbies or interests you've picked up along the way?
The quarantine has pushed me to work so much harder, even though all my shows were cancelled & tons of things were put on hold. I've still been very motivated & didn't really let Covid-19 mess up my flow. Some things I started doing that really helped was I started playing some PC games (Valorant) with friends, this balance really helps me a ton.
Congratulations on recently hitting 5k followers on SoundCloud! How did it feel to reach this accomplishment?
I'm just very grateful to be getting my sounds out there in the world <3
What can we expect from this guest mix?
Bunch of new upcoming unreleased tracks from myself & my fav tracks from some xxxtra spicy friends of mine! Also featuring a debut of my new upcoming single 'Bugged' <3
Tracklist:
Agent O – Wake Up
INNOCENT – The End
Raftyr & Aviate – Gas
ION – Chillan
Mike Jones – Still Tippin' (Oli X None Of The Above Remix)
ION & Wasteurself – Losing Sux
Blvk Sheep – Fearful (WE ROSE x YOJAS REMIX)
Pierce – Wobble
2shay – Renegade Rebels
msft – Feel
ION – Bugged (Unreleased)
Molokai – mys
ION – Chromatic Ribbon (Unreleased)
Untitld – Bump
FRQ NCY – Indo
monger – vibe check
Gorilla Zoe – Hood Nigga (Acapella)
P A T H – Hypersleep
muncheez – SHADY 580
Eazybaked – Bandzzz (Sky Suite Remix)
ION & Siklok – Wook Weapon
Eradikid – HERMIT
ION – Darkside
MeSo – Ascension
Blake Skowron – i can be a bit much
tsou – pencils down
snuggles – some basse
ST4RFOX – Whatitdo (feat. Marbl. & Vusive)
EvoluShawn – Badman Selecta
golden child – Solitude
MED, Blu & Madlib – Jungle (Solarious Flip)
DIELAHN – Crawling Eagle
EvoluShawn – Hot