Guest Mix + Interview – Elaquent – FUXWITHIT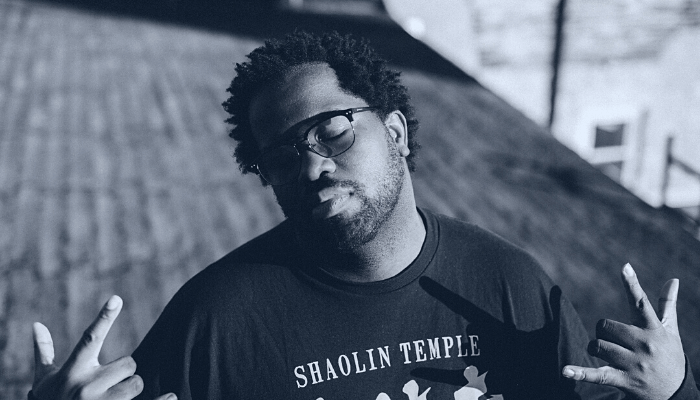 If you're familiar with the beat scene, then you're probably already familiar with the name Elaquent. Despite being quite far from the scene's Los Angeles roots, the Ontario native made a name for himself through his heart-warming sound, his unique approach to beatmaking, and his lengthy and prolific career. This year alone, Elaquent dropped 3 projects: Komfort Food; In Colour, Vol.2; and In Colour, Vol. 3. Creating imagery through his soothing and texture-laden soundscapes, Elaquent continues to display his chops in the hip-hop scene, holding onto the well-deserved respect he's earned throughout the years.
Despite the genre being so sample-heavy, what sets Elaquent apart is his confidence in sound design. While listening to his tunes, it wouldn't be out of the ordinary for you to think the vintage feel could be attributed to a vinyl. However, he tells Bandcamp, "If I consider myself an artist, I should at least have the courage to try to [compose my own beats]. And so when I make a beat that has no samples, but people think that I used a sample? That's kind of the ultimate compliment."  In a class on his own, we're gratified Elaquent accepted our invitation for our latest guest mix. Learn more about the beat scene legend and listen to his special FUXWITHIT mix below.
Hey, Elaquent! Thank you so much for doing this with us. How are you?
I'm hanging in there! Trying to keep busy and scheme for next year. It's been a good year, all things considered. Always a pleasure to talk with ya, thanks for having me.
We've been wanting to get you on a mix for a while and we're so glad it's finally happening! What can we expect to hear?
Pretty much a collection of stuff that I listen to lately. Everything from introspective raps, to drug raps, to mellow beats, to heavy shit, old stuff I grew up, newer stuff. A lot of different stuff from various hip-hop spectrums. And maybe a song or two I'm involved in.
Is there anyone you recommend that we should invite to host a guest mix?
Lots of folks I could recommend…my bro Paul Chin is probably a little more plugged in on electronic music and definitely a much better DJ than me. Otherwise, K Le Maestro, chromonicci., The Kount all get my votes.
On the first, you tweeted your biggest flex of the year was getting help. What does that look like for you?
That means seeing a therapist, talking to people, actually taking practical steps to get better. I know there has been somewhat of a newfound focus on mental health and self-care/love, and I know it's mostly the ladies who have been at the forefront of that movement, but with that super wack, macho, toxic "internalize everything" mindset myself and a lot of black men have it felt a little liberating to say 'fuck it' and take the step to talk to a professional and be more open about some of the things that have made me ill.
Every time you release new songs, you pin a photo of Kaelin Ellis to the track on Spotify. Can you give us a little background on that?
LMAO, to be honest, there isn't some crazy story about that. He posted one of his beatmaking videos and if you screenshot at the perfect moment, you can catch anybody looking kinda goofy in the frame. I'm in a group chat with him and normally that type of stuff just gets posted in there for laughs, but I thought it was funny to throw it on my Spotify page. My mans just kept leaving screenshottable imagery so I kept doing it lol but he's been a good sport about it.
As a producer, part of my job is to discover somebody or tap into a different side of an artist.
Speaking of releases, you just dropped an EP with Killah Trakz and you're someone who constantly works with different artists on projects. What are your dealmakers for collaborative partners?
Trakz been one of my homies for literally like 15 years. Some of the joints he's put out are jams we did literally 9, 10 years back. Shouts out to him. To be honest, I'm very picky with who I work with. I'm a big fan of a lot of different artists, but only a handful of them I feel that chemistry with. As a producer, part of my job is to discover somebody or tap into a different side of an artist. While I have a small circle of artists I collaborate with often, I never want to work with the same artists on every single project as everybody else, it's more fun to find someone new to introduce to my audience.
You're someone who toes the line between hip-hop and electronic music, gaining massive respect from both communities. What would you describe your position in the music industry? Why do you think people in electronic music gravitated towards you so heavily?
Honestly, I don't know. I've always considered myself a hip hop guy first and foremost, but there are definitely parallels between hip-hop and electronic/EDM/house/whatever else. At the end of the day, we're all beatmakers and producers using mostly the same equipment or software and putting sounds together. When I first started visiting LA in like 08, started to see artists who had more of an electronic influence on their music and I thought that shit was so fire. Not to mention, a lot of my homies who are big in EDM/electronic scenes now started off doing boom-bap hip hop, or vice versa, so sometimes it's a natural evolution. Cool sounds are cool sounds regardless!
At the end of the day, we're all beatmakers and producers using mostly the same equipment or software and putting sounds together… Cool sounds are cool sounds regardless!
Earlier this year you released Komfort Food and the visual marketing for that project was centered around donuts and coffee. If you could pick your "komfort" meals for breakfast, lunch, and dinner what would it be?
Despite us including coffee beans in the special edition of that project, I'm actually not a coffee drinker lol so I'd probably leave that out. Dinner definitely Jollof rice, but that shit is comfort for me and my family. To be honest, I'm more of a brunch guy rather than breakfast and lunch guy, so I'd probably do an egg omelette with fruit or something.
What are 5 words or phrases that you've muted that's made Twitter a more peaceful place?
Kanye
Jada Pinkett
Maga
6ix9ine
Nicki Minaj
Some of those things don't even offend me per se, just tired of seeing that damn discourse on my feed.
Is there anything I haven't asked about that you want to talk about? Anything you want to plug in?
Yes, Follow @ariellenyc on Twitter. Very important I get that crucial information out there into the world 🙂
Tracklist
Mndsgn – Ggarden (ft Pink Siifu)
Westside gunn – TV BOY
Your Old Droog – White Russian
10.4 Rog – Nite to the Morning (ft Ayun Bassa)
Mr Carmack – Kick it Up
Sam Gellaitry – Ever After
SWARVY – Powerglide
T.Maree – Favorite Still
Fly Anakin & Pink Siifu – Good Word
Evil Needle – Moonlight (ft Venuz Beats)
Mxxwll – Jams (ft stdmp)
High Klassified – Hyrule Kastle
Mndsgn – Hope You're Doing Better
Liv.E – Party Life
Budamunk & J. Lamotta – Eyes to the Skies
Your Old Droog – 2001 Space Yodyssey