Guest Mix + Interview – COPYCATT – FUXWITHIT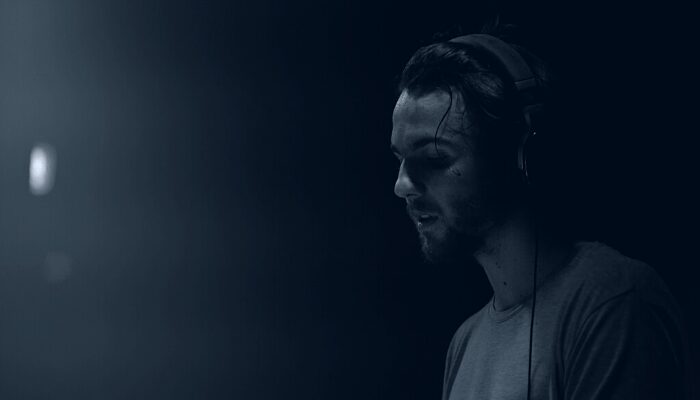 A month ago, we posted about COPYCATT's silent return to SoundCloud on nothing but a whim, but when the artist shared the article himself with the caption "Apparently I am back," it validated our suspicions and got many excited for this new era. A proponent of pairing wicked bass with an underlying musicality unlike any other producer out there, COPYCATT has honed in on a neuro-leaning signature sound that continues to evolve with each and every release, boasting an unparalleled aptitude for creating menacing flows and soundscapes. With that being said, the promise of more to come is some of the best news fans have heard in a minute, and it presented a rare opportunity for the artist and fans alike.
We had the extreme pleasure of connecting with COPYCATT in order to discuss this exciting return, touching on a wide array of topics such as self-criticism, the power of social media, developments in his personal life, musical influences, and so much more. The talented artist provides a plethora of useful insights that may help artists or fans who are struggling with creative output, while keeping a lighthearted tone throughout the interview. In addition, we've been blessed with an ID-riddled 30-minute guest mix from the bass maestro, where he showcases a bunch of originals and remixes that are perfectly suited for the FUXWITHIT audience. Don't miss the interview and mix below.
Thanks so much for connecting with us! First off, let's talk about your mix. What vibe did you try to create? What is the best setting for listening?
I think I'd call this a neat little flagship "COPYCATT" mix. It's a comfy blend of what I'd call my staple originals in with a good few IDs that I play regularly. I've kinda been going over my entire catalog of things I've made since I started this project in 2015 and I think I'm finding a new affection for some of the older bits I've written, so there's a couple of older goodies in there. In terms of listening setting, I'm really missing playing shows right now so I think I wanted to emulate an energetic live feel, but ironically I didn't have any decks so I made it in Ableton and it took me fuckin ages comparatively. I think it came out more like a montage honestly. Anyway I'm enjoying the thought of somebody thrashing out to this mix in their car. Or maybe baking a cake to it. Or a pretzel. You bake pretzels right?
The more I let go and just make stuff without thinking so hard, the more things just seem to work.
This mix, paired with your recent activity on SoundCloud, unofficially announces your return to music, right? What prompted you to delete your SoundCloud around a year ago?
Yeah I'd say I've been making an effort to publicly re-engage with my music. I think I was pretty tired for a little while by this emotional merry-go-round I felt like I was on. I had a few bad habits and self-deprecating ways of thinking, which got pretty out of control at some point and with social media and the Internet in the mix my experience with being publicly creative kinda became this cocktail of ups and downs that made it difficult to actually pinpoint the problem. I think I've tried to 'officially' quit music two times without really knowing exactly why. When I deleted Soundcloud it was more of an act of trying to protect my creative ambition. I guess to enjoy creating for no reason except to let stuff out, and not need it to be anything. Also to kill that need to 'be productive' with every waking moment of my life. After a few months out I kinda started to see that a lot of my creative worries came from this really hectic self-criticism, which I think I medicated by getting validation from others instead of confronting my own shit. 
Honestly I think I also just put a lot of pressure on myself to have everything figured out and to keep up with every standard I created for myself. The more I let go and just make stuff without thinking so hard, the more things just seem to work.
It sounds like you've overcome this need for external validation. What advice would you give artists who struggle with this as you have?
I can't say I've completely neutralised every weakness I have in that area, but I've definitely found a better balance of looking after myself, being super proud of my shit, forgiving myself for wanting people to like the shit I make, and after everything just choosing not to give so many fucks and just upload stuff. It's by no means a perfect set of philosophies but I think making do with mess is a virtue of being a creative. Or being human really. I think if you can really love yourself you're leading the way to showing other people how to like you.
I'm learning to kind of just ignore my fear of failure. At least enough to conclude that never putting my stuff out there is worse than having it fail (whatever "fail" means). I'm just putting confidence into my own stuff now. Like really falling in love with some of the things I've made. The more I look the more I'm starting to see a really unique collection of things I really connect with and am proud to let out. 
I'm also learning to stop trying to copy other people to some degree (yes, I understand the irony). I think being inspired by other people is totally valid but I got real caught up trying to "keep up" with everyone else for a while, so much that I couldn't recognise the things I was good at. 
In an interview I read, Noisia listed a Sun Tzu quote as one of their favourite quotes: "Fight your enemy where he isn't." For me that's not to imply that anyone is my enemy, but more that really success is just doing the thing that only you can do. And now I'm quoting Noisia quoting it in an interview in an interview. Haha. 
Relatively speaking, you're quite inactive on socials. You didn't even post anything when you made your new SoundCloud and posted 'PIPES'! Is this is a conscious effort in order to stay detached from what people think?
I would love to say that I've got all my social media philosphies nailed but honestly I'm a mess in that area too. I really was intent on doing a massive kinda detox for a while. I had this little Nokia brick phone for half of 2019. My friends hated me for it but honestly it was helpful at the time in terms of cutting off that IV drip of low level entertainment. I figured out I really like running off into random suburbs for arbitrary amounts of time. I think after that experience I kinda developed this aversion to touching social media like an ex-smoker might avoid being around cigarettes.
Now that I'm kinda better at enjoying my life without social media I'm starting to work on integrating it into my project again. It's honestly a blast when it comes to building a brand. Trying to make something interactive out of my art using social media is honestly something I'm enjoying exploring at the moment.
Making do with mess is a virtue of being a creative.
On another note, I heard you recently made the move from the Brisbane area down to Melbourne on your bike. How was that trip? How long did it take you? Any key highlights from that ride?
Haha yeah that was unreal actually. I got my motorcycle license earlier this year, which was pretty out of character given that I don't know many people that ride, or even agree with riding motorcycles to be honest. A lot of people in my life (with nothing but the best of intentions) tried to put me off the whole motorcycle thing, and I think that really added to that thrill of making my own choices. Sorry mum. Love you mum.
So yeah then when I pinned a lease in Melbourne I kinda just decided to ride the bike down and see how it would feel.
The trip was incredibly beautiful. A lot of the rural areas in New South Wales are amazing. Just long roads through valleys and over hills. Hot tip to anyone thinking of doing the same though – get glove liners, a neck warmer and something to block the road noise out. Even a 20C wind hitting you at 100km will make you cold eventually. I remember this one cold ass night I got caught out after dark on the highway heading to the Victorian border. I felt like I had rigor mortis, I just froze up in this one position and had to tuck into the slipstream of this big truck for like 2 hours to stay warm. I have never enjoyed a hot shower more than I did that night. I think I wrote like a solid paragraph in my AirBnB review about the width of the shower head and how great it was.
All in all a cool experience, but if I had to do it again I would definitely take someone with me. I would have loved to have shared that experience with another human being.
Why the change of scenery to Melbourne? Was it more of a career move or a personal move?
More of a change of scenery really. I've got a lot of extended family down here, and I guess I started dreaming about living down here last time I visited. I think just taking everything I've learned and planting it in a new setting has been really fun so far.
That being said there's a couple of great producers down here I'd love to meet up with. Alex Tide is this mad DnB producer I became buddies with at a festival we were both playing in NZ. Also Herzeloyde lives around here. He's nuts. If you're reading this Herz, hit me up. 
For anyone making the trip down under (if the world will ever allow it), what's the one place that everyone needs to see or experience?
Man honestly I think Australia is a pretty interesting place wherever you go, but within my own realm of experience I'd say visit the coastal beaches. Noosa area and Byron are lovely and the weather is usually impeccable. A lot of the NSW coastline is beautiful. If you're looking at cities, Melbourne is the most interesting (especially according to anyone from Melbourne) and so far I'm finding it pretty endless in terms of things to do. I do have a soft spot for Brisbane though. It's not a wild tourist destination but I miss the people there. I'm yet to visit Adelaide or Perth. 
Also fuck Australian pride – go to New Zealand. It's unbelievable. Take a snowboard too.
Did you come from a musical background or play any instruments growing up? Do you feel like that had any influence on your approach?
My parents are pretty musical. My dad plays electric guitar and sings and my mum is a trained classical pianist. I was raised in church as well so I was pretty much singing every Sunday. For most of my early childhood my parents were in the worship band, but they also both had pretty elaborate taste in music. My dad loves Jeff Buckley, Elizabeth Fraser (from the Cocteau Twins) and a lot of blues artists. My mum loves a lot of things but particularly a lot of non-western music, like Balinese Gamelan (which she actually studied for a little while). So we listened to a massive variety of stuff when I was growing up.
I think I always had an ear for pitch and melody, and I've definitely always had a weird fascination with noises and voices (anyone that knows me will tell you half of my speech is delivered in some stupid accent) but despite my dad's efforts to make me play electric, and my mum's efforts to teach me piano, I found it really boring at the time. I spent most of my downtime on the computer trying to make weird shit like video games, films and animations (I used to love making stop motion stuff). 
At some point there I think I was trying to make some theme song for a film idea I had and started mucking around with some ghetto Garageband-ish program to make music. Then with a bit of influence from my good mate I got into guys like Wolfgang Gartner, the Aston Shuffle and eventually Skrillex, before getting a copy of FL Studio off him and becoming Super Serious DJ Kid With A Beiber Bowlcut. One day I'm sure someone will find photos.
When I was about 19 I started getting into more melancholy stuff and started mucking around with electric guitar. Later that year my dad got me an Ibanez amp for Christmas. Since then I've definitely noticed influence from some of his playing in my own stuff.
I find the more like a child I become with everything I do, the more I enjoy creating in general. I don't really hustle anymore, I just do shit I like and scrape the cream off of it, and that becomes my creative output.
You have also spoken about drum and bass influences in your music. Who are some artists that you believe are doing something fun and unique, and what exactly do you find exciting about their music?
I mentioned Alex Tide earlier. He's a really unique artist. 'Ultrasuave' and 'Clapper' are really sick tunes of his. In terms of DnB I think IMANU is destroying right now with his new EP, just in terms of quality and creativity and I also love that Buunshin remix of 'The Wall.' Super epic and angsty. Outside of DnB I'm continually impressed by Chee, I feel like I've had a completely-platonic-and-nothing-to-be-concerned-about producer crush on that dude for like the last couple of years. A lot of his sounds just cross over into the kind of sounds that I really like to make, and I think he has very similar influences. His new tune 'Wallflower' really tickles my metaphorical musical pickle. I was so inspired I ripped it from his mix and just started writing random shit around it for fun. I might just release it and pretend I made it, and then hopefully when I'm rich and copyright becomes a problem I'll just hire a very good lawyer.
DISCLAIMER: I will not actually release anyone else's work and claim it as my own. Even if my moniker is conducive to such behaviour.
What are some of your other driving inspirations when creating?
Honestly I find it really hard to say exactly how ideas happen for me, like most things in my process kinda change with the weather, but I'm a pretty avid believer in God, so I kinda attribute a lot of my creative successes to my relationship God. Not like as some reward for being pious or whatever, but I guess there's a fundamental part of my personality that functions from the kind of super open conversations I have with God about stuff, and that makes way for a lot of the most honest moments in my creativity. A good chunk of my favourite tunes I've written have been about my relationship with God. It's kinda lame, I honestly still find it hard to talk about that aspect of my life most of the time, but I feel like I wouldn't be who I am or be doing anything that I do without God.
That being said generally movies and video games get creative juices flowing for me. Like I just get in a headspace after watching stuff and have to write something. I can't deny, I fuckin love Spider-Man since forever. Honestly I think Spider-Man is like one of my biggest role models. Like I don't give two fucks about adulthood, I'm still trying to be Spider-Man at 24.
I also love going out with a backpack and just exploring the city. If I've got ear buds on me I'll usually end up running once a good tune comes on. Quite often I end up wearing myself out just as I'm realising I'm in some random suburb 30 minutes away from my house and then dragging my feet all the way home. Sometimes at a really dumb hour of night. I splurged on these real nice Vivo barefoot shoes earlier this year and I honestly think it's one of my top 10 greatest investments. I run nearly everywhere in them. Also having the motorbike is awesome if I wanna buzz around the city, especially heading down south near St Kilda. Then when I'm all burned out and melancholic I just sit in front of my amp and wail out different arrangements of the same 4 or 5 chords. The thing is I find the more like a child I become with everything I do, the more I enjoy creating in general. I don't really hustle anymore, I just do shit I like and scrape the cream off of it, and that becomes my creative output.
Tracklist:
COPYCATT – ID
Madlib – Episode XVI (COPYCATT FLIP)
COPYCATT – Suave
Beyoncé – Crazy In Love (COPYCATT FLIP)
COPYCATT – Ditto
COPYCATT – ID
COPYCATT – TREPP
COPYCATT & Frequent – Tom's Battery
COPYCATT – ALL TALK
COPYCATT – ID (sorta)
COPYCATT – Survive
COPYCATT – Meat Grinder (ft. MF Doom)
COPYCATT – MTFBT
COPYCATT – ITSUM
Mr. Bill & Au5 – The Recency Effect (COPYCATT Remix)
COPYCATT – ID
COPYCATT – ID (sorta)
Flume – Rushing Back (COPYCATT Remix)