Guest Mix + Interview – Coffin – FUXWITHIT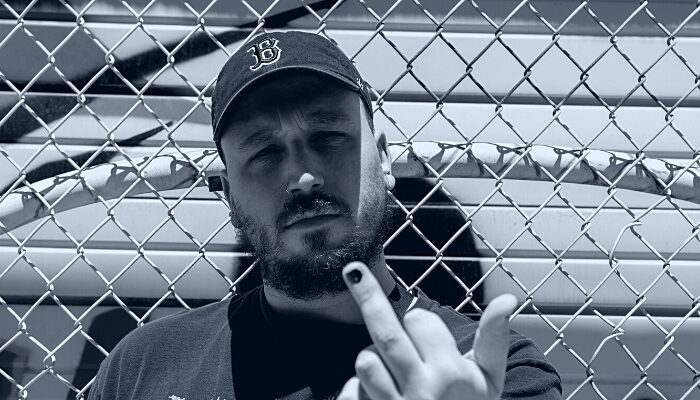 Dabbling in a multitude of genres with grace and major success, Atlanta's Mike Adriance, also known by his Coffin production alias, is a man with an ear for tracks that will get you moving and grooving to your heart's delight. Masterfully blending an eclectic concoction of spicy house tunes and aggressive trap stylings, fans are left in a state of intense euphoria, audible cocaine being express-delivered greedily into their ear canals. Last year he successfully traversed a rebranding from his former FVCKDIVMONDS moniker, aiming to fully capitalize on his true potential. With dark, energetic works at the forefront of his creative output, this is one artist that will leave you excessively yearning for a dance floor to bust out your wildest moves before you end up in a 'Coffin' of your own. We had the great pleasure of catching up with him about his latest original track 'Drowning', his keys to success, and his hobbies, along with having him be the 129th installment of our guest mix series. Check out both in full for yourself below!
You live in ATL! Have you lived there your entire life? And what's the music scene like?
Originally I'm from Massachusetts, but I've been in Atlanta for many years. The music scene down here is so inspiring, especially the rap side of things. Everyone is hungry and always working. 
Your last original release 'Drowning' is an emotional-filled, energetic house piece. Can you tell us a bit about the inspiration behind the track?
When I started the core idea for 'Drowning' I wanted to make something that made you feel the sense of longing, this year has been really rough on all of us so I've been writing tons of emotional music that fits how I've been feeling with everything going on.
You've stated in the past that you don't have to be the most technical artist in order to be successful. Can you expand upon that idea a bit for us?
Absolutely, in my opinion simplicity works just as well as the most technical song you've ever heard in your life. As long as the core foundation/elements are there for a good song, you're good. Less is more. 
What is it about trap inspired house music that really resonates with you?
So, I personally did not start my music career with dance music. I was in punk bands first then after that I began producing/engineering rap records. Rap, primarily southern trap music has a huge influence on my sound so everything I do be it, EDM Trap, Trap House, shit even if I made a hardstyle song it would have some elements of southern trap music because that's where I come from. I really started with this sound like 5-6 years ago, just heavy rap influenced breaks with house drops.
Besides producing music, what are some things you've been doing to stay busy during quarantine life?
I love doing graphic work in photoshop, & editing videos in Premier. All of the album art/video assets you've seen recently from the COFFIN project are entirely made by me. Other than that, my PS4 has kept me sane lol.
What's one valuable lesson you've learned over the course of this year?
To never take what you have for granted. I miss traveling & playing shows so much right now I would give anything for the world to go back to normal.
Who are some of your favorite underground artists right now?
So many, Odea, Schade, Mayhem, Blvk Sheep, CLB, Achilles, Hypression, Perses, Sqwad, Koos, just to name a few.
Do you have any daily rituals that you do to maximize success?
I normally wake up, make a fat cup of coffee, then spend the next hour or so listening to music to set the inspiration for the day before I create. The key though, I listen to anything except dance music to inspire me to make dance music if that makes sense. Lately it's been listening to Black Flag or Gucci Mane and diving in.
With such a plethora of fantastic options in the United States, what are some festivals and venues you'd be stoked to play at when shows start happening regularly again? 
Too many to name, but I can tell you I'm so hyped to return to LA, Seattle, Chicago, New York, & a bunch of other cities.
Any big releases or streams coming up that you'd like to clue us into today?
I have a few more surprises up my sleeve before the end of the year, look out for a couple more records & a few live DJ sets on the way! 
Tell us about the guest mix you did for us today!
This mix embodies all the music that I'm currently fucking with. This really would be my tour set if everything in the world was normal, I included a bunch of brand new unreleased music from myself and my homies. Just wanted to thank y'all for always rocking with me & thanks for having me!
Tracklist:
COFFIN – ID
SQWAD- To The Sound
Taiki Nulight & AC Slater – Gold Star
Koos – Spin It Back
ANGELZ, Jace Mek, & Kage – Stupid
COFFIN & SKUM – ID
Tynan – Diggid
Badjokes – Orion
Madeintyo x Medasin X Josh Pan – Prophet Ned Flanders The Zoo (Odea Edit)
Pop Smoke & Tyraz – Gatti Smog (COFFIN Edit)
G Jones – In Your Head (RL Grime Edit)
Blvk Sheep – Wonksta (COFFIN Remix)
Dababy & Boombox Cartel – 21 Manquinas (COFFIN Edit)
Reebs – The Club
Born Dirty & Bellecour – Tokyo Bill
Cave Studio – Take Me
Phlegmatic Dogs – Cuatrocats (Volac Remix)
Henry Fong & Knock2 – What's The Move
YYVNG – Wynehouse
Habstrakt – Show Me
COFFIN – ID
Asdek – Switchin
Honey & Badger – Delta
Malaa – OCB (Sqwad Remix)
Hypression Ft. Aallis – Lie
Left/Right & Bodyblow – One Two (Badjokes Remix)
COFFIN – ID
Shift K3Y – Get Low
Marten Horger & Neon Steve – Church
Dj Snake – Enzo (Malaa Remix)
Habstrakt – Free
COFFIN – Get 2 U (Punk Edit)
Valentino Khan – Lick It (COFFIN Edit)
Joyryde Ft. Majilla – Thrill
Jero – Got This
Notion – Hooked (Marc Volt Remix)
Malaa – We Get Crunk (Keeld Remix)
Martin Ikin – Headnoise
Marten Horger & Karol Tip – Wild
COFFIN – ID