Bainbridge Is Out For Blood With His Sophomore EP Crusade [Interview] – FUXWITHIT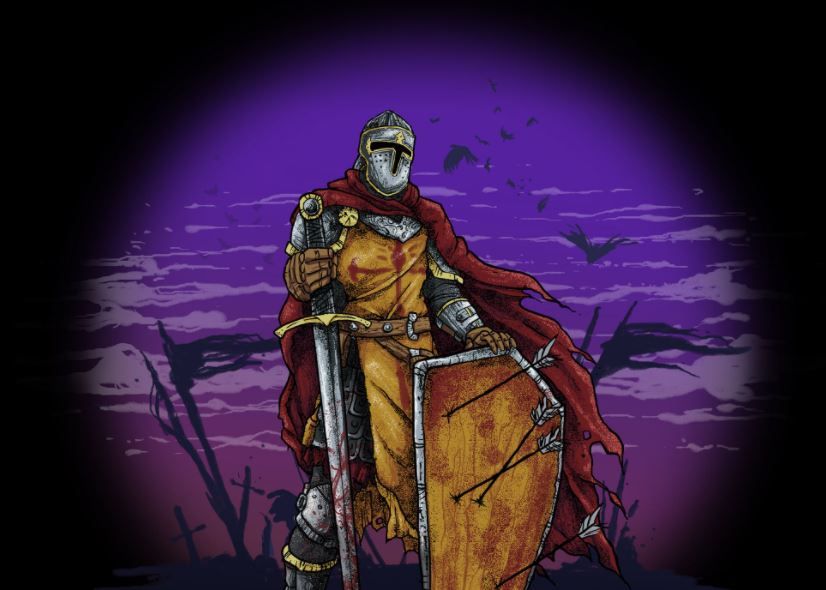 For music fans with a hankering for only the darkest and heaviest of dubstep productions, Minnesota's Reggie Moe, also known as Bainbridge, is a sonic chef practically chomping at the bit to dish-up only the finest of audible creations. Crafting gruesomely grimy and magisterially magnificent plates like no one's business, this is a man hell-bent on gallivanting his tyrannical sound the world abroad. His debut Genesis EP was met with critical acclaim, helping him step with sure-footing onto the radar of the biggest dub-heads in the industry. Now, he's back at it once again with the next installment of his audible journey with his Crusade EP, a 4 track belter, out on Disciple Round Table.
If there's one thing Bainbridge's music is known for, it's successfully forcing fans' faces to contort in the most grotesque ways possible. Eliciting only the most violent of bass faces, his tracks both stupefy the mind and ignite adrenal levels to maximum capacity, a truly lethal combination. Crusade, is no different, opening with the vicious title track. From the opening notes, you'll feel like you just accidentally stepped through the gates of hell, with a dark, ominous voice welcoming you to your demise. The first part of the initial drop is extremely rhythm focused, utilizing extremely clean, yet viciously thick bass lines and spooky melodies sprinkled throughout that add to the murky aesthetic. Continuing his trend of lulling you into submission and then backhanding you with added layers, the 2nd half of the drop is gutbustingly terrifying, turning your mug into the trademarked "O" face that is oh-so-prevalent when confronted with filth. Welcome to Satan's disco, only the strong will survive.
Trading booty-shaking rhythm for bone-crushing grit, 'Ancient Evil' comes in hot as the 2nd installment in Crusade. If the army of the damned had a drum-line, this would be their trademarked anthem, due to its unparalleled utilization of borderline-diabolical thickness. Throw out the bowl of oatmeal, this contest isn't even close. With dark vocal samples and a distinctly metal-influenced flair in the latter half, malevolence practically seeps out of any speaker systems that rinse this massive tune.
Your greatest weapon against Cthulhu himself, 'Last Man Standing,' a collaboration with Kozmoz, sits at the third spot in this EP. A doomsday cannon of titanic proportions, this track is a deadly addition to any audible arsenal, and should assuredly come with stern warning labels. Chopping up the rhythm finer than Gordon Ramsay, bodies will be eviscerated by the exquisitely-timed switch-ups and brutal layers. Whip-out the finger guns folks, we're shooting invisible planes out of the sky with all our might.
The last abominable creation that caps off Crusade is 'Distant', with Austin, Texas' Sora. They say you should always go out with a bang, right? Well, these two maestros came more than correct. The vocal sample of "finally, the time has come" greets you right before you descend for the last time into the abyss. Ungodly melodies coupled with gruesome drum patterns equates to an unholy sermon in the church of the dead.
We also had the great opportunity to catch up with Reggie himself to talk about the project, his overcoming of addiction, and his motivations! Stream Crusade in full, and check out our interview with him below!
You mention frequently your music is a portrayal of the battle between light and dark. Why did you focus on that aesthetic, and how do you showcase that throughout your pieces?
We all have good and evil inside of us but it's up to us what path we choose. A lot of it stems from my sobriety. Back when I was drinking it was a very dark time for me and I saw the light and changed my life. The choice is ultimately up to you which path you want to take in life. It's all about becoming a better person day by day. I showcase all of this through my pieces via melodies, sample selection, and overall vibe and atmosphere of the tracks.
What was the inspiration behind your latest Crusade EP, and what story are you trying to tell through it?
The Crusade EP is meant to be the beginning of the battle. Genesis was sort of like the inception, if you will, of the world that these ideas and characters are going to exist in.
This will now be your 2nd EP release through Disciple Round Table! How did you initially get into contact with them? 
They actually reached out to me back when Immortals was getting played out by artists. They asked me to send over music and the rest is history.
You recently were one of the winners of Disciple's remix competition with your rendition of 12th Planet's RVD! How did you feel when it was revealed that you were on the winners? And did you already have an idea of what you were going to do with the track going into the competition, or did it just come to you organically during your workflow? 
I was ecstatic! It felt amazing to win. Most of the track came to me organically as I started to work on it. 
 You've struggled with, and eventually overcome addiction. What advice would you have for others that are going through a similar experience, especially in these emotionally distressing times?
Never be afraid to ask for help and admit to yourself that you have a problem. That is the hardest part. Having a strong support network of friends and family is a really big key as well. If you don't have these things, look into things like AA and NA, as well as going to a treatment center to try and build a network. Make sure you have a positive mental attitude as things will always get better. You CAN do this!
What's your personal take on the current push-back against predatory contracts that major labels are accused of?
Everyone deserves a fair deal. Majority of the labels I've worked with have been nothing but kind and an absolute pleasure to work with.
What are some of your biggest motivators in life?
Sobriety, the drive to make something of myself and to live the life I want to, and to better the lives of those around me through the power of music.
What are some of your favorite hobbies outside of music production?
Video games, reading, and snowboarding to name a few!
What's next on the horizon for Bainbridge?
A ton of new music, continuing to push my sound design and brand, and a bunch of collabs! Hopefully I will get to see my fans and start to travel again too once all this Covid-19 stuff is over.