Guest Mix + Interview – blake skowron – FUXWITHIT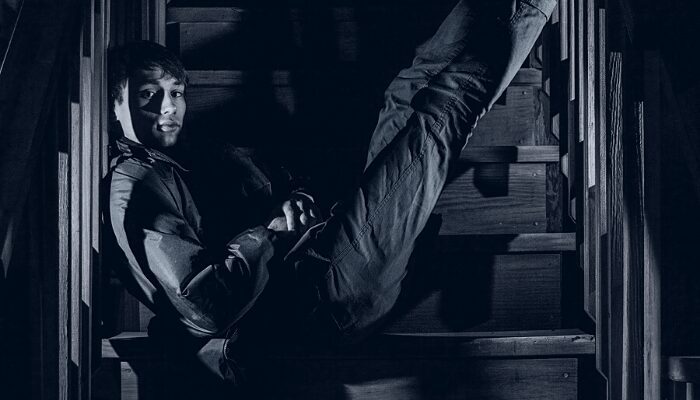 There are a lot of fantastic producers out there, but few with the production flair or finesse like Chicago's blake skowron. He's been forging inconceivable beats from the depths of his imagination since the golden age of SoundCloud, with timeless classics such as 'when', 'Push', and his critically acclaimed debut LP Spine. He's released not once but twice with ADBC Records and collaborated with an extensive list of forward-thinking artists such as tinyghost, Jon Casey, L*o*J, Noer the Boy, Harris Cole, and countless others.
His brilliant discography is admirably diverse in style with a wide array of rhythm and energy levels ranging from tender, buttery smooth ear lotion to supernatural garage and untamable, swanky trap. skowron defies all presumptions one can have about music by tearing down genre-defining borders and entwining ruthlessly inventive sound design into his productions that leaves you questioning what's possible. From his finely aged Deep Fried and Bummed EPs to more recent works like the feel-inducing Outlaw Ocean release and new comic books compilation, Blake's boundless catalog inventively captures the unimaginable.
While there's much to be explored in his discography, we were lucky enough to get a glimpse into some of his own taste as well as a spoonful of unreleased juicers. Saddle up with the best headphones you can find and properly lube your ears before immersing yourself on the inspirational journey that is blake skowron's guest mix and interview.
Thanks for chatting with us! How've you been? What're you up to these days?
What's good! Definitely, thank you for inviting me to do this with you. To be honest, not bad. Mental health was kind of on a roller coaster for a bit during the stay-at-home order here (which is still in effect due to a substantially high amount of stupidity). Although, things have been looking up in some aspects, recently.
I'm pushing through, educating myself and taking my time to plan the next steps in my future projects. Lately I've been living in Chicago, inside for the most part. I binge watched the Avatar series (was dope seeing that again). Drinking water, trying to balance music and work.
Have recent events impacted your routine/workflow?
100%. Not gonna lie, routine is still shit (still, as always, pushing through).
I've been trying new things to break up the workflow. One idea was to live stream on Twitch and "uncover my process", tricks in Ableton Live, and even DJing sometimes. In April, we had "Can't be Cancelled Virtual Music Festival," which was insane. We raised over $3,000 for Meals on Wheels. In addition to Electric Hawk's "In Harmony, In Solidarity". In which, all donations went to The Black Lives Matter Movement. A pleasure working with everyone on these.
Circling back to workflow: It's been off and on. There's a lot of things going on right now, so I'm doing my best to manage some sort of balance.
Loved listening to KOTA. What was working on that project like? Any big takeaways from The Outlaw Ocean?
Fun project. The whole thing took about six months. The book was interesting for sure. I received video captures of Ian in the field, which inspired me to write kind of like (maybe) an "adventurous" style of music. I wanted the flow of the project to be more like a drive, of some sort. Something that had a deep delicacy to it but also pushing forward, never looking back. Gathered a lot of inspiration from meeting new people, new experiences and music I've never listened to as well. So it's really a blend of things. I binged on Brian Eno and wrote "Nemesis." My roommate and I tracked some bass guitar and steel drum on "Ketchup!", was nice breaking up the routine. I'd say this project definitely helped me consider different approaches in writing and sound design. Personally speaking, the whole thing kinda left a bad taste in my mouth upon release. It's just not the project I once thought it would be, or wanted it to be.
What other styles of music have you been making recently?
I've been finding myself sliding back into hip hop, dnb, glitch-whatever and always writing goofball trap music. Recently, I've been into two-step, UK garage and techno as well. So I've been putting my own little spin on those too. Sometimes when I play through my current projects, track after track, it almost feels like there's a strange inconsistency. But, in a good way. I don't know if that makes sense but what I've gotten from it is I feel to understand some sort of versatility. It lights me up in a way. So yeah, I've been writing all kinds of weird goofy things. Been focusing on sound design quite a bit more than usual. Getting wacky with it!
There's no such thing as too much or too little… If you want to go gleeb glob stupid sticky crazy on your session and sounds, do it. I mean, what's stopping you?
Really dig your use of squishy textures and lush atmospheres. What advice would you give to producers looking to push their sound design?
I guess… maybe, there's no such thing as too much or too little. If you wanna write something or make a sound for the simplicity and beauty of it, do it. If you want to go gleeb glob stupid sticky crazy on your session and sounds, do it. I mean, what's stopping you?
How crazy was it hearing one of your Splice samples in a Flume song?
Definite geek. Word from someone working with him, he used a solid amount of my samples on the tape. Super inspiring. woogiewoogie.
Is there anything you wish someone had told you before you started making music?
I'm attention deficit. I'm not sure of the degree in which I am, but sometimes it does get pretty bad. Another thing is I can be very impulsive, irritable and start writing at three in the morning. There's more. I can also become obsessive over things I'm working on and drive myself mad. For example, when I was writing my Bummed EP in 2016 I didn't listen to any other music, besides my friend's music from group chats I was a part of. That went on until the project was out, on Spotify, SoundCloud and all that. Sometimes I still have those moments, to an extent, but I'm able to manage it a whole lot better. I didn't do a whole lot that year. I was either at college, my girlfriend's house, at the time, or in my bedroom working on this flipping EP. During that time, my life went south as well. I lost interest in self-health. My relationships with my friends and parents roller coaster-ed and unfortunately, I let that slide for a couple more years. I didn't get proper help until early 2019 and I'm still working on bettering my health. Life can be real erratic, weird, troubling or just difficult to wrap your head around.
If anyone were to talk to me, about anything, it would be something like "understanding the importance of self care and self worth". Take the effort to listen when people who love you are concerned about you. Also, acknowledge who you surround yourself around. Maybe it doesn't have a lot to do with music. That's all right, though. I don't know.
Saw you mastered Harris Cole's latest track, 'hey, september'. Do you master your own music as well? Is the process or end result a bit different with other people's tracks?
Yup! I master all my own music (with an exception of Deep Fried EP [2017] and my ADBC Records releases haha). Always switching up techniques too, as that is the beauty of mastering on a laptop. I'm on a slow path to graduating in Audio Design, but working hands-on in different studios with different artists greatly improved what I'm listening for in a mix and versatility of genre or style.
Maybe this can be a takeaway for beginner freelance audio/mastering engineers. In my experience, the best way to present your versatility in mastering another's record is to start with three or four different renders. Narrow it down to what the artist prefers and tweak from there. I had a master done for a client that took close to 15 drafts of tweaking the mix after starting with two different masters. Everyone has different ear, ya know? It's practice for yourself too. I'm not sure if that entirely makes sense but that's the way I think about it.
I'm also a huge fan of works done by Alex Tumay and Daddy Kev. I find myself to be very attentive to their socials, since they're always posting things to consider in the art of mastering.
Side note: There are so many solid engineers recording tutorials and post-production techniques on YouTube.
Youtube kind of slaps.
Stepping away from my computer and still creating hits different
Do you have any creative outlets outside of producing?
I've started drawing again. It's been a few years, since I've taken the time to noodle with something tangible. Usually I make a lot of graphic niblets on my computer for myself. Designing little covers is fun, don't get me wrong, but stepping away from my computer and still creating hits different. Really good for your eyes too. I also have some concepts of things I want to try with sound and picture too. I try not to spend a lot of time on my phone but I do like taking pictures pretty often. Right now I don't have a camera besides my phone so I've been practicing for something… I guess? It's hard to say what that'll be, but we'll get there when we get there!
Before I started writing music I played percussion in jazz and concert band. My parents have a kit at their house. Whenever I visit them I throw on headphones with whatever I'm currently listening to and play some. Before I was in concert band, I practiced painting with acrylics, charcoal and some other stuff. So, I guess I'm diving into the idea to go full circle with it, maybe try something new in the process. Saving up, so we'll see what happens.
What kinda music have you been listening to recently? What's the last song you had stuck on repeat?
Always trying to dive into some abstract bass music on SoundCloud. Sometimes friends will recommend artists to listen to on Spotify. I sound silly trying to describe styles of music sometimes so, some artists I've been into as of recently are: Vhsceral, Kuzich, o k h o, Jason Wool, Ache and everything Six Impala is doing right now. Last song I had on repeat would probably be "crush" by weird inside. That track is everything.
Been thoroughly enjoying your new comic books Bandcamp release. Can you tell us a bit more about what's in there?
Thank you! "new comic books" is like my collection of unreleased projects. This is my own little way of sharing those tracks and still noodling with them, visually too (sorta)– I kinda know how Photoshop works, trying something new with it. I've posted the release on Bandcamp, and as of right now I'm posting a couple of the tunes every week or so on SoundCloud, with little covers I made. It's was an idea to keep a demo project alive for a short bit, I thought I'd try it out. Also gave me a reason to maintain some sort of creativity, explore a little and somewhat tie my visual art with my sound art. It is really cool though as an artist to reflect on your own discography. Maybe it's just something I felt the need to drop for myself, maybe for some listeners too.
"new comic books" also includes some sound design sessions for music makers looking for ideas. I felt sharing some sound design sessions for anyone interested in my music, or just now tuning in, could potentially spark some sort of inspiration for however that person perceives it.
How do you know when a song is "finished?"
I almost never really know when. In my personal taste, I'd keep adding channels until my computer crashes several times. However, I'm also considering things like song structure and flow. "Does it feel right? wrong? Wrong but right? Right but left? Left, right, right, down, left, up?" I guess those are some things I'm always asking myself.
Any upcoming releases we can be on the lookout for? Possibly some more francis booth?
Absolutely. I have a couple singles coming out within the next few months. One being a record off a compilation with a label I've been wanting to work with for a few years (and could be out by this time). Another is a remix for Great Dane. That is coming out on 08/14. Francis Booth will be making an appearance in the future, alongside another side project or three. As of right now, I'm working on something. I'm not sure how to explain it, yet. :,)
Thank you again for inviting me to do this with you. Love y'all. Stay hydrated, drive safe!
Tracklist
former hero – we clipped thru each other (cam stacy flip)
golden features – medicate
zes – grimm
vhsceral – upstairs
naughta – RghtThng
joe ford & asa – real talk
blake skowron – cloyde
blake skowron – linus
reesepushkin – return to square one *mash w/
blake skowron – head knots
blake skowron – ID
blake skowron – ID
blake skowron & harris cole – ID