'Berry Patch: Blended' Arrives With A Tracklist Packed With All-Star Talent – FUXWITHIT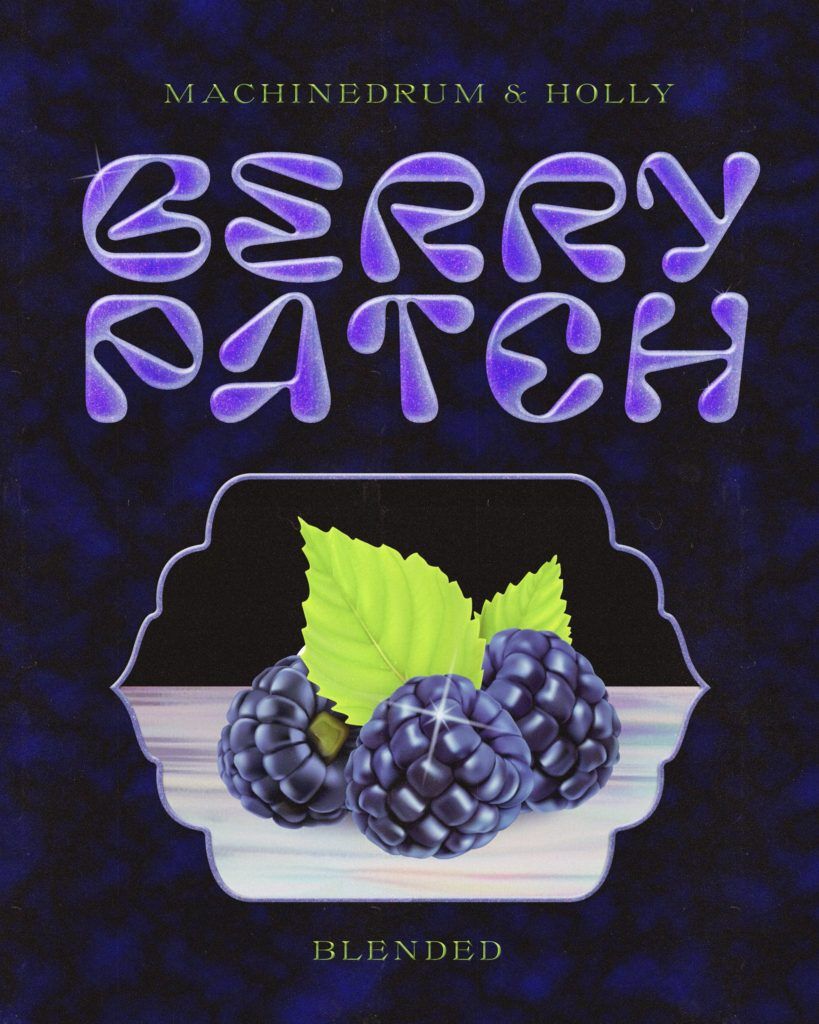 At the very beginning of this crazy year, two titans in their respective corners of bass music joined forces to give us the Berry Patch EP, a collection of eclectic DnB records full of fresh and exciting sounds and rhythms. The two titans in question are of course Holly, the seasoned beat-prodigy hailing from Portugal, and the drum and bass legend himself, Machinedrum. The later is no stranger to collaboration projects, as 2019 marked a massive year for his J.E.T.S. project with Jimmy Edgar. After another successful collaboration project with Holly, the two have blessed us yet again with a collection of remixes from some of their peers with the Berry Patch: Blended EP. 
To start we have Halogenix's rendition of the hectic DnB record 'Berry Patch,' which begins with the familiar melody and vocal sample from the original while incorporating these huge sweeping synths in the build-up. When we reach the drop, those abrasive synths are completely stripped back to reveal pulsating subs that carry the grove between these spazzy high-pitched tones in the breaks. 
Moving on we have IMANU's glitchy take on 'Berry Patch,' which is full of these glitchy and majestic high-end tones combined with these deep trembling subs in the build-up. When the tension his finally released in the drop, all these elements are joined by the original vocal sample, but only this time its infinitely looped, giving this track a hypnotic field to it.
Next up, Two FUX favorites take center stage with Craze and DJ Ride's take on 'Yangmei.' The track starts on the melodic side, with a liquid inspired intro and build-up before the energy is quickly turned all the way up. After a relaxed build-up, the drop offers a welcome contrast, with its gritty synths and stripped Jump-up influenced drum pattern. The two even bless up with some deep wubs on the last drop, which offers a hip-hop-influenced half-time switch-up. 
Next in line is a name that has been taking the underground by storm recently, Noer the Boy, and his rendition of 'Yangmei.' We begin with a minimal intro and build-up, that leads to this trapped-out 808 heavy beat accompanied by some of the nastiest sound design you'll find on the market right now. 
Following this, we have Posij and Former's take on 'Goji,' which offers an emotional and thoughtful breakbeat rendition of Goji. This track is filled with unconventional rhythms and creative percussion elements combined to create this wonderful soundscape.
Wrapping up this remix EP we have Thys's from Noisia version of 'Goji'. The DnB legend manages to turn an aggressive record, into one full of beautiful melodies, ambient synths, and emotion. This remix is truly a one-of-a-kind masterpiece and showcases Thys's world-class talent as a songwriter. Make sure you check out the whole thing down below if you haven't already!