Watch: BBC Scripted Series "A Kind of Spark" Has A 50% Neurodivergent Cast & Crew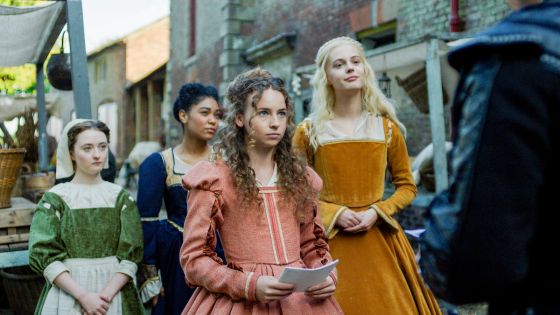 The unique scripted series, "A Kind of Spark," with approximately 50 percent neurodivergent cast and crew debuts on World Autism Awareness Day on BYUtv. Check out the trailer and first look images inside.
"A Kind of Spark" is a powerful live-action series based on the award-winning novel by Elle McNicoll, who is on the autism spectrum and serves as a writer on the series. The powerful and groundbreaking series empowers talent on the spectrum to be front and center stage like countless other entertainers.
It's rare that a series would have a primarily neurodivergent cast and crew. Actually, there are several instances where the neurodivergent community has stood up against certain entertainers who cast neurotypical talent to portray neurodivergent characters like singer and performer Sia. In 2020, the artist received major backlash for her film Music, which did just that. Sia received so much backlash that she opened up about going to rehab after the incident in 2022.
Her words when choosing to hire a neurotypical actor over the neurodivergent actor she originally casted was that she, "found it unpleasant and stressful," to work with them.
It appears that this series is doing their due diligence to properly represent the community that they are depicting in the series. "A Kind of Spark" will share the beautiful story of one autistic teen who struggles to juggle her personal life, school and the complexities of being neurodivergent.
The official series description:
For autistic teen Addie (Lola Blue), every day is a challenge as she juggles school and friends with the added complexities of being neurodivergent. But when she discovers a centuries-old mystery within her town, Addie finds her voice and lets her light shine as she stands up for those who were persecuted for being different like her.
"A Kind of Spark" celebrates the differences that make us unique and enrich our lives. While the series shines a light on the everyday lives of neurodivergent individuals, it also explores the timely and timeless themes of family unity, loyalty, faith in oneself, and hope in the face of insurmountable odds.
The series will premiere on World Autism Awareness Day on April 2nd via BYUtv and the free BYUtv app in honor of April's World Autism Month. It will also air on the BBC in the UK.
Check out the trailer below:
[embedded content]
Check out first look images: