Very Good! Tabitha Brown Shares Why She Chose A 7-Year-Old To Design Her Fabulous Emmys Dress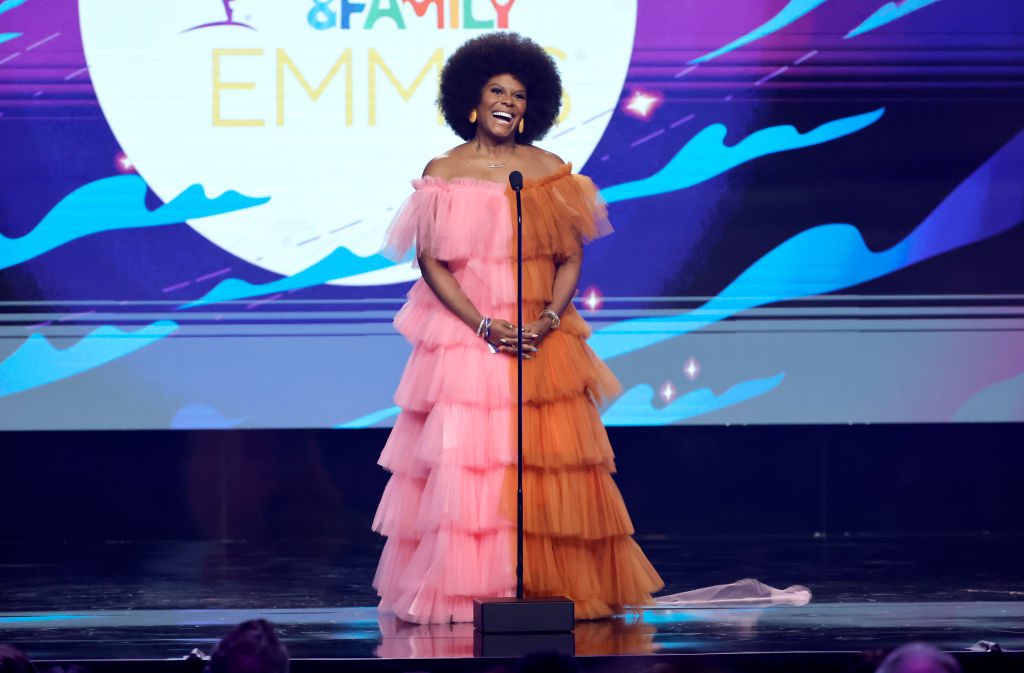 Actress, social media personality and entrepreneur Tabitha Brown recently joined "The Talk" on CBS. A viral clip posted yesterday (Feb. 21) shows Brown discussing why she chose a 7-year-old designer to customize her Emmys look. Check out the interview inside.
"The Talk" posted a clip from their interview with Brown, who was nominated for two Emmys at the 2022 Children and Family Emmy Awards in 2022. Brown's YouTube preschool series "Tab Time" did so well it was picked up for a second season. The blossoming actress found social media fame with content incorporating her vegan lifestyle, motivational and humorous content. Since then, she has fulfilled her dreams of becoming an actress, appearing on "The Chi," landing her own series on YouTube with "Tab Time" and The Food Network's "It's CompliPlated."
In the interview, Brown talks about being nominated for two Emmys in 2022. She said the first thing she thought was, "What am I going to wear?" The Emmy nominated actress goes on to share how a voice made it clear what she needed to do next.
"I just heard loud and clear," Brown continues. "Let a child design your dress."
That's exactly what she did. A seven year old named Brooke Lauren went on to design the fabulous pink and orange tulle dress Brown rocked at the 2022 Emmys. Brown recalls feeling like a "princess" walking into the awards.
Though Brown didn't take home an Emmy, she still feels like a winner. Brown posted a recap from her first Emmys experience last December. Many a prayer hand later and her signature phrase, "God I thank you," fills her caption. The gifted talent is an inspiration to all those who follow her. Brown's post features her bright smile, vibrant personality, gorgeous fro she affectionately calls Donna and the beautiful Brooke Lauren designed dress. She captions the post, "I didn't take home the Emmy tonight but I absolutely took home the win!!! God has blessed me to live my dreams and has trusted me to pour into children all over the world!! I was nominated for 2 Emmys on my first show, in its first season🙌🏾🙌🏾 GOD I THANK YOU🙌🏾 And most importantly he has given me a platform that allows me to help bless others!!! Tonight I floated on the red carpet of the @televisionacad Emmys and got more compliments than I could count on my dress!! I proudly said a beautiful 7 year old little girl named @brookelaurenchildrensbrand designed it! That's what's this journey is all about🙌🏾 creating space for others to dream, believe and WIN❤️🙏🏾 Today was a good day!!!! 🙌🏾OOHHH GOD I THANK YOU🙌🏾."
We love to see it! Check out this wholesome clip from Tabitha Brown's interview with "The Talk" below: