The Versatility! Did You Know R&B Hitmaker Babyface Produced This Rock Song?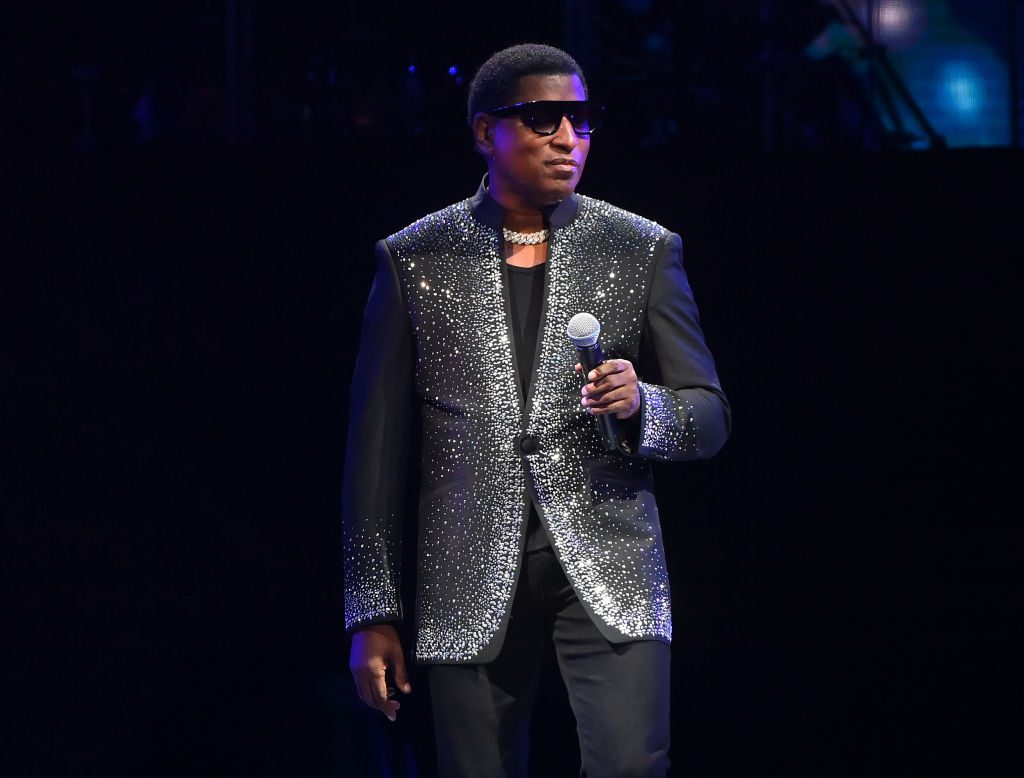 Award-winning producer, singer and songwriter Babyface has written and produced countless number one R&B hits throughout his career and has won 12 Grammy Awards. His talents in R&B music are undeniable, but this fun fact might shock you. Babyface worked with Fall Out Boy in 2007 on their top-charting single "Thnks fr th Mmrs." Read more about this seemingly random collaboration inside.
Babyface is literally ranked number 20 on NME's 50 of The Greatest Producers Ever list, and in most R&B fans hearts, he's always been number one.
Though the iconic producer and songwriter has worked with several 90s R&B A-listers including Toni Braxton, TLC, and Boyz II Men, Fall Out Boy set out on a mission to work with Babyface because of one of his lesser-known projects.
"He did the soundtrack to [the 2001 film version of] 'Josie and the Pussycats,' and it's amazing," Fall Out Boy's bassist Pete Wentz told MTV in an article from 2005. "So we're going to have him do it, and have someone who's really into heavy music engineer it. We haven't confirmed him but we're looking to tap him for the job and we will be demoing a couple of songs with him for sure."
The popular rock group realized how bizarre it might be to request the hitmaker for a Fall Out Boy project, but they were passionate about working with Babyface.
"I swear to God, he's going to do at least six songs with us," Wentz continued.
The film was a major influence on their hit "Thnks Fr The Mmrs," which was one of the two singles Babyface produced on Fall Out Boy's 2007 album Infinity On High. how the movie influenced the band's 2007 hit "Thnks Fr Th Mmrs."
"After From Under The Cork Tree, we went and saw the movie Josie And The Pussycats," Wentz shared on his radio show. "Me and Patrick were at it, and I was like, 'Whoa, who wrote the music for this? Because it sounds like punk music written by somebody who's never heard punk music before. We need them to produce the next album.' And it was Babyface."
Their 2007 album marked a new direction for the band, and it's evident at the start of Infinity On High when Jay-Z opens with a spoke word introduction. Their persistence in getting Babyface on the album makes sense and worked in the alternative band's favor. Though Babyface didn't produce six songs as Fall Out Boy may have hoped, the producer did land two songs, "I'm Like a Lawyer with the Way I'm Always Trying to Get You Off (Me & You)" and "Thnks Fr Th Mmrs."
The more notable single "Thnks Fr Th Mmrs" did pretty well on the charts.The song peaked outside of the top 10 at No. 11 on the U.S. Billboard Hot 100. It was later certified Gold by the Recording Industry Association of America (RIAA), denoting the shipment of 500,000 copies, although it is eligible for a double platinum certification, having sold 2,527,000 copies in the US as of February 2014. The song also peaked at No. 19 the U.S. Modern Rock Tracks and No. 13 on the Mainstream Top 40.
We also discovered another interesting development when we were doing our research on this random collaboration. A young Kim Kardashian starred in the "Thnks Fr Th Mmrs" music video.
Check it out below: