That's Called Growth: Fans React To Meeting Janine's Mom On Latest 'Abbott Elementary' Episode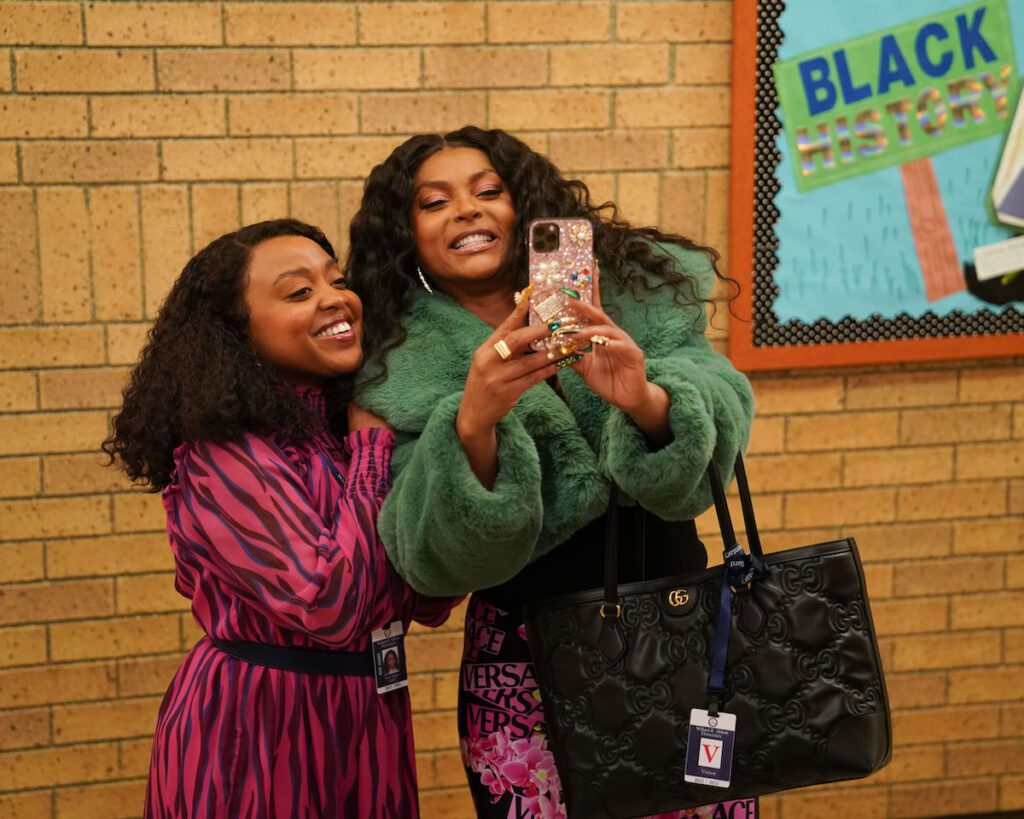 ABC's "Abbott Elementary" season two is coming to a close next week. Before it's over, the beloved series is tying up loose ends like the introduction to Janine's biological mom, who's portrayed by Taraji P. Henson. Check out our recap and fan reactions to episode 21 inside.
Season two, episode 21 titled "Mom" starts with a few of Jacob's impressive magic tricks and ends with major growth for Janine's relationship with herself and her mom. Janine's plan for a Memorial Day weekend solo trip is derailed when her mother shows up unannounced asking for help. Meanwhile, Gregory notices his colleagues are great at small talk and realizes he needs to brush up on his people skills.
Henson makes a special guest star appearance as Janine's mom Vanetta and nails it as expected. Fans enjoyed seeing her and Principal Ava have their very brief face-off, when Ava quickly realizes she don't want no smoke. One thing we learned quickly is that Ms. Vanetta don't play, and she was even willing to go to toe-to-toe with sweet and faithful Ms. Barbara.
Ultimately, there were even more lessons learned on this episode for Janine. She discovered the best gift is choosing herself. Janine put on her big girl pants and gave her mom two choices: take two payments for your phone bill or take nothing at all. Our girl said she was going to Ocean City (in Maryland) regardless of her mom's needs, and we are just so proud!
Janine's soulmate Gregory experienced his own level of growth this episode. He learned how to relate, as himself, to some of his co-workers as he builds relationship on his path to higher level leadership. Go Gregory!
The sneak peek into the Season two finale reveals Janine and Gregory are having a "sleepover" for their upcoming field trip. Ooooo! Things are getting spicyyy.
Check out some of our favorite fan reactions from the latest episode below:
1. What Did We Think About Vanetta?

Source:AbbottElemABC
2. Hilarious Encounter

Source:ungodlywests
3. The Magic Show

Source:sxarlights
4. The Wink To Camera Is Gold

Source:sxarlights
5. Work Mama Don't Play That

Source:sxarlights
6. Jacob's Full of Surprises

Source:ErinSavage3722
7. Ava Preventing Y'all From Getting Beat UP

Source:sylviamphofe
8. She HAS To

Source:sxarlights
9. The Concern Ms. Barbara Has For Janine Is SO Sweet

Source:bIisstina
10. Sounds Like Trauma

Source:sylviamphofe
11. CTFU, Exactly!

Source:JKs_paradise
12. Vanetta, BFFR!

Source:xoraveen
13. Leaving Here With Something

Source:blkwatcher
14. Just Love Them

Source:ungodlywests
15. Toe-to-Toe, These Two!

Source:jadaalert
16. Say It Ain't So

Source:blkwatcher
17. Next Week Will Be Cute

Source:visionofwanda