SZA, Doja Cat, Ice Spice & Nicki Minaj Highlight This Week's New Music Roundup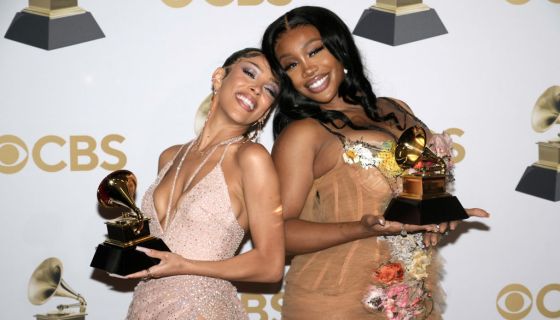 1. Maesu – JamPak Spring '23

Source:maesumaesu
LA-based singer, songwriter, and producer, Maesu, releases his debut project JamPak Spring '23. Taking inspiration from PlayStation's variety demo packs & 'Now Music' compilation albums, JamPak Spring '23 will cement Maesu as a formidable presence in today's music landscape. The album features a collection of tracks that highlights Maesu's colossal sound and nimble lyricism that is captivating audiences worldwide. The project has already garnered critical acclaim from Rolling Stone, Billboard, Ebro at Apple Music, LA Weekly, Hot New Hip Hop, COLORS, Global Grind and this is just the start for the thrilling artist. 
A dynamic architect of sorts, his music encapsulates the various sonic worlds he inhabits: pop, R&B, afropop, Latin, country, rock, and beyond, brilliantly coalescing to surpass cultural and language barriers, drawing in the magic that exists in the far corners of the world.
This mesmerizing project arrives hot off the heels of a star-studded run lined with explosive collaborations and numerous accolades already under his belt that include wrapping up a national tour run with beloved artist, ¿Téo?. 
Maesu was a key writer and producer on the breakout album from global star Amaarae, 'The Angel You Don't Know,' which has been lauded by The New York Times, Pitchfork, NPR, Rolling Stone, FADER, Billboard, and many others. He's also arranged ravishing releases for CKay, Cruel Santino, Yves Rothman, Kari Faux, Dre Skull, Ayra Starr, ¿Teo?, Andrekza, Alemeda, Mannywellz, Oscar Scheller, Shay Lia, and others. Additionally, Maesu worked closely with Amaarae and Ludwig Göransson to compose the breakout track, "A Body, A Coffin", for the acclaimed sequel to the Marvel Studio movie franchise Black Panther: Wakanda Forever. The fruits of his work has received large critical acclaim ranging from various Pitchfork Best New Music and Top Albums titlesand multiple Billboard Top 100 entries.
2. Adekunle Gold ft. Zinoleesky – Party No Dey Stop

Source:adekunlegold
Adekunle Gold shares the music video for his latest single "Party No Dey Stop" featuring Zinoleesky. The recently released new song is a club hit about the resilience and rise of Adekunle and Zinoleesky in the music industry. The electric and fast-paced song matches the energy of the culturally rich and buzzing Agege neighborhood in Lagos where AG and Zinoleesky grew up. Fittingly, the vibrant and colorful DK-directed music video for the song showcases the two artists stylishly celebrating their rise from humble beginnings.
Adekunle is set to hit summer festivals and then start his four-month world tour in North America in September, and carry on across the UK, Europe, Africa, Australia, New Zealand, South America, and the Caribbean through 2024. 
3. Reuben Vincent ft. Reason & Stacy Barthe – Bottle Service

Source:reubenvincent
There is no question that Reuben Vincent is an emerging star.  After recently releasing his Jamla/Roc Nation debut album, Love Is War, Reuben's been named one of HipHopDX's Rising Stars Of 2023 and tapped by Apple Music/Ebro as a "Discovered Artist," and his ascension has been documented by Pitchfork, Complex, Uproxx, Revolt, 2 DopeBoyz, Okayplayer, Essence, HotNewHipHop, Brooklyn Vegan, and Vibe to name just a few. 
On the heels of his recent standout performances, including performing at halftime of the Charlotte Hornets vs. Indiana Pacers game on 3-20 (a true bucket list moment for the Charlotte native), and festival performances at SXSW and the Dreamville Festival, Reuben has released a new visual for his latest single "Bottle Service."   
"Bottle Service" features another breakout star in TDE's Reason and Stacy Barthe and together they address alcoholism, its effect on the family dynamic and passed down generational trauma. 
The message is as universal as it is relatable.  "We know the bottle/like the back of our hand/Fallin' victim to the patterns/I resembled my Daddy he loved his (bottle)/more than he loved himself/more than he loved his kids/more than he loved his health."
With the "Bottle Service" video I wanted to capture the effect of alcohol abuse and how the disease mutates generationally through families.  Though he wasn't my biological father, I grew up with a man in the house who had a drinking problem, and I saw how that affected my whole family" Reuben discloses.  "I wanted to capture those emotions in this video and touch on something that needs much more awareness. The highs, the lows, the pain, and the agony.  Not to make things somber, but this is my sober truth."
Reuben Vincent's Jamla/Roc Nation debut album, Love Is War, is a conceptual, yet subtly constructed project that will place him at the forefront of debates about the new rap greats.  Unpacking relationships and romantic entanglements over warm, soulful beats from 9th Wonder, Young Guru, The Soul Council, and his own production, whose collective work both modernizes and morphs boom-bap.  With polished and varied flows, Reuben weighs the time spent on love against the hours necessary to pursue his art and dreams.  Love Is War also features guest appearances from Rapsody, Reason (TDE), Domani and Stacy Barthe. 
Reuben Vincent's Love Is War is now available at all DSP's via Jamla/Roc Nation Records.
4. Spottie Wifi ft. Jim Jones – Buy The Dips

Source:spottiewifi
Well-renowned crypto punk rapper Spottie Wifi links up with Dipset's Jim Jones on his newest single "Buy The Dips." The song emphasizes financial literacy in the volatile cryptocurrency space. 
Spottie's hook emphasizes that by rapping "Stick to the script, don't trip. I'mma teach ya how to flip. Buy the dip, Sell the rip. Turn a ETH into a whip. Spottie Pip independent, 5528 my pendant. If I spill it then I meant it, If I shill it we gone send it. We gone sweep sweep sweep the floor, We gone clean up, clean up aisle four, We gone get it, get it for the low, We gone get right and get some more."  
Jim Jones is a known supporter of the cryptocurrency space as he rapped about his profits from Bitcoin and Blockchains on his Gangsta Grillz album with DJ Drama and premiered the metaverse music video for "We Set The Trends" with Migos in 2022. "Buy The Dips" is a message to the hip-hop culture that the metaverse and cryptocurrency can last beyond a post-pandemic world. 
Spottie says, "I originally wrote this song about the hustle of trading crypto and NFTs, and it's very biographical because that's really how I went from being broke and unemployed during COVID to surviving and now thriving in these turbulent times. Then, after I wrote most of the song, I met Jim Jones at an event where we spoke on a panel together, and he ended up hopping on the song and giving it his perspective and comparing hustling in the streets to hustling as a crypto flipper. Jim is one of my favorite artists."
5. Dawn Richard – Bubblegum

Source:dawnrichard
"After releasing my latest album Pigments, I wanted to pick up where I left off after my 2021 release Second Line – An Electro Revival to remind people that King Creole is just getting started. The preface to the second installment of the Electro Revival series, "Bubblegum" is a cocky candy-coated conundrum. Full of sass that only a New Orleans King can have, this yummy multigenre single is just a taste of what's to come next." – Dawn 
"The music video for Bubblegum is special to me because I directed it myself. I'm not only in front of the lens but also behind it this go-round as well. The visual is a play of pop art drizzled in choreographed goodness. A summer anthem with attitude." – Dawn 
6. Michaël Brun ft. Masego, Jozzy & Bayka – Charge It

Source:michaelbrun
On "Charge It," Michaël, Traphousejazz multi-instrumentalist Masego, Grammy-award winning R&B singer- songwriter Jozzy, and rising Jamaican artist Bayka come together to create an addictive, energetic dance track. The hypnotic jam showcases Michaël's ability to defy genre and create a catchy tune with a global sound that is guaranteed to keep dance floors full all summer long. 
Of the track, Michaël said, "'Charge It' to me is the embodiment of 3 worlds colliding: Coupé-décalé, Jazz and Dancehall. Masego, Jozzy and Bayka all stepped out of their comfort zones to bring something special to this song, both in performance and storytelling. I love what we created and I think everyone will have a different interpretation of what it's really about."
The eye-catching music video for "Charge It" was shot in Jamaica and directed by Savannah Baker (Usher, Sean Paul, Katy Perry, Mariah Carey) and evokes the colorful and lively energy that is to be expected of a Michaël Brun hit. The video features British-Jamaican TikTok sensations T & A Twinz who have amassed over 2.5 million likes on the platform.
Last week, the announcement of Michaël Brun's signing to Capitol Music Group's Astralwerks was announced via Variety. Of the signing, Michaël said, "This new music reflects all of those experiences, and I'm grateful that the team at Astralwerks are helping to bridge those sounds with the rest of the world."
This summer, Michaël will return with his famous annual Bayo Block Party Tour. He has consistently brought audiences together with the tour, taking over renowned venues worldwide with classic elements such as "rara" and the spontaneous spirit of a Port-au-Prince street party. The Bayo Block Party Tour will include shows at Montreal Jazz Fest on July 7th, Central Park SummerStage on July 22nd, and more to come. Michaël Brun has partnered with PLUS1 so that $1 per ticket for the New York show goes to supporting Friends of Matènwa which empowers the Matènwa community, and by extension many other communities of Haiti, to defend children's rights, reflect on local problems, and determine their own solutions. For Michaël's Montreal show, $1 per ticket will go to The KANPE Foundation, a foundation that brings support to the underserved rural communities in Haiti on their path to autonomy.
"Charge It" follows Michaël's latest single, "Clueless" featuring Oxlade which was hailed by Okayafrica as "an incredibly addictive Caribbean-meets-afro-fusion track featuring a chorus that is sure to get stuck in your head." 
Hailing from Port-au-Prince, Haiti, Michaël has quietly emerged as an influential, impactful, and inimitable phenomenon. In addition to massive collaborations with Ed Sheeran, and MR EAZI, he served as a producer on J Balvin's Latin GRAMMY® Award winning album Colores. On his solo music, he has reeled in over 100 million streams and counting in addition to earning praise from Variety, Billboard, The FADER, Rolling Stone, and TIME, which dubbed his music "a loving homage to [Haiti's] rich styles." He also serves as the face of the EMMY® Award-winning PBS series Beat Making Lab. Knocking on the door of superstardom, he'll be unveiling more music throughout 2023. 
7. SOWAYV – Out The Rage

Source:sowayv
Budding star rapper SoWAYV reveals a energetic new single titled "Out The Rage" which is produced by ByeSheldon, Dynox, and produced by MTD. The single is mixed and mastered by SoWAYV himself along with Ash Levi.
"Out The Rage" is a follow up to a release earlier this year to single "Hate It."
Also the single follows up his collaboration with DJ Lil Taj "FTM." It's a nice rockstar meets rap vibe that sure to touch ears of multiple people worldwide and is sure to get the blood flowing for your next series of workouts. 
Overall SoWAYV is making waves with features with DASH radio, AllHipHop, Fox Magazine's digital cover, and Be Real TV with Cypress Hill, the tri-state native is one of one. Very talented and down to earth, his music knowledge stems from the church along with being a former DJ, SoWAYV is a star through and through. 
8. Shaboozey – Snake

Source:shaboozey
Virginia-bred, genre-blending alt-country and hip-hop artist Shaboozey returns with the highly anticipated visual for his energetic track "Snake," released from his latest project, Cowboys Live Forever, Outlaws Never Die out now via EMPIRE. The cinematic visual directed by Jerry Production resembles a classic western in the Wild West during the 1800s and showcases an outlaw Shaboozey riding into town with his gang of shooters. Their first stop? The bank.
Rising multi-media artist Shaboozey has created his own world. Determined to carve his own lane in the Alt-Country / Hip-Hop space, he crafts a sound that pays homage to a cast of traditional Western influences, such as Bob Dylan, Lead Belly, Johnny Cash, and Leonard Cohen, while looking into the future of what the two genres have yet to introduce. With the viral track "Beverly Hills" earning almost 5M views and "Tall Boy" earning well over 8M streams, Shaboozey plans to stay true to his Virginia roots by continuing the region's long-standing tradition of producing some of the most prolific creatives of the new millennium.
Stay tuned for more to come from the exciting new boundary-pushing artist.
9. HDBeenDope – Locked In

Source:hdbeendope
This visual arrives shortly after the single's release this past week amid its massive viral success on TikTok accumulating 8M+ streams. The single release climbed to Instagram reels' top 25 sounds upon debut. The music video premiered on BET Jams and via a BET Times Square Billboard takeover.
Directed by Erikson Corniel, the video showcases high-energy visuals electrified with flashing lights while HD's lyricism booms through the camera. The video flickers between a gritty Brooklyn landscape illuminated at night with graffiti walls to HD traversing his neighborhood corners to the bustling city's bridge. 
This premiere follows BET's announcement of HDBeenDope being this month's BET's Amplified Artist of the Month and also builds on the massive success of his Roc Nation debut EP What Can They Say's lead track, "Mamba" which has become an anthem being celebrated and shared by actress and entrepreneur Tia Mowry, NBA Miami Heat player Jimmy Butler, Kansas Chief Quarterback and Super Bowl Winner Patrick Mahomes and major networks like ESPN, and sports stadiums across the country. The rapper recently performed the stand-out anthem at Brooklyn Nets Halftime show.
10. Doe Boy ft. Dej Loaf – Roll The Dice

Source:doeboy
The Cleveland native rap superstar Doeboy is back with a brand-new single called Roll The Dice. This is Dej Loaf's first major feature she's done since 2020, ending her hiatus and making her official return to music alongside Doe. Roll The Dice is a new sound for Doe Boy, stemming away from his usual street rap. The record leans more toward an R&B sound and is a very vulnerable, romantic & his most melodic record to date. Roll The Dice will be the first single leading up to Doe Boy's new full-length project scheduled for some time this year. 
11. Jastin Martin – Right My Wrongs (Acoustic Version)

Source:jastinmartin
Jastin Martin's minimalist trap-soul transports you straight to her Houston bedroom—one of the few intimate spaces she writes and records her evocative tell-alls. The self-taught singer-songwriter and producer rarely goes a day without creating something—a slippery beat, a shrewd lyric, a silvery guitar line. She's been writing songs since age nine, and her consistent work ethic has taken her from the dorms of Louisiana's Grambling State University to Houston's freewheeling open mics to Def Jam's star-studded roster. With breakout tracks "Again" and "Reassurance," her soft-spoken sultriness and hard-hitting candidness struck a chord online. Riding that momentum, she's now putting the finishing touches on her vibrant, rich debut album, Miss Me Yet?, a collection of all-new songs that show off her vulnerability and versatility. Since 2016, she's been diligently posting original songs online, organically building a loyal following with her hushed confessions. While Martin is very much an independent artist, she's grown more comfortable with collaborating—especially with producers she's long looked up to, some of whose credits will be on her debut album. Still, Martin's process remains pure and organic, whether she's writing lyrics at the local park or figuring out a melody to a guitar loop from her rooftop complex. "If I'm gonna give something of myself," she says, "I might as well give all of it."
12. SZA ft. Doja Cat – Kill Bill (Remix)

Source:dojacat
Grammy award-winning recording artist SZA releases a new version of her chart-topping hit song "Kill Bill" featuring Doja Cat, via TDE/RCA Records. This release comes on the heels of more career achievements this week as the album version of "Kill Bill" earns SZA her first solo #1 at Top 40 radio and breaks the record with 16 weeks at #1 by a female artist on Billboard's Hot R&B/Hip-Hop Songs chart.
"Kiss Me More," the first collaboration between these two dynamic artists, won a Grammy in 2022 for Best Pop Duo/Group Performance.
"Kill Bill" is RIAA-certified 3x Platinum and peaked at #1 on the Billboard Global 200 chart. The accompanying music video, directed by Christian Breslauer, has garnered nearly 55 million views. SZA's groundbreaking sophomore album SOSdebuted and claimed ten non-consecutive weeks at #1 on the Billboard 200, the longest run for an album by a woman in seven years. SOS is currently RIAA-certified 2x Platinum.
Announced earlier this week, SZA will hit the road again with new dates for her remarkable S.O.S. Tour (click here to watch the tour recap video). Produced by Live Nation, the European leg of the tour kicks off June 1 in Amsterdam at Ziggo Dome, making stops in Paris, Berlin, London, and more before wrapping up in Dublin at 3Arena on June 21. The tour will return to North America on September 20 at Miami's Kaseya Center, with stops in Brooklyn, Houston, Los Angeles and more before concluding in Phoenix at Footprint Center on October 29. Visit szasos.com for full tour routing. 
13. Shame Gang ft. Lute & Cyanca –

Source:iamshamegang
Shame Gang released his new album Better Late Than Never last week (4/7/2023) via Manifest Destiny/Roc Nation's Equity Distribution. The deeply personal, introspective, and largely anecdotal project follows the story of Shame's life as a car mechanic striving for greener pastures as a professional Rap star. With a guest verse from J. Cole's Grammy-nominated artist Lute and the stirring voice of soul singer Cyanca on the hook, album standout "I Survive" highlights the resilience of the human spirit through life's setbacks, betrayal, trauma and profound loss. The tragic loss of Shame's older brother and mentor Manny, and the recent passing of Lute's father anchor the song's Dan Mercer-directed music video, which debuted today (4/13/2023) via YouTube.     
"I think with this video I wanted to be as transparent as possible with the loss of my brother. Me and Lute actually came together for the initial plot of the video because we both dealt with the loss of a loved one recently and wanted to to honor them in a way plus show that there's light at the end of the tunnel. We can survive anything through our trials and tribulations." – Shame Gang
"With the I Survive video, we wanted to create something visually beautiful to match the tone of the song. We decided to showcase some of our favorite spots in Raleigh, NC, but film each artist at a different time of day to give contrast for the split screen effect. We also were clearly influenced by Spike Lee, utilizing his signature dolly shot." – Dan Mercer of Seven Foot Giant 
14. Tee Grizzley & Skills Baby – Dropped The Lo

Source:teegrizzley
Multiplatinum Detroit storyteller Tee Grizzley and rising hip-hop phenom Skilla Baby unleash their first-ever collaborative single "Dropped The Lo" via 300 Entertainment/Grizzley Gang. The enticing street banger will be featured on the Motor City duo's joint mixtape, Controversy, slated for release on April 28th. 
The frenetic production on "Dropped The Lo" underlines a visceral volley between Tee Grizzley and Skilla Baby. Together, they lock into an unpredictable call-and-response, culminating on a chantable chorus. Meanwhile, the accompanying visual highlights their undeniable chemistry as they feed off one another's energy and turn up as a true dynamic duo.  
About this collaboration, Tee Grizzley commented, "just a taste of what's next, so I hope y'all ready." Skilla Baby added, "We Go Anywhere We Want!" 
Last month, Tee Grizzley and Skilla Baby electrified the stage together at 313 Day in Detroit. Alongside the likes of Babyface Ray, Tay B, and Sada Baby, the energetic pair ignited crowds, while celebrating the city's spirit at the historical Fillmore Detroit. "Dropped The Lo" lands in the wake of Tee Grizzley's epic 2022 LP, Chapters of the Trenches. 
15. MyCrazyRo – Stars In The Roof

Source:mycrazyro_
Breakout Long Beach, CA rapper, MyCrazyRo, releases his new track "Stars On The Roof," accompanied by a dynamic, story-telling visual. "Stars On The Roof" serves as the perfect ode to lavish living and MyCrazyRo's individualistic spin on beloved West Coast sound brings his come-up narrative to life with bouncy rhythms and effortless confidence. The song's namesake, of course, comes from the iconic stars found on the roof of Rolls Royce cars and the music video illustrates an inspiring come-up story, starring Ro as a valet that gets to take his dream car for a spin and has the night of his life. "Stars On The Roof" is Ro's debut single with 300 Entertainment, with whom he inked a deal in 2022. 
"Stars On The Roof" jumpstarts a new era for Ro following his signing to 300. Following his success with his 2018 viral hit "Switched Up", now with nearly 4 million Youtube views, Ro went on to release a string of singles taking him into this past year. He closed out 2022 by opening for Kalan FrFr on his Right Place Right Time Tour and recently performed at SXSW Success x Southwest show and the Show Me Your Style Showcase this year. His comeback anthem, "Stars On The Roof," is just the beginning and the sky's the limit for MyCrazyRo this year, as he already has his sights set on the stars.
16. Shawny Binladen – WiCKMAN STiCKMAN

Source:sb_bdz
rising Queens drill rapper, Shawny Binladen shares his new mixtape, WiCKMAN STiCKMAN. Over the course of 20 minutes, Shawny potently blends hard beats with his signature hushed delivery solidifying that he's one of the most exciting young talents in the drill scene. WiCKMAN STiCKMAN also includes features from fellow Queens rapper Big Yaya and FOUR50.
Shawny first gained attention with his back to back hits,"Whole Lotta Wickery" "Wockhardt" and "Faith" off his 2020 mixtape Merry Wickmas, which showcased his signature whispery flow. In addition to his music career, Shawny Binladen has also been making a name for himself on the touring circuit. He is currently on tour, supporting rapper Babyface Ray, bringing his unique style of drill rap to audiences across the country.
17. Genia – Jaded

Source:geniawashere
After igniting Soundcloud and earning acclaim from the likes of Earmilk and more, rising R&B singer and songwriter Genia unveils a new single and music video entitled "Jaded" today via Def Jam Recordings. 
Throughout the track, a skittering beat underscores her emotionally charged delivery. She leans into the airy soundscape with a dynamic cadence before she confesses, "Ask me how I feel. I'm'a say I'm jaded." The accompanying visual finds Genia at home in Victorville, CA. The black-and-white footage evokes the introspective spirit of the song as the clip follows her during a contemplative day as she stares into the pool from the diving board, clinches a chain link fence, and locks eyes with herself in the mirror.  
It lands in the wake of her breakout anthem "Introducing." Last month, it lit up Soundcloud with 200K streams in its first week and vaulted to #1 on the Soundcloud New I'm and Hot: R&B Chart. Right out of the gate, Earmilk proclaimed, "she is a name for music fans to remember," and Def Pen attested, "It's safe to say that the secret is out. Genia is here and it doesn't look like she's leaving anytime soon." 
Everything just sets the stage for her forthcoming debut mixtape 4PM in the Ville out on June 2.
Get ready for more from Genia!
18. Jai'Len Josey – Southern Delicacy

Source:jailenjosey
Jai'Len Josey, the seductive Atlanta singer, songwriter, musician, and seasoned Broadway star celebrates the arrival of SOUTHERN DELICACY via Hillman Grad Records/Def Jam Recordings. Ahead of the release, a smoldering live version of one of the tracks, "Good Soup" was teased in support of Jai'Len's opening spot on Ari Lennox's 26-city Age/Sex/Location winter tour of the U.S. & Canada.
In addition to "Good Soup," which unspools a deft metaphor for the type of nourishment that can only come from the heart, SOUTHERN DELICACY offers other treats.  On the title track, Jai'Len coasts over lush strings for a playful lover's sales pitch, combining flashes of regional hospitality with a voice that's as sweet as it is seductive: "All you needed was the sugar, honey, ice tea / Me, I'm a Southern type of delicacy." On "Pay For My Drink," she glides over dreamy keyboards and a dazed electric guitar line, turning a simple request into a charming prelude to passion. 
SOUTHERN DELICACY is the patiently awaited follow-up to Illustrations, the 6-song EP that introduced Jai'Len on record in September 2020. The EP, comprising "She Got It," "All Mine," "Can You Do It for Me?" "When We Jump," "You Ain't Gotta Worry," and "Fall" evolved in between Jai'Len's performances as Pearl in the Broadway production of The SpongeBob Musical: Live on Stage!, during which time she wrote and recorded as many as 200 original tracks.  The EP ultimately led the way to award-winning creator Lena Waithe's Hillman Grad Records and Def Jam Recordings.
Exposed by her mother as a youngster to an eclectic tableau of popular sound, from Aretha Franklin and Marvin Gaye, to Stevie Nicks and Billy Joel, Jai'Len developed into an award-winning actress by the time she completed high school.  While attending Baldwin Wallace University, she learned how to use GarageBand, and went on to record her first 40 songs.   
Today, Jai'Len Josey seeks to channel the spirits of the artists who came before her. "Ella Fitzgerald and Nina Simone inspired me to leave music behind that people want to grow with," she shares. "I feel like I'm supposed to be doing this right now," she adds. "I feel like the seeds that I'm planting right now are destined to grow."
19. Ice Spice ft. Nicki Minaj – Princess Diana (Remix)

Source:nickiminaj
Queen Nicki, Princess Ice Spice and a lot of Pink. Enough said!