Silk Taps The O'Neal Family & A Host Of Next Generation Stars To Introduce Their Plant-Based 'Stache Campaign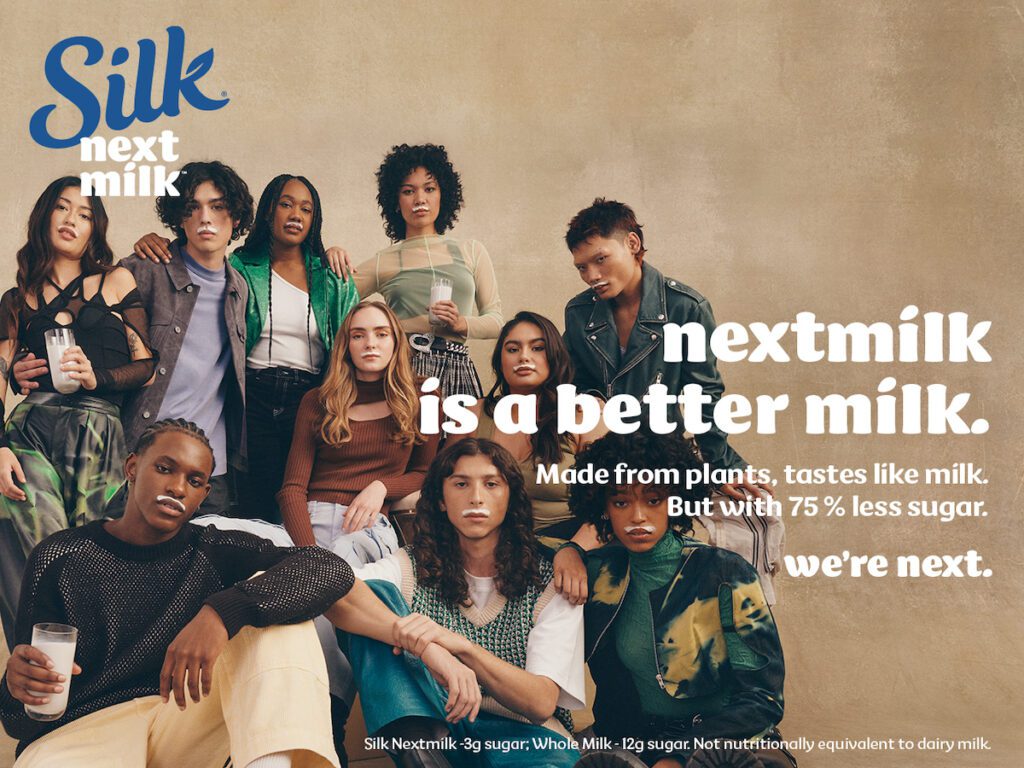 Silk recognizes that many people are skeptical of plant-based options and understands that consumers are looking for great tasting, high quality products to incorporate into their lifestyles. As the number one plant-based brand, it's up to Silk to keep raising the bar, and Silk Nextmilk has done just that.
Silk Nextmilk is dropping a fresh, new campaign to inspire the next generation of milk drinkers and plant-based enthusiasts with a beverage that is made from plants but tastes like milk, with 75% less sugar.
Brooklyn Peltz Beckham, Ella Bleu Travolta, Myles O'Neal (joined by siblings Shareef, Me'Arah, Shaqir and Amirah) and Sailor Brinkley Cook are the newest faces of Silk Nextmilk, repping plant-based 'staches on screen, across social media and on U.S. billboards in New York, Los Angeles and Las Vegas to show how delicious and fun plant-based can be.
From creating unique recipes in the kitchen to making new music, ruling the fashion world and DJing fresh tunes, Peltz Beckham, Travolta, the O'Neal family and Brinkley Cook have been trendsetters from the start—and now with help from the industry's very own plant-based pioneer, Silk, they're adding a plant-based twist. These next-generation stars are carving their own legacies with the Silk Nextmilk campaign and dishing on how they enjoy plant-based products in their own lives.
It's even become a family affair with the O'Neal siblings, who have opted for plant-based beverages  for years. "Family is extremely important to me; I'm grateful to have my siblings by my side as we define our own plant-based 'stache legacy with Silk Nextmilk," said up-and-coming DJ Myles O'Neal. "Adding more plant-based options into my routine helps keep things fresh, and I enjoy Silk Nextmilk as a base for my morning protein shakes without lactose."
"I grew up in a plant-based household, so it's extra important for me to reach for great-tasting products in my diet," said Sailor Brinkley Cook. "I have a real sweet tooth and I love dunking my favorite vegan cookies in Silk Nextmilk."
"With help from the faces of the next generation, we're showing just how easy it is to reach for and enjoy plant-based beverages like Silk Nextmilk," said Olivia Sanchez, Vice President of Marketing, Plant-Based Beverages for Danone North America. "As a leader in the plant-based category, we recognize that the next generation is interested in incorporating more plant-based options into their lifestyles. Silk Nextmilk is a better milk, and with a taste and texture you love. We know dairy lovers and plant-based enthusiasts will see they're not compromising any beloved milk moments, including dunking their favorite cookie into a glass of Nextmilk."
Beginning February 22, 2023, consumers can join in on the fun by using the Silk plant-based 'stache filter on TikTok for a chance to win free Silk Nextmilk for a year AND be featured in a Silk Nextmilk billboard in Times Square. Learn more by visiting silk.com/silknextmilksweeps
Silk Nextmilk can be enjoyed straight out of the glass, paired with your favorite cookie, over cereal, or in your favorite recipes. Silk Nextmilk is lactose-free, is Non-GMO Project Verified and has 25% fewer calories than dairy milk. Silk Nextmilk is available nationwide in Whole Fat and Reduced Fat varieties in multi-serve cartons (MSRP: $4.99/59-oz. carton), including at Target, Kroger, Walmart, HEB and more. For more information on where to buy, visit the store locator at Silk.com. As Silk continues to provide great tasting products for the next generation, consumers can learn more about the plant-based 'staches by visiting Silk.com or check out @Silk on Instagram and @LoveMySilk on TikTok.