Latto, YoungBoy Never Broke Again & Keke Palmer Highlight This Week's New Music Roundup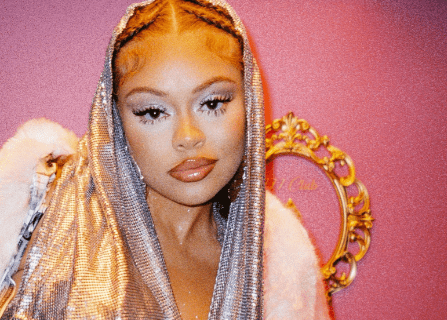 1. Jharrel Jerome – Chinatown

Source:jharreljerome
Hip-hop artist and award-winning actor Jharrel Jerome releases his highly-anticipated new single, "Chinatown."
The track is the first tease of new music off his forthcoming debut project, Someone I'm Not, out later this year. The project will be released in a 4-part series of packs, each showcasing a different side to Jharrel. The first pack, Rap Pack, is available to pre-save now here.  
Co-written by Jharrel and inspired by his hometown of New York City, "Chinatown" is a thoughtful and impressive showcase from the rising artist that allows him to flex his deft and dynamic lyrical skills. The track's airy, piano-driven production, punctuated by flurries of strings, horns, and sounds of bustling subway cars, beckons listeners further into Jharrel's world.
Racking up over 5.5M streams on Spotify alone with his debut release "For Real (feat. Kemba)," Jharrel has continued to make waves as an artist-to-watch, garnering acclaim from Billboard, UPROXX, BuzzFeed, Essence, and more. He followed things up with his 2022 single "Someone I'm Not," which The FADER praised for "the beat's soulful motions and Jerome's punched, introspective bars." 
This year on screen, Jharrel will star in and serve as an executive producer on the Amazon series I'm A Virgo by writer-director Boots Riley, releasing in June 2023. He will soon after be seen co-starring in the Steven Soderbergh HBO Max series Full Circle, and will star as wrestler Anthony Robles alongside Jennifer Lopez in the upcoming film, Unstoppable, from Artists Equity and Amazon. 
2. Deante' Hitchcock – Woah

Source:deantevh
Grammy-nominated rapper Deante' Hitchcock announces the forthcoming release of his highly anticipated sophomore album, Once Upon A Time, out May 10 via ByStorm Entertainment/RCA Records. 
Once Upon A Time is a journey into the emotional rollercoaster that Deante' experienced with his romantic partner and the birth of their son, Otto Saint Hitchcock. A conceptual project in the vein of Kendrick Lamar's good kid, M.A.A.D. city or The Game's The Documentary, Once Upon A Time crafts a narrative arc that's transparent yet complex about the uncertainties and emotions men often face but don't always express to the women in their lives. 
"At what was shaping up to be a turning point in my life, the world as we know it seemed to stop turning altogether. I watched our world change, and in the midst of it all, I had a son, became a father, and watched my world change as well," says Deante' in a statement. "The word 'son' feels hella ironic to read, like the sun up in the sky that I used to stare at until it became an almost blinding blue bouncing ball of light, my son came into the world and brought a brightness into my life that could rival that of its homophone. His mother and I are forever in awe, and forever thankful for our angel, our Saint. The story of how we got here is no fairytale, but I'll try my best to tell you all about the best way I know how."
Coinciding with the announcement is the release of his latest single, "Woah!" a high-octane rap release that showcases Deante's Southern swagger and signature lyricism. Driven by a bass-heavy production, "Woah!" is a slick new offering from the Atlanta artist. The music video for "Woah!" is also out today. Directed by Caleb Seales (Dreamville, Playboi Carti, Kevin Gates), the visual cleverly plays homage to Flavor Of Love and other iconic reality dating shows. 
3. Kamos – Free Speech

Source:kamosmusic
Originally released as a single in 2022 and later added to Volume 2 of his 828 EP series, 

Kamos

 drops off the official visual for "Free Speech." The small-screen interruption of the RE:VCT produced track was directed by MUNDO and serves as the debut promotional video from the Bronx-bred bar smith's upcoming 828 full length. This timely HD-clip addresses how politically charged conversations are easily misinterpreted and result in harsh judgments or even cancellation by society. Kamos raps: "Is my speech really free? I got questions to ask, but sort of scared to speak. Don't wanna be canceled by a culture for a tweet. Who is to blame, do you point it at me?."
In a press statement, the east coast emcee reveals: 
"Free speech was created after I was told another song I was gearing up to release may be too harsh or triggering for people to digest. This led to me having writer's block for the whole day, because what is there to write about when your thoughts are being judged. This record is the result of me trying to resolve that internal creative conflict."
4. Sid Sriram – Do The Dance

Source:sidsriram
Singer, songwriter, performer, and Bollywood playback star, Sid Sriram shares a new music video for "Do The Dance" out now via Def Jam Recordings. Directed by Tanima Mehrota and filmed on location at The Malibu Hindu Temple with support of UCLA's Raas Bataaka dance team, the visual offers a glimpse into the dynamic and colorful elements of Sriram's world.
Sid Sriram will also be heading out on a string of tour dates this August supporting Bon Iver, including stops in Wisconsin, Montana, Oregon, Idaho, and Utah. "Do The Dance"  serves as a first taste of a forthcoming debut English-language album from Sriram coming soon. Entitled SIDHARTH, the album was recorded at Justin Vernon's Eux Claire, WI studio with production by Ryan Olson and support from Vernon himself.
At 32-years-old, Sid Sriram has spent years sharing his powerful, soaring voice with audiences in India and across the world; today, he ranks as one of the most popular Bollywood singers of the past decade. Born in Chennai, India and raised in Fremont, CA, Sid Sriram embraced Carnatic music, learning the style inside and out from his mother, who's training set the foundation for Sriram's musical career. After graduating Berklee College of Music and serendipitously connecting with two time Oscar-winning Indian film composer and musician, A.R. Rahman, Sriram relocated back to Chennai to pursue a career as a playback singer, where Rahman gave Sriram his first Tamil and Telugu song assignments in 2013. He has since amassed hundreds of millions of streams and a fervent international fan base.  
The new single "Do The Dance" and the forthcoming album, depart from the musical lineage of his family's home country, where he has lived since 2015, and draws on the R&B, indie rock, and American pop styles he grew up with as an immigrant kid in The Bay Area, in the '90s and 2000s.  Through doing so, he hopes to find a way to communicate "truth" and connect his core identities in music through deeper personal exploration.
5. Fuego Base – Biggest Since Camby

Source:fuegobase
BIG BSF IS BACK!  The latest and newest signee to Benny The Butcher's BSF imprint, Fuego Base, has now released his debut Black Soprano Family project Biggest Since Camby.
A rising star from Hartford, CT, Fuego is making a name for himself with amazing wordplay, along with an innate ability for storytelling.  After signing with Benny's BSF imprint in 2022, Fuego joined Benny and Rick Hyde for Charlie Sloth's Fire In The Booth, and he followed that up by appearing with Westside Gunn later that year for the "Intro" on BSF's Long Live DJ Shay album. 
Now, Fuego Base takes the next step with his official BSF debut project, Biggest Since Camby (the title of the project is an ode to former Hartford, CT basketball star Marcus Camby), which is now available and features appearances from Benny The Butcher, Havoc, Sheek Louch, 38 Spesh, Uncle Murda, OT The Real and his fellow Black Soprano Family members. 
"I want to make a big impact on the game, and that's why my album is called Biggest Since Camby" Fuego Base explains.  "We are from Hartford, and it's a forgotten place, but with the platform, Benny has provided me and being a member of BSF, I can shine some light on the city.  I'm really rapping too!  Tell my momma I'm a rapper." 
"Base reminds me of myself, and Hartford is like Buffalo" Benny The Butcher offers. "This dude hungry and when you got that kind of hunger, you gon' rap better than dudes and shine. Biggest Since Camby!"
After announcing, Biggest Since Camby, with "The Warehouse" featuring Benny The Butcher & OT The Real, Fuego Base also released a new visual for the single.  
Fuego Base's Biggest Since Camby is now available via BSF Records. 
6. Khemist ft. DJ Jazzy Jeff – Night Night

Source:khemist_lv
Khemist Mayfield's newest song "Night Night" featuring DJ Jazzy Jeff tells the story of transitioning from having issues in the trenches to facing challenges as a superstar. The Philadelphia native blends an assortment of live instruments to bring his stories to life. 
Khemist's emphatic flow capture listeners when he discusses how he overcomes violence, fraudulent people, and gets into how dope he is as a prominent artist. In the second verse, he states how successful he is as an independent artist and is a new edition to the hip-hop space. "Night Night" is the first single off his forthcoming album A List Of Demands. The album, executive produced by DJ Jazzy Jeff, will release later this year with guest appearances by Bilal, Michael Eric Dyson, Ursula Rucker, Selekta XXX, CJ Johnson (of OH HE DEAD) and Black Buttafly. 
7. Bree Runway & Khalid – Be The One

Source:breerunway
Trailblazing pop sensation Bree Runway links up with global superstar Khalid for captivating new single "Be The One" out now via Motown Records. 
An incredible collaboration between two musical visionaries, "Be The One" is a modern love song that's destined to become a classic while further demonstrating Bree's dynamic, genre-bending artistry and her undeniable talent. About two friends on a search for love, the song opens with the hazy, sun-dappled strum of a guitar before things blossom as kinetic R&B beats and watery electronics merge with layered and achingly beautiful harmonies. Weaving it together is the undeniable chemistry between Bree and Khalid, whose spine-tingling and evocative vocals, and heartfelt lyricism expertly convey the nervous hope, fear, and excitement of two people confessing their love.
Speaking about the track Bree says: "This collaboration is special to me for more than one reason; I'm obsessed with this song; our voices marry together perfectly. It magically came together from a hangout in the studio; I love Khalid for his light and his incredible character, I'm really proud to call him a friend, and now musical collaborator. This release will be major, very excited for the world to hear!"
Khalid adds: "I've been a supporter of Bree since long before I even met her, and I have always been a fan of her artistry. She has always been a superstar in my eyes and I'm beyond excited to share this moment and collaboration with someone who I can call a genuine friend!"
Further showcasing the bond between Bree and Khalid is the vibrant and joyful video. Shot in Los Angeles by Zachary Bailey (U2, Offset) and set against stunning backdrops of the desert, mountains, and the expanse of the sea, it's a playful exploration of love and friendship.
8. OneShotAce ft. Moneybagg Yo – Blocks

Source:oneshotace
OneShotAce is a rising new artist from Boston, MA, one who offers tremendous versatility, as he incorporates pain music and drill music with a style uniquely his own.
After releasing, Big Pressure, at the end of 2022, which featured collaborations with Benny The Butcher, Harry Fraud, Rowdy Rebel, Sheff G and Millyz, OneShotAce returns to announce his next project, Big Threat, which will be released on April 28. 
Big Threat's first single finds Ace collaborating with Moneybagg Yo for "Blocks," which is now available at all DSP's.  Now, they have released a visual for the single.
"Working with Moneybagg Yo was major; that's one of the biggest artists In the industry I've worked with to date" OneShotAce exclaimed.  "We pulled up to his studio in the A, vibed out, and he jumped on the record and went crazy.  I'm really excited for the world to hear it."
9. YoungBoy Never Broke Again – Don't Try This At Home

Source:nbayoungboy.16x
GRAMMY Award-nominated Louisiana rapper YoungBoy Never Broke Again drops his mega-anticipated new album, Don't Try This At Home via Never Broke Again / Motown Records. YoungBoy Never Broke Again is now one song away from earning 100 charting hits on the Hot 100. He will become the youngest artist to ever reach this milestone.
The album boasts features from Post Malone and The Kid LAROI, in addition to the recently released singles "WTF" featuring Nicki Minaj and "RearView" featuring Mariah the Scientist. With more than 30 billion total streams and 109 RIAA-certified releases including three platinum or double platinum albums, NBA YoungBoy is one of the most listened to artists in the world, and Don't Try This At Home marks his 6th full-length studio album to add to his canon. YoungBoy was the third most-streamed artist in the United States last year (according to Luminate), behind Drake and Taylor Swift, and currently sits at No. 1 on YouTube's Top Artists page.
The 33-track LP finds him firing on all cylinders, masterfully wielding his off-kilter signature flow, dipping in and out of incisive verses and infectious melodies.
2023 has been a typically prolific year for the 23-year-old rapper, who only dropped his previous project, I Rest My Case, in January. That album became YoungBoy Never Broke Again's fifth consecutive top 10 hit on the Billboard 200 when it debuted at #9. YoungBoy NBA is particularly dominant on YouTube where he is the #1 most-streamed artist of all time across all genres, with more than 12 billion views. 
Recently covering Billboard's Power 100 issue, YoungBoy notes in the cover story that he is looking forward to change with this album, stating "I am very curious of the person who I shall become." Also in 2023, YoungBoy Never Broke Again was voted as The People's Champ by readers for the XXL Awards. The Source cited him among the "Top 5 Hip-Hop Artists of 2022," going on to call him "one of the most prolific rappers on the planet." OkayPlayer declared, "There's a YB song for every possible mood you can be in." NPR put it best, "YoungBoy seems to have the upload button held down: He's prolific but consistent, always active and always online, rolling out content at the algorithm's desired pace."
10. Kaviar Sundays – Love Games

Source:kaviarsundays
Kaviar Sundays reinstates herself into the game by releasing her new single "Love Games." Bringing a familiar feel to us like her popular song 'Quest,' 'Love Games' brings out the lover in you. With a level of vulnerability we're seeing for the first time, this track brings a soft, soulful and different approach than we have seen previously from her. Her versatility in sound has allowed us to open our ears and hearts to what she may bring next. So if you have a main thing, shoot a serious shot or just cube out to a song that feels good. This one is for you. 
11. Buju Banton ft. Snoop Dogg – High Life

Source:bujubanton
GRAMMY winner, multiple Billboard chart-topping artist, and international reggae icon Buju Banton lights up a new single entitled "High Life" featuring Snoop Dogg—out now via Roc Nation Records/Gargamel Music/Def Jam Recordings. With its message of being above the clouds yet firmly grounded, "High Life" notably marks the first official collaboration between these two legendary trailblazers, tracing a direct line between Jamaica and the LBC for the first time. 
The track peppers a hypnotic and head-nodding dancehall beat with horns and hazy synths. From the jump, Buju gleefully carries an intoxicating and irresistible refrain only for Snoop to counter with reggae-inflected bars as he urges, "Oh Mary Jane, will you please take me home?" Fittingly, this smoker's anthem arrives just in time for 4/20. 
"High Life" sets the stage for Buju's anxiously awaited fourteenth full-length offering later this year, his first album since 2020's universally acclaimed Upside Down 2020, which garnered a GRAMMY® Award nomination in the category of "Best Reggae Album" and earned rave "4-out-of-5 star" reviews on both sides of the pond from The Guardian and Rolling Stone, respectively. 
12. Armani White ft. A$AP Ferg – Silver Tooth

Source:armaniblanco
Asserting himself as the breakout new artist of the year once again, gold-certified charismatic West Philly rapper Armani White drops a flashy new single entitled "SILVER TOOTH." [feat. Ferg] today at all platforms. It paves the way for the highly-anticipated arrival of his debut EP Road to CASABLANCO., arriving May 5 via Def Jam Recordings.
Popping off with an unbreakable and undeniable groove, "SILVER TOOTH."struts through claps and a wobbly bass line as Armani reminisces, "Used to have a silvertooth when I was just a pup." Meanwhile, Harlem luminary Fergpulls up with a hypnotic and hilarious cameo with flexes such as "I got diamonds in my socks." It stands out as a quirky, yet hyper catchy banger symbolic of Armani's always surprising signature style.
13. Vic Mensa ft. Chance The Rapper & G-Eazy – $WISH

Source:vicmensa
Multi-platinum Grammy nominated rapper/producer Vic Mensa has released "$WISH," his second major song of the year, via Roc Nation. The single, which reunites Vic with long time friends and collaborators Chance The Rapper and G-Eazy, is a braggadocious banger in which the three MCs trade increasingly elaborate boasts about their respective successes. "$WISH came from a writing camp me & Chance did in LA working on a bunch of music together," states Vic, "it was really just a fun, spontaneous vibe. Me & Bongo were freestyling and then Chance said he had a line so I just recorded him putting his verse together. G-Eazy is one of my best friends in the industry and someone I've known for probably 12 years, so it just all made sense." The single follows the release of January's "Strawberry Louis Vuitton (feat. Thundercat and Maeta)," a soulful love jam that was accompanied by an awe-inspiring music video in which Mensaperformed the song while skydiving in a custom recreation of a Virgil Abloh suit. The single yielded a release week performance on The Late Show With Stephen Colbert for which Vic was accompanied by Maeta and Phony Ppl.
 
The two new singles form the foundation of what is a landmark year for the Chicago-based artist, kicking off in January with the inaugural Black Star Line Festival in Ghana, the ongoing Skin & Masks art show he curated for Kavi Gupta Gallery, the official launch of his Books Before Bars initiative (which channels profits from his cannabis brand 93Boyz to purchase and distribute books to underserved correctional facilities), and much more in the pipeline. Following on the success of Black Star Line Festival, which Vic organized alongside Chance as a free one-day festival in Accra that drew a staggering 52,000 attendees, the pair of MCs traveled to Jamaica to scout locations for an anticipated follow up next year. Much more to come in the coming months.
14. Dreamer Isioma – Princess Forever

Source:dreamerisioma
first-generation, Nigerian-American singer-songwriter Dreamer Isioma releases their highly anticipated new album Princess Forever. In celebration, they share a scintillating new video for their track "Gimme A Chance," marking Dreamer's directorial debut and part of a collaboration with Jared Avalos, it serves as the culmination of a story that exists somewhere between sci-fi and reality. The album has already received large acclaim from Rolling Stone, Billboard, i-D Magazine, BET, Hypebeast, MTV and many more. Additionally, the young phenom has also quickly become the darling of critics and artists alike including SZA, Janelle Monáe, Steve Lacy, Doja Cat, Lizzo, Fousheé, Kali Uchis and others. 
Dreamer's sophomore album, Princess Forever, marks a significant departure from the DIY-bedroom beats of their teenage years, resulting in a deeply intricate and striking body of work. Dreamer has come into their own with a widescreen, experiential concept album that explores themes of love, identity, community, self-exploration, and acceptance through the colorful adventures of an alter ego named Princess Forever. Conceptually, it tells the story of an audacious leader, Princess Forever, who embarks on an odyssey of rising against an oppressive regime to liberate their tribe through the power of love and community, while simultaneously finding their own personal liberation.
This insatiable project merges sonic worlds, including psychedelic rock, funk, pop, R&B, Afrobeats, and more, yet remains cohesive throughout. Princess Forever is a new pinnacle of storytelling for Isioma, flowing through realms with themes of love, self-exploration and realization and they inhabit the far corners of every spectrum possible (personally and artistically), tying it all together with touching lyrics and emotion. 
Dreamer has built a cult following and garnered large critical acclaim through the arrival of their explosive catalog that has worked to dismantle genre confines and disrupt social norms to ultimately create space for those who don't fit into binaries. Dreamer broke onto the scene with their massive hit "Sensitive" in 2020, which has now clocked in nearly 200 million streams and landed them on Rolling Stone's Breakthrough 25 Chart ranked at #6 as well as #1 on Shazam's Predictions 2021 Chart. Most recently, "Sensitive" has received an outpouring of support on TikTok as it continues to climb its viral charts. 
Through the release of their explosive projects The Leo Sun Sets and Goodnight Dreamer, Isioma has amassed 215 million career streams across their catalog and becoming a bonafide critical press darling who has been lauded by NPR, Rolling Stone, Vogue, Complex, Billboard, NME, Teen Vogue, PAPER Magazine, Pigeons and Planes, Nylon, Chicago Tribune, them, Wonderland and many others.
15. Aliah Sheffield – Boo Boo The Fool

Source:aliahsheffield
Aliah Sheffield, the introspective singer-songwriter and instrumentalist who first gained notoriety with her viral hit "Earth is Ghetto," now makes her major label debut with "Boo Boo The Fool," available via Def Jam Recordings. The track marks the first advance new music from THESE SONGS ARE FOR ANYONE SICK OF EARTH, Aliah's upcoming EP set for May 26th release.
 
Exploring the fraught dimension between pain and optimism with her minimalist soul and R&B approach, "Boo Boo The Fool" comes with a disclaimer: "I just want people to know I'm not boo boo the fool, and this song is meant to be a fun reminder," Aliah says.  After a failed relationship, sheer pettiness wins out over taking the high road, as she angelically croons over her piano, "I will hold this grudge till the day I die / And I'll still be pissed on the other side." 
 
"Earth is Ghetto," a plea for escape during that increasingly maddening first year of pandemic onslaught, turned into an unlikely sensation after its December 2020 release.  "You should see these people, it's hard to believe / how they treat each other, it's hard to conceive."  Over 1 million TikTok creates were generated, some of them as comedic as they were heartfelt.  "I felt happy and sad about it at the same time," says Sheffield, "because I was like, it kind of sucks that so many people feel the same way."
16. Fase Yoda – Love Hurts

Source:faseyoda
Primed for a breakout moment this year, Young Stoner Life/300 artist Fase Yoda unveils a confessional and catchy new single entitled "Love Hurts" accompanied by a captivating music video. Moving through vibes effortlessly, the track swings like a wrecking ball from moments of intense introspection to a danceable crescendo propelled by pulsating synths. In one breath, he sighs, "She got devil eyes," before crooning, "I'm in love with her." He subverts expectations by layering distorted vocals above cinematic orchestration, defying genre lines in the process. The visual reflects this penchant for unpredictability as it highlights his charisma and dynamic energy on screen.
"I made this song to talk about my experiences dealing with the duality of love. As great as the highs are there are lows that also come with," says Fase Yoda. "If you notice on the chorus I'm singing two things at the same. Time to paint this duality 'I'm in love with her' and 'I'm in love it hurts.' This song is a staple representation of the theme I'm speaking on in Fallen Angel."
"Love Hurts" paves the way for Fase Yoda's debut project, Fallen Angel, arriving on earth and streaming platforms in May. The contemplative body of work illuminates his spirited persona, uniting influences such as Hip-Hop, Emo and R&B with bright melodies and emotionally-charged themes. The single arrives in the wake of "Woah" featuring Khalil Vegas which has generated over 575k views on YouTube.
Fase Yoda emerged onto the scene with his 2021 single "Butterflies" which earned him TikTok acclaim making the song a viral sensation; garnering 8.4 million views on YouTube and over 26 million streams on Spotify alone. From there, Yoda would release his follow-up single "Messed Up" a heartfelt ballad giving a deeper look into the rapper's darker side. Further growing his fan base, the video for "Messed Up" has accumulated over 2.4 million views on YouTube since its release showing Yoda's staying power. Passionate about expressing the concept of duality through his music, Yoda describes himself as "half angel and half demon" and with Fallen Angel, he will use his unique storytelling ability to expand on the complexity of the human experience.
17. Bobby Fishscale – Really Eat

Source:bobbyfishscale
Roc Nation hip-hop artist Bobby Fishscale returns to drop his latest single, "Really Eat." The track, produced by DJ Moon (prod. Future, Moneybagg Yo, Lil Uzi Vert, Lil Baby), TM88 (prod. 2Chainz, Drake, EST Gee, Gucci Mane) Tre Pounds (prod. Wiz Khalifa, Gunna, Roddy Rich, XXXTENTACION) and Nik Dean (prod. YG, NAV, Kodak Black, Rich the Kid), reflects on the Florida-born rapper overcoming obstacles from the hood and his continued journey breaking through the rap game. 
This single release follows the Florida rapper's previous release, "Made It," which builds on the success of his debut album, The Evolutionfeaturing lead track, "Huncho Fishscale" ft. Quavo, which has already amassed over 1.9M+ views since its release. The project marks the rapper's latest debut boasting an explosive, star-studded list of collaborators such as Juicy J, Zaytoven, DJ Paul, Ink, Mozzy, and fellow labelmate Kalan.FrFr. 
The Florida native has established himself as the next leading rapper to emerge from Florida's burgeoning music scene, having caught the eye of hip hop heavyweights like Lil Uzi Vert, Kodak Black, Rod Wave, 2Chainz who co-sign Bobby for his "Flunkies Flow" freestyle, among others. Bobby released his debut album, The Evolution in 2021 – featuring lead track, "Huncho Fishscale" ft. Quavo which has amassed widespread success – alongside additional A-lister support from featured collaborators Juicy J, Zaytoven, DJ Paul, Ink, Mozzy, and fellow labelmate Kalan.FrFr. Bobby is a BMI R&B and Hip Hop Social Star Award winner joining respected names like Mac Miller, Machine Gun Kelly, Zendaya, Joey Bada$$, and NLE Choppa. 
18. Tee Grizzle & Skills Baby – B&E Pt. 1

Source:teegrizzley
Multiplatinum Detroit storyteller Tee Grizzley and rising hip-hop phenom Skilla Baby unleash their follow up single "B&E Pt.1" via 300 Entertainment/Grizzley Gang. The enticing street banger will be featured on the Motor City duo's joint mixtape, Controversy, slated for release on April 28th. 
The slick storytelling on "B&E Pt.1" showcases the chemistry between Tee Grizzley and Skilla Baby. Together, they lock into an unpredictable call-and-response, quickly trading bars to narrate an intense altercation. 
Last month, Tee Grizzley and Skilla Baby electrified the stage together at 313 Day in Detroit. Alongside the likes of Babyface Ray, Tay B, and Sada Baby, the energetic pair ignited crowds, while celebrating the city's spirit at the historical Fillmore Detroit. Following the release of, "Dropped The Lo", "B&E Pt.1" is reminiscent of Tee Grizzley's epic 2022 LP, Chapters of the Trenches. 
19. Gifted Gab – G-Body Music

Source:gifted_gab
G-Body Music is Gifted Gab's 5th studio album and the title pays homage to her favorite style of cars, specifically the 1987 Grand National. This album is meant to be played at maximum volumes in the whip, although it's an appropriate slap just about anywhere. You can cruise to it, play it at the BBQ or the bootyclub. The vibes are west coast player shit, oozing with ism and littered with game. With features from Mac Duce, Trizz, Swisher Sleep, Stunnaman02 & Suga Free, it's safe to say, this is strictly for the real ones!
20. Tay Keith & Skylar Blatt – Slide

Source:skylarblatt__
Grammy-nominated producer Tay Keith has teamed up with Cincinnati's rising artist Skylar Blatt, who is co-signed by Latto, for their new fiery single "Slide." Her vocals and powerful delivery perfectly complement Tay Keith's beats, creating an irresistible synergy that is bound to captivate listeners. The single showcases the talent of both artists with an infectious beat and hard-hitting lyrics.
"Slide" is a song about living a life of luxury while keeping a close eye on those who pose a threat. The lyrics speak to the reality of the streets, with lines like "Mob boss we was chilling getting paper til it popped off" and "Put a 50 on they head and get em knocked off." With "Slide," Tay Keith once again showcases his versatility and innovative approach to music production, delivering a fresh and captivating beat.
The single comes off the heels of the release of Tay Keith and Sexyy Red's "Pound Town," which went viral and gained non-stop internet buzz. Tay Keith also produced 3 tracks on Drake and 21 Savage's latest album Her Loss including "Rich Flex," "Circo Loco" and "Broke Boys". See Rolling Stone, Complex and On the Radar coverage. Known for his distinct sound and unparalleled production skills, Tay Keith has been making waves in the music industry for years, working with A-list artists such as Drake, Travis Scott and Beyonce. 
21. Latto – Put It On Da Floor

Source:latto777
ATL-based Grammy nominated rapper Lattodrops "Put It On Da Floor" via RCA Records. Debuted at Coachella Weekend 1 this past week, Latto's latest single is produced by Go Grizzly (Future), Squat & Pooh Beatz (Jack Harlow). This follows the release of her single and video "Lottery" featuring LU KALA.
Latto ended last year hitting the lotto –  she garnered two2023 Grammy nominations for "Best New Artist"and "Melodic Rap Performance"for "Big Energy (Live)"in addition to winning awards for "Best New Artist"at the2022 People's Choice AwardsandBET Awards. The three-time 2022 AMA nominee and four-time 2022 VMA nominee presented at both respective award shows and was announced with the honor of the "Breakthrough Artist" Award for the 2022 Variety Hitmakers. Recently, Latto was honored with the "Powerhouse Award"at Billboard's 2023 Women in Music Awardsand is now back on tour with Lizzo for the second leg of her Special Tour.
22. Keke Palmer – Waiting

Source:keke
Keke Palmer, the talented singer, actor, director and producer, has announced the release of her new single 'Waiting' from her upcoming visual album 'Big Boss'. The highly anticipated music video premieres today April 21, 2023, with the single available on all digital platforms.
'Waiting' is a powerful ballad about an uneven relationship where one partner is giving more than the other. The song portrays the emotional struggle of a woman who is threatening to leave, but is held back by love. The music video depicts two people in love, but the dramatic events unfold when one betrays the other. Directed by Keke Palmer, the video has combined beautiful cinematic moments with music, making 'Waiting' the perfect soundtrack to a complicated love and loss story.  
"I am thrilled to share my new music video 'Waiting' and upcoming visual album 'Big Boss' with my fans. 'Waiting' is a story that most people can relate to, dealing with the highs and lows of being in an uneven relationship. I wanted to bring the lyrics to life through a suspenseful storyline and visually stunning moments that take the audience on a ride and inspire them to "boss up" exactly where they are right now," Keke Palmer tells PopSugar exclusively. 
Big Boss is Keke Palmer's highly anticipated follow-up visual album to her successful 'Virgo Tendencies' EP in 2020. The album is the remarkable true story of Keke Palmer, a young woman from Chicago who faced immense challenges in the male-dominated music industry. Written and directed by Keke herself, the film showcases her perseverance, self-love, unyielding faith, and indomitable spirit. Throughout her journey, Keke discovers that the greatest obstacle she must overcome is learning to trust her instincts. With hitmaker Tricky Stewart as executive producer, the alb