For The Lover In You: How Our Favorite TV Couples Would Spend Valentine's Day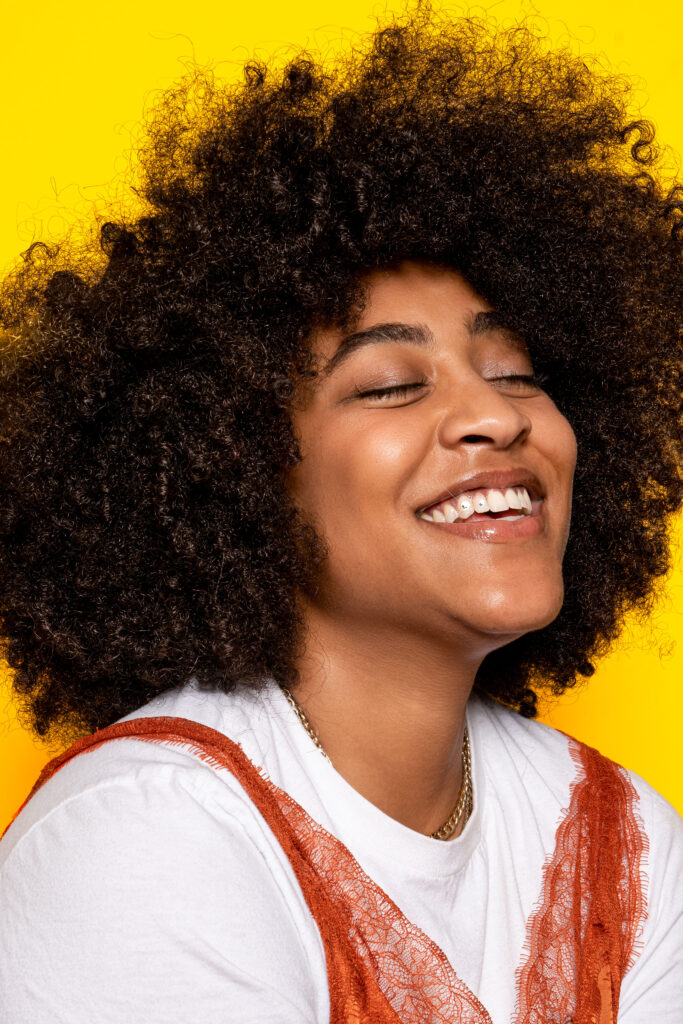 Happy Valentine's Day! Couples around the world are happily celebrating their love for one another. This year we decided to share how we imagine some of our favorite TV couples might seize the day of love. Check out a gallery of these TV couples and their (very fictional) plans on Valentine's Day inside.
Each year people exchange heartfelt gifts in the form of cards, candy and flowers to their special Valentine. Some couples may opt for a take-out meal to enjoy safely at home. Others may consider dining out at their favorite restaurant. Whatever couples do to honor the love they have for one another is time well-spent. The holiday is meant to recognize and share love for one another, and that is what is most important.
There are a number of ways to show love to the special people in your life. Though we are focusing this curated list on romantic love, you can spend this time with family, friends or yourself. Self-love is the best form of love, which we give to ourselves so that we may give love to those around us. So as you dive into this imaginative list, remember there are countless ways to show love today.
Here's a list of our favorite television couples, both old and new, and how we envision each of them spending Valentine's Day. Comment with some of your own predictions below.
1. Greg & Janine – 'Abbott Elementary'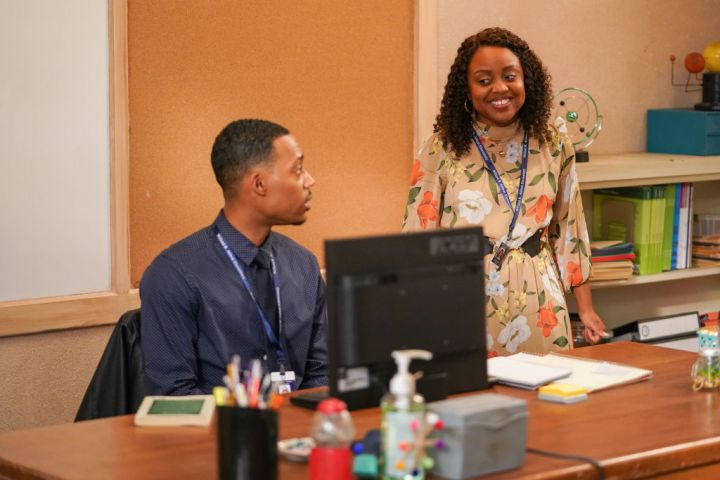 Source:Getty
Ok, so they aren't quite a couple yet and fans of the series are experiencing their slow burn as Season 2 progresses. However, we know the love is there. We imagine these two would celebrate at home so Janine can eat her messy ribs in peace. They would also play trivia games and nerd out with puzzles, flower lego sets and strange but interesting documentaries. 
2. Johnny & Moira Rose – 'Schitt's Creek'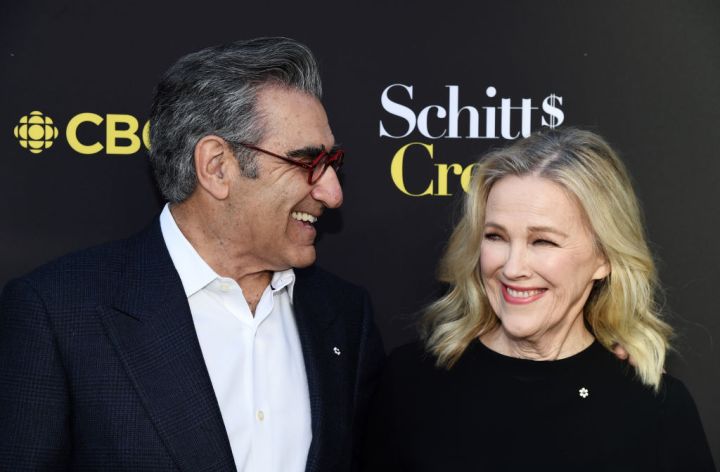 Source:Getty
Rome Howard, portrayed by Romany Malco, is a screenwriter in the ABC drama series A Million Little Things. He and his wife Regina, played by Christina Moses, have been through a lot attempting to adopt a baby. Rome also suffers from deep depression, which makes it difficult for the two to catch a break. A perfect date night for this tv couple would be tucked away at a spa including a couple's deep tissue massage, relaxing music and calming aromatic scents to get the pair in the Valentine's Day spirit. 
7. Ben & Michelle – 'The Unicorn'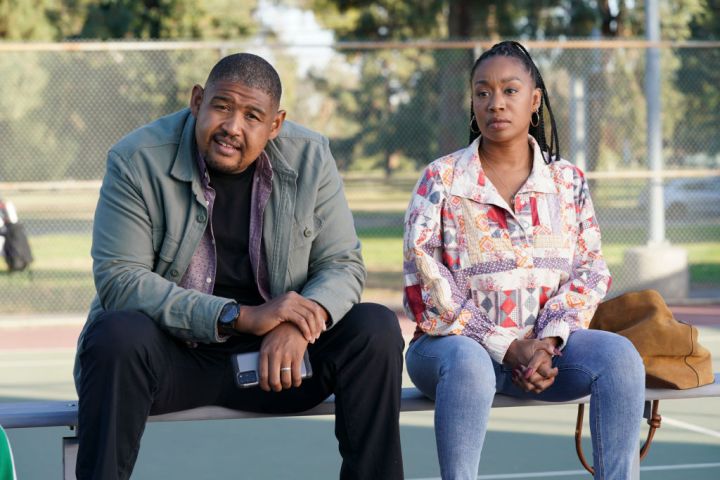 Source:Getty
Ben and Michelle from CBS's The Unicorn would benefit from a couples Valentine's Day retreat with the two other couples on the show. The two live a pretty normal life. Ben runs an audio technology company by day and coaches the local soccer team in the evening while his wife Michelle works in real estate and eventually goes back to school. We imagine the couples take a trip  without their children to the cabins of North Carolina for a lovely Valentine's Day weekend filled with loads of booze, smores and hot tub games. 
8. Moz & Cocoa McKellan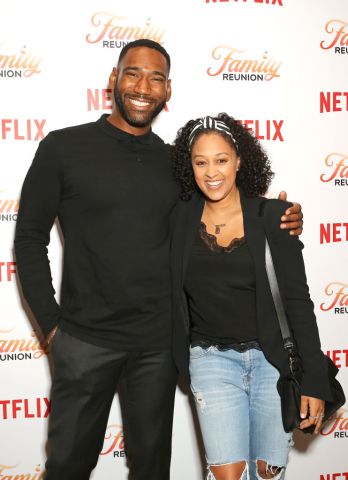 Source:Getty
Family Reunion follows a family of six who travel from Seattle, Washington to Columbus, Georgia for the McKellan Family Reunion and decide to stay in Columbus, Georgia to be closer to their family. Moz and Cocoa McKellan struggle with raising their family between their newly modern values and Moz's southern family's traditional outlook. The two would spend Valentine's on a luxurious vacation while the kids stay put with grandma in Columbus. A brief reminder of life before their new country home life. 
9. Bernie & Wanda – 'The Bernie Mac Show'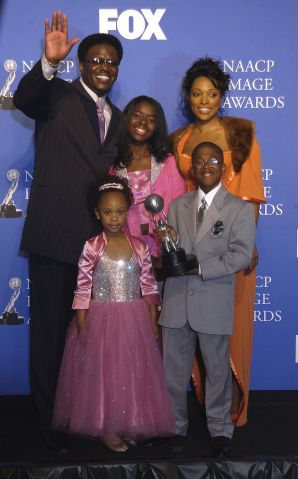 Source:Getty
The classic sitcom, The Bernie Mac Show, created by Larry Wilmore gave us Bernie and his wife, Wanda. Bernie and Wanda reluctantly step into the role of parents when his sister drops off her three kids — naive Bryanna, nerdy Jordan and teenager Vanessa — en route to rehab. The two do their best raising two very different children, and desperately need a moment to take it all in. Bernie had some romantic moments, so the two might spend Valentine's Day away from family at local winery and resort. Bernie and Wanda enjoy wine and cocktails throughout the show, so spending time at a winery without a phone call from home might do the pair some good. 
10. Sky & Bloom – 'Fate: The Winx Saga'

Source:fatenetflix
In Netflix's newly adapted series Fate: The Winx Saga, a group of fairies attend a magical boarding school in the Otherworld, where they must learn to master their magical powers while navigating love, rivalries and the monsters that threaten their very existence. The main character is a fire fairy named Bloom who isn't quite sure who to trust but she knows she is very attracted to Sky, a specialist student. The feelings are mutual, but their impending fight against the burned ones puts a damper on their growing relationship. An ideal date for this pair would be exploring an alternate universe and making out against the sunset. 
11. Lawrence & Issa – 'Insecure'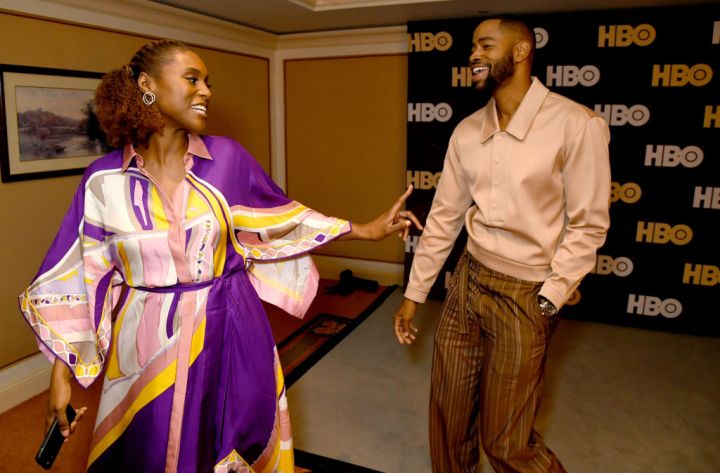 Source:Getty
We hate that we love them, but Issa and Lawrence's relationship on Insecure was a moment. The relationship was full of drama and constant changes, but ultimately they left us hoping it could last the test of time. The pair would spend a Lover's Day date night at a live show (if that were still a thing) watching their favorite artists perform. If only this could be a reality, but fans will see the outcome on the final season of the show this year.