Watch: Adonis Says Drake's A "Funny Dad" In Hilarious Barstool Sports Interview With Caleb Pressley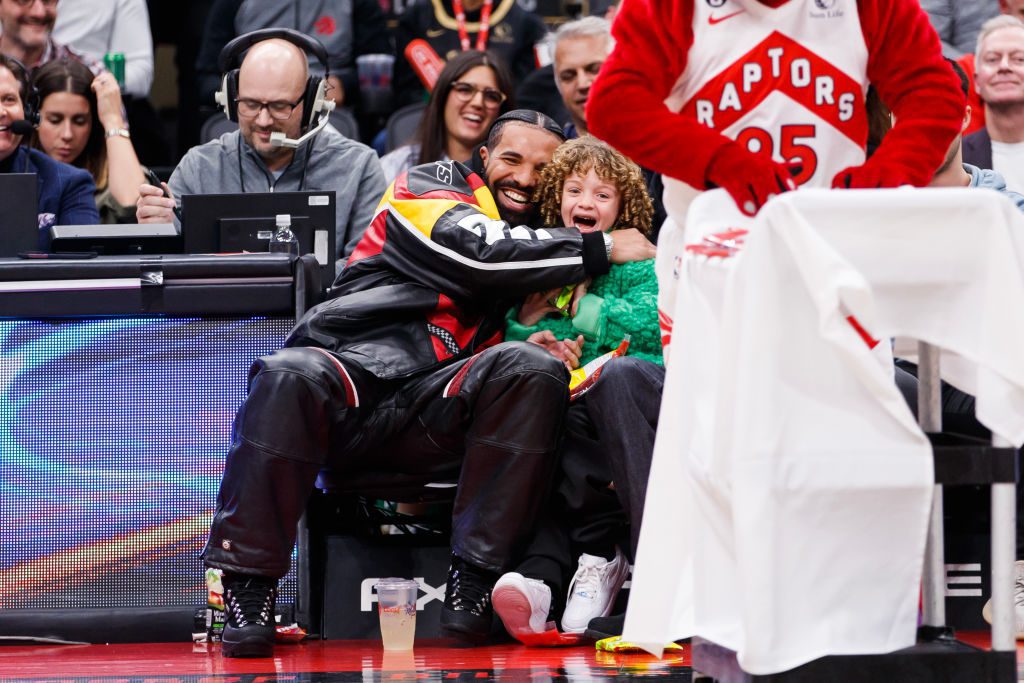 Watch Drake and his five-year-old son Adonis in a hilarious interview with Barstool Sports. In a new episode of the "Sundae Conversation with Caleb Pressley" series, the father-son duo gives fans a comical interview discussing a range of topics from Drake's parenting skills and his 42-diamond necklace. Read more about what they discussed and watch the full conversation inside.
In Pressley's series, he interviews countless celebrities asking questions that provide ridiculous and hilarious answers from his guests. Pressley covered a lot in the short interview with his latest guests Drake and Adonis. It made for an honest and funny interview.
Drake's parenting skills could be questioned after Adonis confirmed he didn't know how to read and failed to thank Pressley for his new basketball apparel. Still, the five year old managed to praise his dad countless times, commending him for being the best father.
Early in the interview, Pressley asked Adonis if he thought he'd be able to read if he had a better dad.
"This is my better dad," Adonis said looking over at his dad, Drake "And that's a funny dad, and also he does a lot of jokes."
The "Sundae Conversation" host addressed his 42-diamond chain made of engagement rings. Drake suggested that each diamond representing each time he wanted to propose to a woman. The "6 God" rapper cleared up the rumors saying it wasn't meant to be taken literally.
"Well, yeah, it was more just a joke," Drake said in the video. "But, obviously people took it pretty literal. I was just trying to have an interesting story."
Pressley responded by pointing to his co-host and suggesting he has a necklace for every time he's thought about boobs. Drake burst into laughter after realizing Pressley's co-host had a necklace so long it dragged down to a ridiculously large pile of beads on the floor.
Drake takes all of Pressley's questions in stride. Even when Pressley asks Drake how to properly address women or when they debate on whether fellow Canadian entertainer Dan Akyroyd invented Patrón Tequila.
Drake ended the interview the same way it started, talking about being a dad. He leaves the parody show and its viewers with a cryptic message about gambling. The star ends, "You can always bet on fatherhood."
Overall, this was a hilarious and entertaining interview to watch with a cute and unexpected moment between the father-son pair.
Check out the full interview below and comment with your favorite moment: