Black Parents Don't Play: The Hilarious Time Ken Griffey Sr. Grounded An Adult Ken Griffey Jr.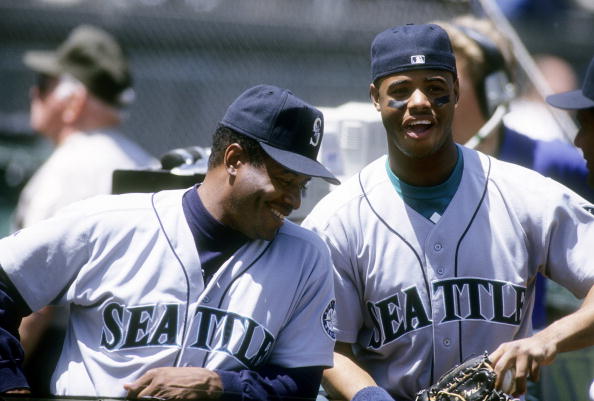 When it comes to Black baseball players, one of the most iconic ones that comes to mind is easily Ken Griffey Jr. "The Kid" played 22 years in Major League Baseball (MLB), spending most of his time as a Seattle Mariner or Cincinnati Red. The thirteen-time All-Star is one of the most prolific home run hitters (seventh all-time in home runs with 630) and dynamic defenders (ten Golden Gloves Awards) in MLB history. During his career his popularity helped him secure deals with prominent companies such as Nike and Nintendo. In 2016, Griffey Jr. was elected to the Baseball Hall of Fame.
Even with all that he has accomplished, there's probably not anything that Ken Griffey Jr. is more proud of than the fact that he was able to follow in his father's footsteps. Ironically enough, "Junior" didn't just follow in his father's footsteps, he actually got to play with him…for two years. Before the two did it, no other father-son duo had ever played in the league at the same time, let alone on the same team. The talented family paid continued to make history in September of 1990 when they became the only father-son duo to hit back-to-back home runs in a game against the California Angels.
This was surely just one of countless moments that the two will remember forever. Another that definitely fits that bill is a little less serious and much more comical. In a video posted to Instagram by @mlbelites_ Ken Griffey Sr. recalls one of him and his son's most memorable interactions on the field. Keep in mind, Senior played left field while his son occupied centerfield while they played together.
Senior prefaces the story by sharing that when he first got in the outfield, he told his son that he would only cover three square feet and Junior would be tasked with covering the rest. During one game, an opponent hit a fly ball right to them.  Harold Reynolds, a former teammate of theirs says that Junior sort of drifted over and snatched the ball while his father was still trying to catch it. Senior admits that he didn't know where the ball was so he started ducking.
While everyone else might've thought Junior's move was funny, Senior didn't considering the fact that he could have gotten hit in the head with the ball. He says he jogged off the field and when he got into the dug out, he called Junior over. He then informed his grown son that he was grounded. He took it even further by taking Junior's keys. Although it's all laughs now, it's obvious that Senior didn't care how old or talented was at the time and had to show his son that he was still his parent…even in Major League Baseball. It just goes to show you that Black parents don't play! Shout out to Senior for sharing the story and shoutout to both him and his son for making history, on and off the field!