YØUNGBLØØD on Power, Privilege, and New Track 'Playboy' [Interview] – FUXWITHIT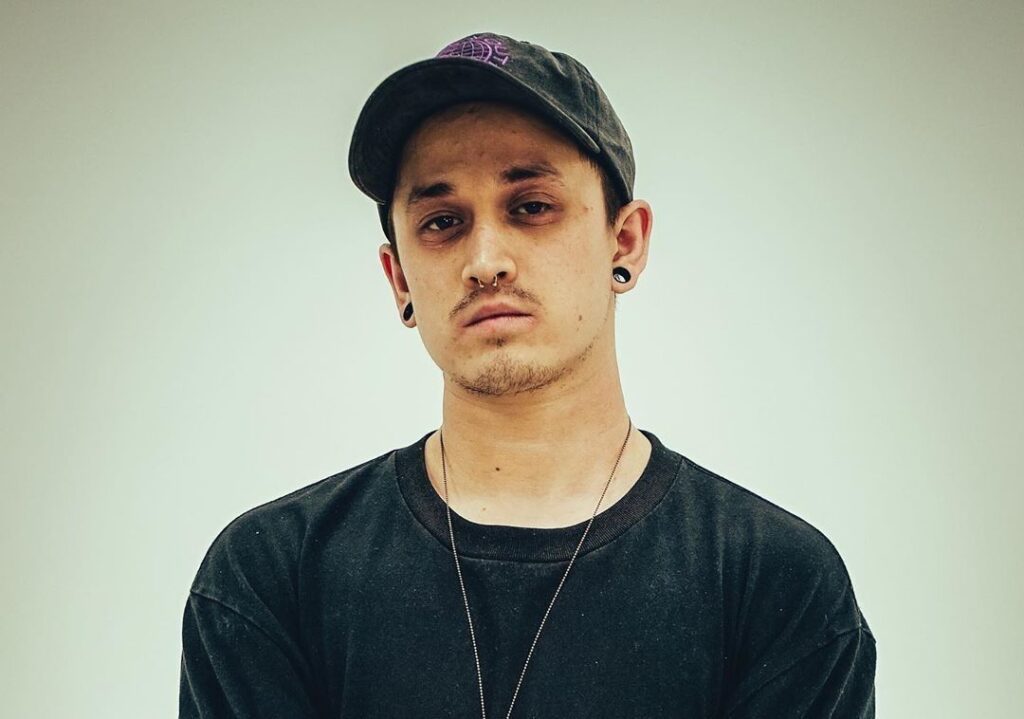 Did you know that if you look up "gas" in the dictionary, it's just YØUNGBLØØD holding up his discography? Thank the trap lords for this man now because he just released 'Playboy' and we promise it will fill your every trap craving. Out now on Nightenjin, this banger features heavy 808s and deep, velvety vocals that'll make you automatically hit that Soundcloud repeat button.
We had the chance to sit down with Alex Jongbloed, the mastermind behind YØUNGBLØØD, so we used this opportunity to pick his brain on his new release as well as his thoughts on what's going on in the music industry. We learned that not only is he one of the best beatmakers in the scene, but he's also a genuinely good dude. So before you jump into the interview, be sure to listen to 'Playboy' first:
Hey, Alex! Thanks for taking time out to talk to us. So what inspired you to make 'Playboy'?
Playboy came about as I was looking to do something more unique. At the time I was writing a lot of songs at 150-160bpm and I was really a fan of Nitti Gritti & NXSTY. I had downloaded some of their music and noticed a couple of their tracks were sitting in the 110-114bpm range and decided I wanted to take a crack at it because there just was not a lot of people writing at that tempo. The song came together pretty quickly and really the hardest part of it was trying to find a vocal that fit, I actually ended up spending about 2-3 hours searching Splice for the proper vocal and ended up with the "tryna find me a nice playboy bunny" when all was said and done.
The term 'playboy' has negative connotations and misogynistic undertones, so dropping this track during this time could definitely paint you in a certain light. However, we've seen that you're definitely an artist who uses their platform to speak on gender injustices in the music industry. Can you tell us a little more about that and why it's important to you?
This is actually something I was worried about when I wrote the track as human rights and equality for all is one of my biggest beliefs. The lyrics don't really mean much to me as I just see them as something that carries the rhythm and sets the tone for the song, it's a slower trap tune and I feel the lyrics help carry that "heavy" vibe that you kind of get from the cadence of the beginning of the track.
As for my beliefs on equality, I've been using my social platforms to promote the BLM movement and help women voice their stories and opinions on what's happening in the music industry. There are so many stories we have yet to hear but as we watch people like Bassnectar, Billy Kenny, Space Jesus, and more be accused, fail to address the accusations while shifting the blame elsewhere, and then give a statement that they're leaving music but they're not guilty, it leaves me wondering how many more people have stories they are too afraid to share. I believe there are too many people who have been affected negatively but are afraid to come forward with their stories for fear of being silenced or worse. Furthermore, there are plenty of artists who I've seen accused of horrible things who are still being booked and have not been persecuted to the lengths other producers have. I'm not huge on "cancel culture" when it involves bad takes from 5+ years back, but sexual assault that so many producers are guilty of is absolutely inexcusable and I see no reason for those individuals to continue their success, and the same goes for those around them that see these actions and fail to act.
With that being said, so many human rights movements happening in the world, how do you think this will change the landscape of dance music? What do you hope to see change before shows and festivals fully come back?
To be honest with you, I think people will be hoping for more change than we'll actually see. There are too many people in power that either don't want to see the change or don't care enough to implement it. As a white, male artist I recognize and acknowledge the privilege I'm given in this industry without me having to do a single thing while other artists struggle to even have their music heard for reasons beyond their control; and I truly hope that the artists who share my privilege but have a larger platform can speak up to influence those in charge and implement change. I pray that our industry, post-COVID, will have festival lineups that have become more diverse from head to toe. I don't think 2-3 black or female artists will cut it. We need to see headliners, support, and opening acts of all backgrounds on lineups moving forward and without that kind of action, it falls upon the people in the crowd, the fans, to voice their opinions and force change upon this industry.
I don't think 2-3 black or female artists will cut it. We need to see headliners, support, and opening acts of all backgrounds on lineups moving forward.

aLEX Jongbloed, YØUNGBLØØD
How has the pandemic has a whole affected you in your personal life and music career?
I've been fortunate enough to have continuous work up until a few weeks ago through this pandemic. I work in film/tv doing sound fx, so I'm really only feeling the effects of this pandemic in my work recently. As far as my music career goes, I did have plans to tour this summer and winter that have clearly been put on indefinite hold. On the flip side, I have had a lot more time to work on music which in turn has benefited my mental health. This extra time has also allowed me to pick up my guitar and practice piano a lot more than I was able to previously which has definitely helped me connect more to the music I'm creating. I could sit here and complain about not being able to play shows and all that but at the end of the day, I'm making music I'm happy with and enjoying the extra time I have to really dive into my compositions.
Going back to this track, the teaser video is super dope and matches your aesthetic. We know you're a huge fan of streetwear, which kind of goes hand-in-hand with hip hop music. Do you think your clothing style in any way influences your music or vice versa?
I think my clothing style and love for streetwear definitely influences my music. I didn't have a huge amount of hip-hop influence as a child, my dad mostly listened to 70s and 80s music, but as I grew up I started discovering artists like Kanye, Jay-Z, and Snoop Dogg which really brought me into hip-hop. Nowadays I'm still big on Kanye up until the Life of Pablo album, but some of my favorite hip-hop artists are Kendrick, Mac Miller, blackbear, and Cudi. These artists among many others are definitely a huge inspiration for my style as well as my music. So I'd say my music is influenced by the same people who influence my clothing style.
What's your favorite streetwear brand and why?
This is a pretty difficult question honestly, I've sort of fallen out of love with brands at the moment. For the most part, I'm looking for a style or image rather than a brand. I still keep up to date with Supreme, Off-White, Adidas, and Nike, but right now, I'm wearing items that are a play on streetwear culture like Pizza Slime, Youth Machine, Fucking Awesome, Anti Social Social Club, or just clothing without logos. But the ASSC shipping is so bad at this point that I won't be buying from them again.
We think you're killing the game right now in the Trap2 movement. I always mention your name when people ask about who to look out for in underground trap artists. Who are your current favorites that we should keep our eyes on?
Thank you so much! It means a lot to me that my moves are noticed, I'm really just making music I love and hope that other people enjoy it too. As far as new and upcoming artists go I've got a lot of people that I believe are not only killing it while on the come up, but also are a huge influence on my music as well.  To list some: Juelz, Montell2099, JAWNS, Knock2, ISOxo, Felmax, TALONS, Banana Phone, BLVD., So Dope, Saint Punk, bd bbt, Mystic, Blvk Sheep, RemK, FOMO, DRFT, Tek Savvy, and Yewz. The list honestly goes on and on.
Do you have any advice for producers who want to make trap, but think that "trap is dead"?
If you think trap is dead, then don't try and make it, haha. This genre has really continuously evolved to be included in almost every genre and has reached heavily into pop music. To think the genre is dead is to turn a blind eye to the musical influence that it has on almost every genre. Trap has been a basis for switch-ups in multiple genres while also transforming to fit the times. The 2012-2014 melodic trap is what we see on the mainstage now, and today, we see dubstep taking center stage as hybrid trap has taken leaps and bounds to be an incredibly diverse subgenre. If you're looking to get into trap, yet don't see the evolution that has taken place, then I feel as though you'll find more for you in a different genre.
If you think trap is dead, then don't try and make it.'

aLEX Jongbloed, YØUNGBLØØD
Who are your musical influences within and outside of dance music?
My biggest influences in EDM are Baauer, RL Grime, Juelz, Yehme2, Nitti Gritti, ATLiens, and Tynan while I also still draw a lot of influence from older stuff from the OG's like Flosstradamus and Yellow Claw. Outside of the genre I'd go with, again, Kanye, Kendrick, Mac, blackbear, and Cudi as well as Oliver Tree, Halsey, and Billie Eilish.
Is there any artist that if you were to collab with, you'd feel as if you've "made it"?
If I ever have a collab with Baauer, I would probably die of excitement. I've loved him since I heard 'Harlem Shake' and he was one of the first artists that brought me into the trap part of EDM.
We believe in you! As we're watching out for your next projects, what can we expect from YØUNGBLØØD for the rest of 2020? After that?
As long as we're shut down from COVID, you can expect me to keep releasing music. I've got a collab with my best friend, DRFT, coming out August 6th, along with a mini-mix with him on the 3rd. I'm also planning on self-releasing my tune Earthquake, which has been a staple in my sets for about a year at this point. I've also got collabs in the works with Mystic, Yewz, Tek Savvy, Downlowd, Banana Phone, and Blvck Jesus that I'm absolutely stoked about. Beyond that, I'm sitting on a couple more solo tunes that should be seeing the light of day soon too. Hopefully, when this is all over, I'll be able to return to touring and I can start hitting a couple of new states I haven't played yet, as well as return to the cities I've already visited. But until COVID has subsided, you can keep planning on me releasing music and playing the occasional live stream.
Before we let you go, is there anything else you want to add?
Make sure y'all go listen to 'Playboy' out on all DSP's now and check out my livestream this Sunday the 26th for Baked Up's ABELFEST as well as a livestream each of the following weekends (the 1st & 9th). Every set I play will be different and absolutely stacked to the brim with ID's I've been working on as well as ID's from the homies. Hope to see everyone in the stream chats while we're staying quarantined and please stay safe and wear a mask when you're out in public.