Guest Mix + Interview – HWLS – FUXWITHIT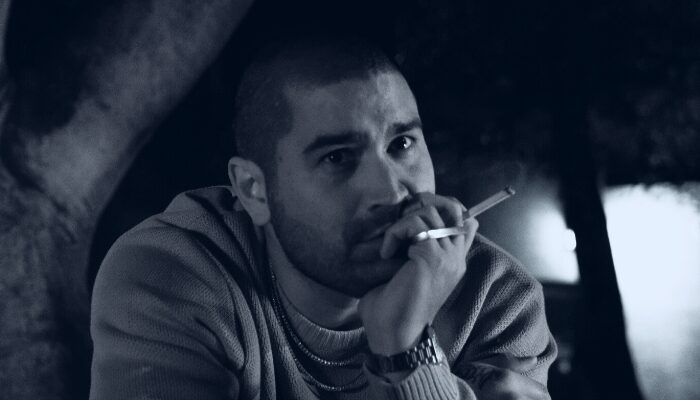 Originally a collaborative project between Justin Elwin and Ta-Ku, HWLS naturally evolved into Elwin's solo brainchild. The producer defies genres and blurs soundscapes working on everything from trap and rap, to ambient and downtempo. Impossible to box in, he's produced tracks for Denzel Curry & Jaden Smith, collaborated with Flume, Jon Casey, Rome Fortune, and has done mixes for everyone from Triple J to Diplo and Friends. His discography is as deep as it is diverse, while his brand fuses a powerful visual identity with a calculated, yet laid-back approach. After wowing us with his incredible set at Quality Goods Exports digital festival, we knew it was due time to connect with the elusive producer for a guest mix + interview of our own.
Our conversation covers everything from his return to Perth in light of the pandemic, to the evolution of the HWLS project, why he says no to most things, and much more. The mix is an absolute journey, truly showcasing his diversity and pristine mixing. Clocking in at over 90 minutes it's a roller-coaster ride of emotions, vibes and sound palettes. Enjoy the experience below.
Tell us a little bit about the mix. Where are you taking listeners with this one? What is this the soundtrack to?
The mix is a bit of everything really, I wanted to get a bunch of forthcoming music from artists I know or that I'm a fan of and involve as much as I could of what they have been up to the past few months during this weird time in the world. Hopefully it can make you dance, chill, be abrasive, kind of fit into some point of anyone's day at the moment.
…it's good to be grounded and just focusing on the simple things in life.
You moved back to Perth at the beginning of the pandemic. How's Australia been treating you? Are you planning to stay long term? 
Perth has been real good to be honest, minimal to none amount of COVID cases recently so things here have opened up a bit which has made life a little easier, hopefully we can keep it up. Glad to have made it home when I did and it's good to be close to family during these times. I'd say I will be in Australia for quite some time at the moment, I usually travel a lot but with all the restrictions in place it's good to be grounded and just focusing on the simple things in life.
When we last spoke you mentioned getting outdoors has been keeping you sane, what are your go to outdoor activities? Have you started doing anything new in recent months?
I've been getting out and hiking a bit, there are some great areas to explore in WA which are only a short drive out of the city, so it's good to get out and clear the mind with some nature. Other than that, still playing Basketball and have been getting back into golf with some friends recently during this time. Nothing too new in my daily routine really.
You run your own business outside of music. What do you do? How do you balance the two? Do you have any desire to do music completely or do you prefer splitting your time?
I have a few businesses and investments outside of music which don't chew up most of my time away from music but still need to pay attention too. I have been doing music full time for 10 years or so now but I just try to use my time in the studio more efficiently rather than sitting there all day to make something happen. I need to be able to do other things to appreciate my music career side of life.
What inspires you to create?
People pushing themselves and experimenting, my friends and life helps my mind come up with ideas or motivates me to make something. I try not to force things anymore and rather put production techniques I have learnt over the years to use when I have an idea in my head.
HWLS was originally a duo, what prompted the evolution to a solo project? What was the biggest challenge as a result of the change?
It was mainly our schedules and allocation of time, I was working with Ta-ku helping with production for his project as well as preparing tracks for HWLS at the time. We always knew I would tour this project solo, so when he had to spend more time on other ventures outside of music I thought it would be easier to just keep doing what I was doing with HWLS and concentrate on that. There were no challenges during that time, we just made logical decisions that made sense for us moving forward on our own paths.
I rarely come across suited people within the industry that are fans of music these days. It would be nice to see artists not get taken advantage of anymore with shitty contracts, that would be a good start.
You recently tweeted, "People talking about shifts in the music industry, but I haven't really seen anything get done or change." What changes would you like to see and what needs to be done to actually make them happen?
I just saw things being said and taken notice of but people in the 'high' positions of the industry kind of really do nothing about it. It's like they're listening but they're not hearing you. I'm not the biggest fan of the music business side of things, I rarely come across suited people within the industry that are fans of music these days. It would be nice to see artists not get taken advantage of anymore with shitty contracts, that would be a good start.
How did you end up co-producing tracks for Jaden Smith's & Denzel Curry? What was the experience like? Do you have any other big rap collabs in the works?
I had worked on previous things for Jaden in the past but 'Ghost' came about from a session with other producers and they ended up placing the beat, so that was all handled by the internet. My friends FnZ work closely with Denzel Curry on all his projects so I was joining sessions with them regularly. We have all made a bunch of music together but Zel's creativity and workflow is amazing and he is always up for trying new things and sounds. I work on a number of other projects contributing production for them but some things are best kept to myself.
You've mentioned that you say no to most things. Is this a conscious choice you've made? What's the upside to this approach? Is there anything that you really regret saying no to in hindsight?
Over the years it has been a more conscious choice, I just didn't want to be saying yes to everything and giving too much of myself away for the purpose of 'good exposure' or a 'good look' that shit would make me anxious like I felt I needed to do it. I say yes to the things that feel genuine and to people that are supportive and moving things forward. I rarely want to do interviews anymore because who cares what I have to say haha. I'd much prefer to have people listen to my music and personally chat about it with them if it connects somehow. I appreciate what you guys do and support so was up for the chat, but this will probs be my last interview haha 🙂
My brain still ticks a little differently during the late evenings, I like that it's quiet…
What keeps you up at night and/or gets you out of bed in the morning?
My brain still ticks a little differently during the late evenings, I like that it's quiet and I guess the fact that most people are resting makes it feel a little more isolating which can let ideas breathe a little more haha. Sounds kind of dumb but I guess minimal distractions in a calm environment let the thoughts of the day come to life.
What's on the horizon for you musically this year?
The first half of the year I have just been spending time on demos and production for other projects but I do feel like getting these demos done and out there. Just going to feel things out and take it day by day, no rush or time limit on anything, we all got time on our hands these days.
Tracklist
Charles Murdoch – PURPOSE
HWLS – Powders
The Faded – Pull up
Hate – Brilliant
FnZ – ID
Dabow & LYNY – Caliente
TNGHT – CLEVER PANTS
Little Snake – ID
Rustie – Terra Star
Baauer – Dip Wah
HWLS – Delta Ft. Akouo
Jackal – Christ person, Woman God
AEDFX – Cold with it
HWLS – Ktown Ft. Tapecut
Dj Q – Back 2 Bassics
Modeselektor – Prugelknabe
AWE – Luvit
Blake Skowron – Sofia's Bridge
FnZ – ID
Kendrick Lamar – PRIDE (Louis Futon flip)
?? – ID
Quiet Bison – Thimble
Jamie xx – Idontknow
t1r – ID
HWLS – Epsilon
Holly – ID
t1r – ID
**IDWL** (Little Snake true grit edit)
S-Type – Grace
Ganz – Rufio's theme
Ninajirachi – Rainbow Train Ft. Coucheron
HWLS – Beta
Hudson Mohawke – Shanghaied
Charles Murdoch – SURGE
Christopher Port – ID
Boddika & Joy Orbison – Dun Dun
Kilter – One in Hand
Joy Orbison & Overmono – Bromley
Randomer – Bring
Dj Seinfeld – Please Slow Down
Pearson Sound – Untitled
Tiga & Hudson Mohawke – Love Minus Zero
Proxy – Raven
DaBaby – Bop (Bleep Bloop & Little Snake flip)
Tek Genesis – Sequence 999
Ginoli – Highest Point
Tessela – Hackney Parrot (Special Request VIP)