Reminder: Music Can Be Fun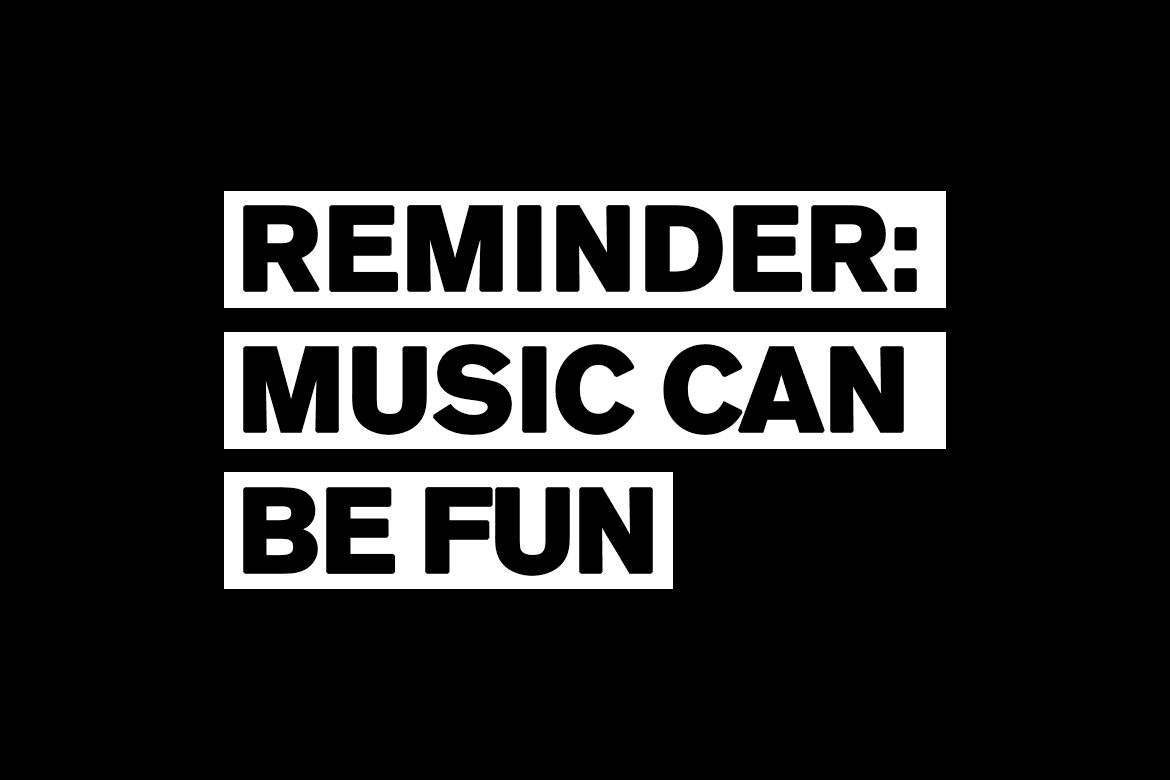 Music can be fun. This may come across as an extremely obvious statement to some but it needs to be said. It seems across the industry this is something that's becoming forgotten. Whether it's stuck-up music journalists only highlighting music that's ground-breaking or thought-provoking, elitist fans judging art solely on predefined metrics, or producers focusing all of their energy on sound design and being forward-thinking, we could all use this simple reminder. Music is meant to be enjoyable. It can be political, inspiring, mind-bending, and life-changing, but it doesn't always have to be. Sometimes the best music is simple and fun. It makes you smile, dance or single along.
bass music but fun

— great dane (@greatdane) March 30, 2022
Taking a more relaxed fun-loving approach can not only reduce stress and pressure on artists but can also be a key to success. When A-Trak & Armand Van Helden looped up a Bony M sample, added some additional production, and a "Barbra Streisand" pre-drop vocal they were having fun with it. The approach turned out to be infectious and led to the song raking up over 100 million plays across platforms and charted #1 for 11 weeks on Billboard's Dance chart. If they took themselves too seriously the track would've never been created, never mind released.
It's not just established DJ legends that have seen success with a more light-hearted approach. After making waves in the underground, LYNY's breakout proved to come when he mashed up Super Smash Brothers with Destiny's Child on 'Jump Bros.' Fusing the two into a trap banger is ridiculous on paper but it slaps, and it helped to bring in a whole new realm of fans to his more serious tracks. camoufly applied a similar approach with a series of flips, none as special as Pitbull's 'Hotel Room Service.' Many would scoff at any respected producer taking on a Pitbull Top 40 club hit, but camoufly didn't let that stop him from dropping 'Hotel Room Service,' a track that gained support from Mr. Carmack and Good Times Ahead, and became an instant fan favourite.
It's not just singular songs that are ripe for fun. Artists can apply a lighthearted approach to their branding, sound, and creative approach. Ethanplus has done this to great effect with his "Get Goofy" brand. From the cartoony samples and sound palletes, to the bright artwork, everything he releases is filled with childlike wonder. The result is a cohesive experience for fans that can't help but leave a smile on your face. Taking a light-hearted approach isn't just exclusive to one artist. On a larger stage, Dillon Francis has seen immense success showcasing his fun-loving personality, from pulling pranks on massive DJs, to his comedic social presence, and even his releases- from the branding to the music itself. His approach has garnered him millions of followers on social media, increased the eyes on his music, landed tons of media coverage (including an article titled 5 Reasons Why Dillon Francis Is The Funniest DJ On Instagram), and much more. Dillon Francis makes having fun the core of his online persona, and it's helped make him become one of the biggest names in EDM.
One of the greatest opportunities to apply this approach in music is within live sets and performances. Fans go to shows to enjoy themselves and be entertained. A set should be about having fun and creating a unique experience with those in attendance. DJ shouldn't feel the need to stick to certain styles or only play what's "cool." Sometimes that random catchy bop or throwback hit can amass the biggest fan reaction. DJs need to remember to have fun because if they're enjoying themselves, chances are the crowd will be too. If you've ever seen a Lunice set, you know what I'm talking about. The energy is beyond infectious.
Over the past two years, the rise of live streams has presented a new way for artists to connect with their audiences. While standard DJ sets are always enjoyable, it's artists that have been taking risks and having fun that are the most memorable. Dabow lit the underground community ablaze with his live performances. Rather than DJ sets, he presented fans with performance art pieces soundtracked to his IDs and other trap bangers. From his trap dinner to his bathtub set, the entertainment value was insane and people loved it. Four Color Zack also made live streams his own by generally not giving a fuck with his approach. Zack's streams over the course of the pandemic were a weird and wild journey through music, memes, inside jokes, and general insanity (plus some great DJing of course). The end result was a dedicated community of followers looking forward to every time he went live.
Music doesn't need to be that serious and neither is this article. Life is hard, music doesn't have to be. Go have fun 😊