PREMIERE: Subtronics & Chee Co-Teach Masterclass In Bass With 'Point Breeze' [Interview] – FUXWITHIT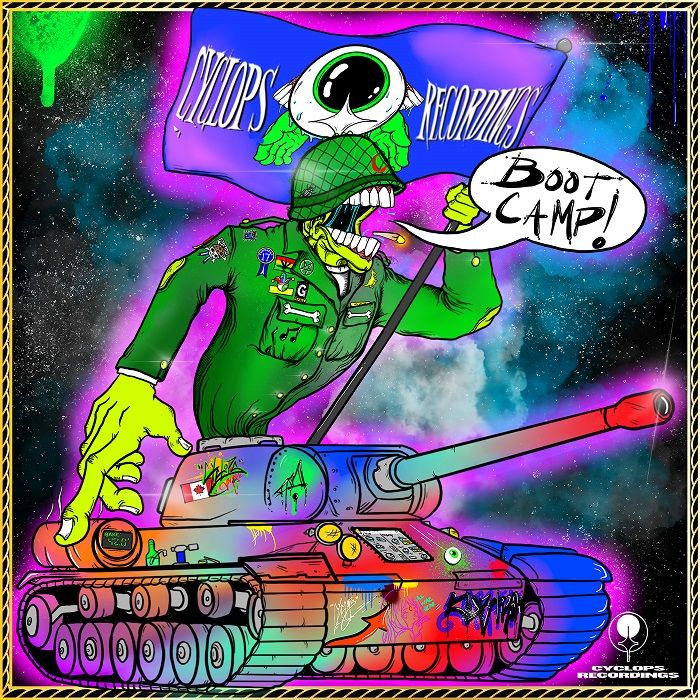 Talk about an incredible few years for the head cyclops himself, Jesse Kardon, also known by his production moniker Subtronics. First gaining massive recognition for his wonky, wild, and overtly weird tunes that struck a chord with both fans of the more wubby side of dubstep, and the impassioned hordes of wooks looking for the most mind-bending noise imaginable, he quickly caught the attention of every facet of the industry. Next came his collection of god-tier mixes that showcased his undeniable prowess as a DJ and remarkable ability to craft an intricate audible adventure in the form of his Now That's What I Call Riddim series, which have racked up over 5 million streams to date. Then, he waged total airwave war with countless wildly successful EP releases, while continuing to amass a swiftly growing fanbase of single-pupiled accomplices with his Cyclops Army. 2019 saw him sit atop our Top 50 Songs of 2019 list with his viral banger of an anthem with 'Griztronics', a ridiculously popular banger of a collaboration with the sax-wielding legend Griz.
With all eyes squarely resting on this youthful speaker conductor going into 2020, what better way to help grow the scene and his own personal brand than starting recruitment into the ranks of his very own record label in the form of Cyclops Recordings, a welcoming home for a diverse array of heavy, experimental, and all-around spicy productions. Bringing fans three distinct slices of genre pie, listeners have been gifted their debut Boot Camp compilation album featuring 19 high-octane sonic thrill rides split into High Knees Headquarters, Psychedelic Division, and Heavy Artillery. From this, I'm extremely proud to announce that we've had the great pleasure of premiering 'Point Breeze', his collaboration with the South African bass alchemist Chee, and we had the great opportunity to chat with Chee about his time in the U.S., what it was like working and living with Subtronics, what he has coming up next, and much more. Check out the premiere and full interview for yourself below!
Named after the Philadelphia street that Subtronics and Chee used to live together on, 'Point Breeze' is an ode to these two mad audio scientists' simultaneously collective and separate expeditions. Opening up a portal directly into an alternate universe centered around all-consuming confusion, 'Point Breeze' is a veritable hypnotist's metronome for all who become ensnared in its clutches. With an initial drop featuring thick, full-bodied basslines and so much crunch potato chip companies could learn a thing or two, fans will be left devastated, neurotransmitters flooding their consciousnesses like a broken fire hydrant on a summer's day. Delectable speaker purrs combine with rich melodies and supremely clean sound design to create an end product that's a true treat on the ears and a showcase of just how far music itself has advanced in such a short time. A pristine blend of Chee's overwhelming halftime grit and Subtronics's grin-inducing wobbliness, this piece will surely be adored by a wide range of music fans, from the rabid headbangers to the crystal-wielding aficionados. Check out the progressive music masterclass that is 'Point Breeze' for yourself below, and check out our full interview with Chee as well!

You used to live in South Africa, but you moved to the United States a few years ago! What was the move like, and what's the transition been like since?
At first, it was very overwhelming. However, it has brought many amazing people and experiences into my life. 
Your newest release 'Point Breeze' is the name of the neighborhood you used to live in with Subtronics in Philadelphia! Can you tell us what your time was like there, and how you represented that in the track?
Philadelphia has become my home. It is raw in and of itself. It has inspired me to be myself and reminds me of South Africa in many ways. This track highlights the life we lived together in Philly. Working with Jesse seems seamless as we both have very motivated personalities and grungy sounds. 
What went into making the track with Subtronics? And what's the creative process like when you two work together?
Jesse and I didn't usually plan on working together, it was way more natural. We would hop into each other's rooms for inspiration and end up creating some insane music together. Collaborating requires a genuine vibe and our energy works very well. There isn't much of a process, there is more of a flow that the collaborators fall into. 
You're also part of It Hz with fellow South African Jon Casey! Can you tell us how you guys met, and if you have any upcoming plans for the project?
Jon Casey and I became friends in eighth grade at a dance and the minute we met we knew we would get along fantastically. We have music in the works but I really can't say more than that right now 😉
You've said that you were really into hip-hop before you got into electronic music. Is that still what you listen to now in your free time?
All-day, every day! I also grew up listening to metal, disco, and movie soundtracks. I honestly gravitate towards music without lyrics.
What have been some of your favorite things about the country since you moved here?
The first thing that popped into my mind when reading this question was that people are very free to be expressive and creative. That is very inspiring to me. The opportunities presented to me have been the most fulfilling experiences. Also, fast internet and hamburgers. 
How was your 2020 personally? Were you able to capitalize on the extended free time due to a severe lack of events, or did you have trouble finding inspiration during a time where that was rare for so many artists?
2020 was not an easy trek. It is hard to find inspiration when you cannot leave your house, and there is only so much "frustrated" music one can make. We are social creatures, and being deprived of connection is not something to look past. However, not playing shows has opened up the idea of making music for its own sake and not for the dance floor. 
When you've hit a creative roadblock, what are some things you do to innovate once again?
Sketching has helped me through many experiences. It is something I started before I created music. Stepping out of the studio and onto the sketchbook helps me recalibrate my inspirations and motivations in that moment. 
Recently Tsuruda hinted at the existence of a collaboration between you two, and you played an unreleased collab with Gentlemen's Club during the Shambhala Live stream, do you think that these might ever see the light of day?
I have no idea what you're talking about! 😉
What are your biggest goals for 2021?
My biggest goals for the year ahead of me are to be more confident in myself and my work, to take more risks, and to not take any day for granted. I have a vision I cannot put into words, but hopefully I will be able to express that to you guys soon 🙂
What's next on the horizon for you?
New music, a new EP coming out on Deadbeats in 2021, and the things that have been my saving graces are the music and art projects that I have in the works right now.