PREMIERE: KUREI Celebrates 4k + Coming Out With 'Late Night Part 2' [Interview] – FUXWITHIT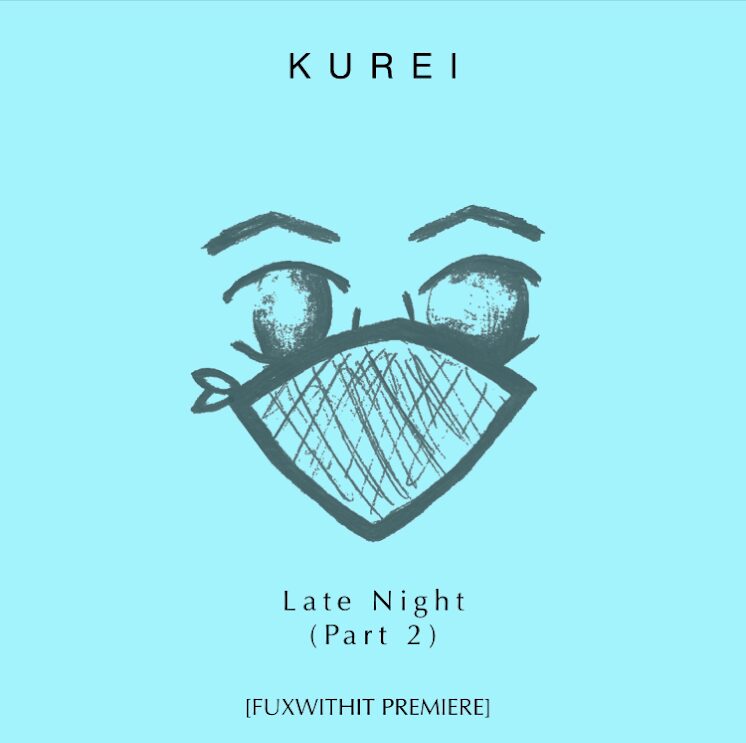 It's time to say "Happy Birthday!" to FUXWITHIT fave, KUREI! Even though it's their birthday, they wanted to give you a special gift by premiering 'Late Night Part 2' as a thank you for hitting 4,000 followers on SoundCloud!
Two years ago, KUREI won our hearts with a bass-heavy version of the track. It's not a coincidence: 2 years, Trap 2, and now the second edition of Vince Staples' 'Late Night.' In this version, they re-imagine the rap song with future beat vibes. The Long Beach-based producer has become so close to so many of the team at FUXWITHIT, and with so many changes in their life since we last spoke, we took this chance to sit down and catch you all up as well. But before we do, make sure to wish KUREI a happy birthday and listen to 'Late Night Part 2' below
Hey, KUREI! Thanks for taking the time out to answer some questions for us! It's almost been 2 years since your first FUXWITHIT feature. Aside from the pandemic, what have been the biggest changes for you since then?
So I've actually been working a ton through all of this, my job was only closed for about a month back in mid-March to April. I've also been skating almost every day again, which has been keeping me in shape physically and mentally. And as you already know, I recently came out as gender fluid and pansexual on Twitter 🙂 
Congratulations! I hope you know we at FUX will always support you. Do you want to tell us a little about your journey and what made you decide to come out on social media this way?
Thank you so much! You've been so amazing and supportive too, by the way! Everyone at FUXWITHIT has. Just another reason why I love y'all so much! But yeah, basically I've never really FELT like a CIS straight male, even though I had only had heterosexual relationships. It wasn't until I started dating AJ (Euro) that I really started looking into all of this and fully figuring myself out. After researching a bit and finding out about gender fluidity and pansexuality, I really had resonated with those. About a month later, I had finally built up the confidence to come out and post about it on Twitter. You (Arielle) definitely helped with that too by showing me it was Non-Binary Day. It's felt so freeing since to be able to do/say/wear/be exactly as I want, and that's exactly what I love about how I identify. 
Do you have any advice for people in the community who want to come out?
I would just say to take as much time as you need. There's no rush for anything. Do whatever is comfortable for you, and know that there will be people out there to support you. Finding those people first definitely helped me a ton. Also, fuck what anyone thinks and do what makes you happy (as long as it doesn't fuck with other people).
Onto this track, your first article at FUXWITHIT was a remix you made of this song. Is there any importance of this song to you and what made you want to make a new edit? 
So I actually reuse vocal samples a lot within my music. I don't know why. I'll just do it if I really fuck with the vocals and have new ideas for it. This was one of those cases for sure. The OG track I did with this sample was super bouncy, wubby experimental trap. I really wanted to hear what it would sound like with some future beats. So I gave it a try!
You told me earlier, right now trap is too aggressive and you just want to vibe. Do you think the change of heart has anything to do with the stressors of everything outside of music or is it more because of the uptick in future beats?
Definitely a bit of both. I think with everything going on in the world right now, I need something a bit more soothing or less in my face. I also just came out of a spree of making tons of super heavy tracks and I need to switch it up. The melodic, bouncy future beats stuff has been a really nice break from my usual trap. I got plenty of heavy stuff coming soon, though!
I've asked you to explain this to me before, but for the people who are wondering what is Trap2?
Ok so trap 2 started as a joke on the Partica discord, basically talking about how to level up past trap into "Trap 2." We all started commenting that everywhere and saying it in all our chats and it just became a thing. I feel like now it kinda just describes our era or the new generation of trap music. Also, it's trap… but 2.
 What can trapheads expect from this movement?
Lots of forward-thinking music. Whether it be in the writing, sound design, or just overall trying something new, trap 2 is tryna push some boundaries out here. 
You rep your Partica fam heavy. Tell us more about your relationship with them.
I love my Partica fam. They really are like family to me. Gurf is the one who originally hit me up with his idea for Partica and asked if I wanted to have a track on the first compilation. I fuck with Gurf heavily not only for his music but also just as a human and what he believes in. So of course, I was stoked to be a part of it. Since then, we've all just grown through group chats, video calls, beat challenges, and everything else we do. A big part of why I love Partica is because it's so much more than a label that releases music, it's a community of producers helping each other out in music and life. 
If you never got into producing trap, what genre do you think you'd be making?
I actually was writing a ton of house when I first got into producing. Same with future bass. I still do on occasion when I'm not as inspired to write trap. I also write tons of hip hop on the side so I'd for sure just be doing way more of that too. 
Lastly, a fun question. You're super vocal about your love for Long Beach. Try to convince us why Long Beach is the best city.
The food is absolutely amazing, especially for vegans like myself. Beautiful beaches (not for swimming) but great to go hang out, walk, or run down the boardwalks. I feel like there's just so much to do everywhere. Really good weed. And then the skateboarding community here is my favorite I've been apart of from anywhere I've lived, so that's huge for me for sure. It's just a vibe and a half here, way cheaper than the valley, we got the beach, and we got the weed. Why would you not move here?