MUST DIE!, Akeos & Skream Join Forces In Unexpected 'LOL OK' – FUXWITHIT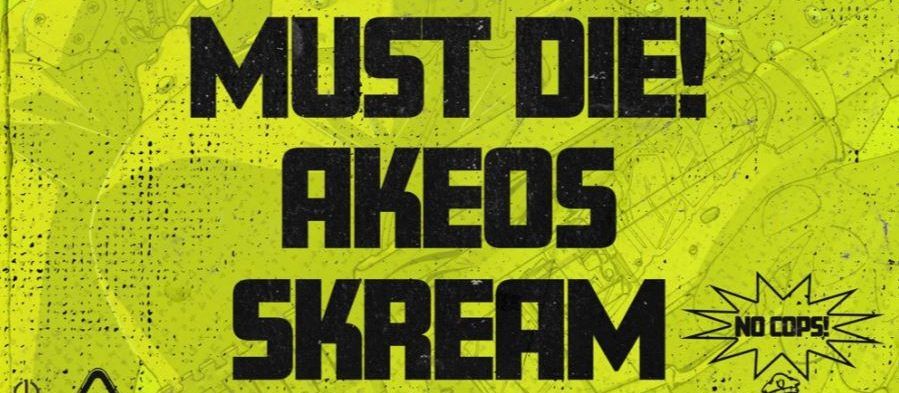 Three pioneers of bass music. One unlikely collaboration. 'LOL OK' is the product of a teaming between MUST DIE!, Akeos and Skream out today via Never Say Die, and yes, you read that correctly.
It's difficult to imagine a world where the three aforementioned artists could come together on a track without a single hiccup, but upon further inspection, it actually makes more sense than not. While all three artists need no introduction, a deeper dive into each's contribution to electronic music quickly reveals the logic behind the collaborative madness. Skream is a dubstep pioneer, bringing the genre to the masses in the UK and, despite not being as active in the bass community in recent years, has undoubtedly paved the way for the genre today. MUST DIE! is a revolutionary in North America, with consistently unique releases since early last decade solidifying his legend status in the modern scene. Finally, few have seen as meteoric a rise as Akeos over the last couple of years, as the young talent has quickly become a trailblazer in their own right. So, actually, referring back to the first sentence of this article, 'LOL OK' oddly makes sense.
As the final single from MUST DIE!'s upcoming CRISIS VISION album out on May 21st, 'LOL OK' destroys all notions of what one should expect from the trifecta of producers, falling under the broad umbrella of bass music but defying our understanding of dubstep one bar at a time. It's got an old-school bassline and flow, but is layered with cutting-edge sound design, and a menacing second-half switch up attest to the raw genius of all involved. Words can't do this one justice, so we implore you to dive in below and to give it a few spins to truly appreciate its ingenuity.