Levitate Crafts Truly Immersive Experience With 'Legacy' – FUXWITHIT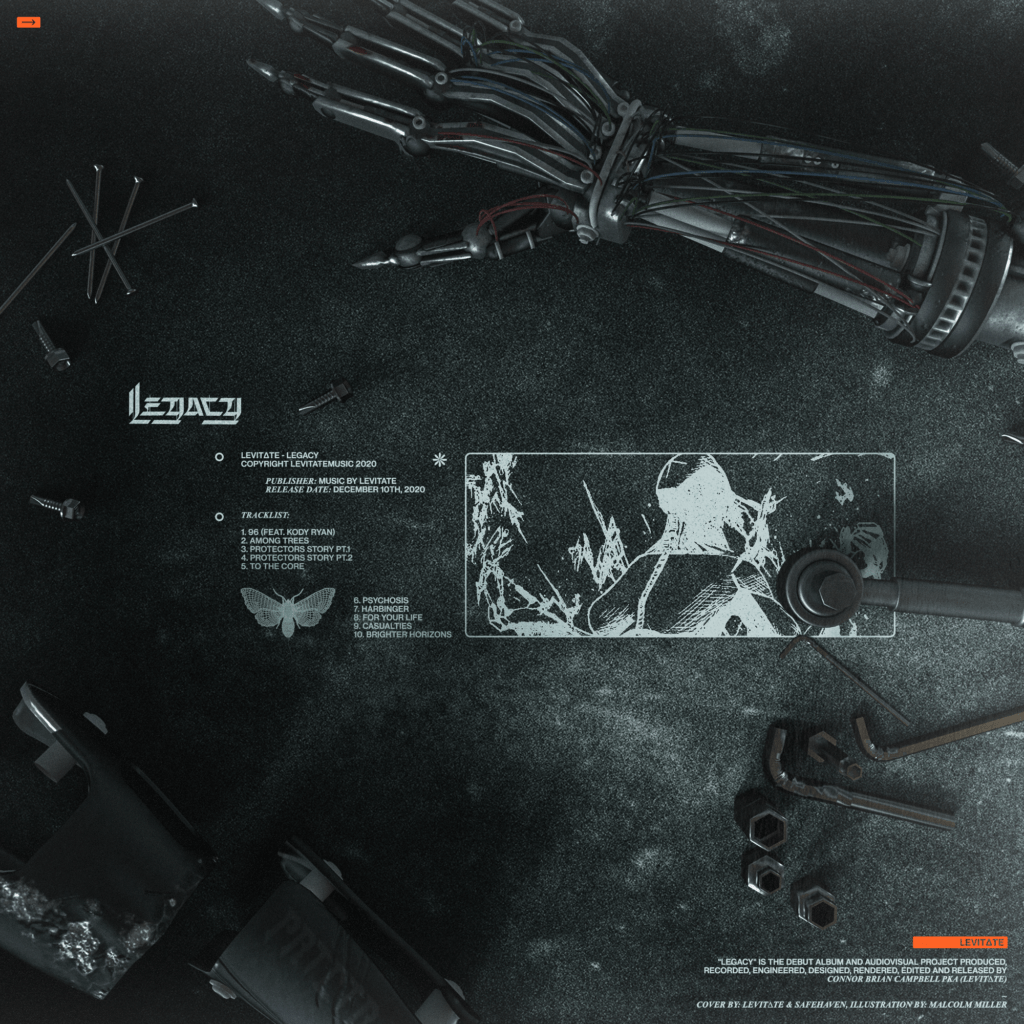 After several nerve-racking weeks of anticipation, Los Angeles-based musician Levitate graces listeners with the debut of Legacy. The ten-track self-released album lives true to its claim of providing an immersive audiovisual experience, each track accompanied by a digital visual adventure. Entirely created and directed by the artist himself, Levitate pulls at the imaginations of wandering listeners, inviting fans into a fictitious reality of sound, emotion, and inner reflection.
Although crafted from a singular artist's mind, Legacy feels personal for those that allow themselves the experience. Opening with '96,' the project's journey evokes a contrasting range of emotions while curiosity, hope, fear, destruction, and longing play the foundation to its depth. This weighted series of events acts with the intent for beginning-to-end play.
Levitate expands on the driving inspiration and timing for the release of Legacy.
I had just done so many one-off projects and EPs in the past, at that point, about 1.5 years ago, that was really the only idea that I wanted to chomp into. With the skillset and subtle world-building, I tried to do the year prior, there was kind of a thought like, "fuck this, I want to make something as close to a movie as I can."
Legacy feels very elite in the sense that every moment of passing detail finds support in another. All finite characters exist with purpose, allowing this to live as perhaps the most cohesive body of work music fans will enjoy this year.
Stealing the attention of wandering listeners, Levitate opens up about the early creative process on how Legacy came to fruition.
There's a lot of things I pull from. Tales From The Loop, District 9, and Ghost In The Shell are some that come to mind. The process of imagining the storyline came after I wrote: 'Among Trees.' I knew I wanted to do an A/V album, but when I wrote that, it sounded so much like a robotic thing in the woods to me. I just leaned into that idea and thought the story out one day while taking a walk.
Through the cautious application of color and texture, Legacy's visual entities play flawlessly into its corresponding audio. A narrative between a man and his grandson acts as a transition between different scenes, forcing unsuspecting listeners to confront an extensive range of emotions, unforgivingly. From the subtle glisten of an A.I.'s cold exterior to the skeleton of a lonely home's fiery demise, Legacy toys with the human senses.
Levitate explains his direction behind the project's intent for fans' interpretations.
Ideally escapism that isn't so far they can't take a moment to reflect on their own life. The concept of this thing is definitely fantasy. Still, I feel there's a kind of art out there that is so driven by arbitrary feelings on things like euphoria and happiness and even forced sadness that I wanted to avoid. I want people to watch/listen to the project and be fully immersed but still have space to let the underlying music allow them to self reflect and really feel something genuine. Because under the fantasy of this thing, the music really is just so fucking genuine to me. Whether or not I achieved that, I don't know, but that was the goal.
Of course, Levitate's use of thought-provoking texture bleeds into his auditory work. Although coupled with its visual immersion, all ten records of Legacy thrive individually. The design and placement of sound exceed any expectations one may confront Levitate's musicality with. The rich execution of harmony, haunting lyrical compositions, and crisp detailing allow Legacy the honorable title of living as Levitate's best work thus far.
Levitate offers further insight into the creative venture behind his album. Why an audiovisual project, rather than a single body of sound?
Honestly, just the skillset. In the earlier days of all this, there were certain artists that allowed me to know that kind of thing was possible; Former, Deadmau5, Feed Me, and actually my homie Alter. These were people I saw creating both, and I was just so inspired by the idea of songs, not just being songs, but being a piece of something bigger. That, to me, just hits every bullet point of how I want to express art. When it came to this point in my life, if I was going to do an album, I knew I could do more than just write music, and if I could do visuals, then what story would I tell? Furthermore, what story pairs best with synthesized music and synthesized visuals.
And (because we're dealing with Levitate), the experience extends beyond both sound and visual design. The artist crafted a website, replicating the weapons lab responsible for manufacturing the featured Artificial Intelligence. Listeners can discover more about the robotic entity's creation with 360 viewability. Complete with Legacy merchandise, the site offers fans a boundless glimpse into the mind and capabilities of music's best-kept gem, Levitate.
Stream Legacy
Watch Legacy
Experience Mesics Labs