LEViT∆TE Unveils Captivating Audio/Visual Experience For '96' – FUXWITHIT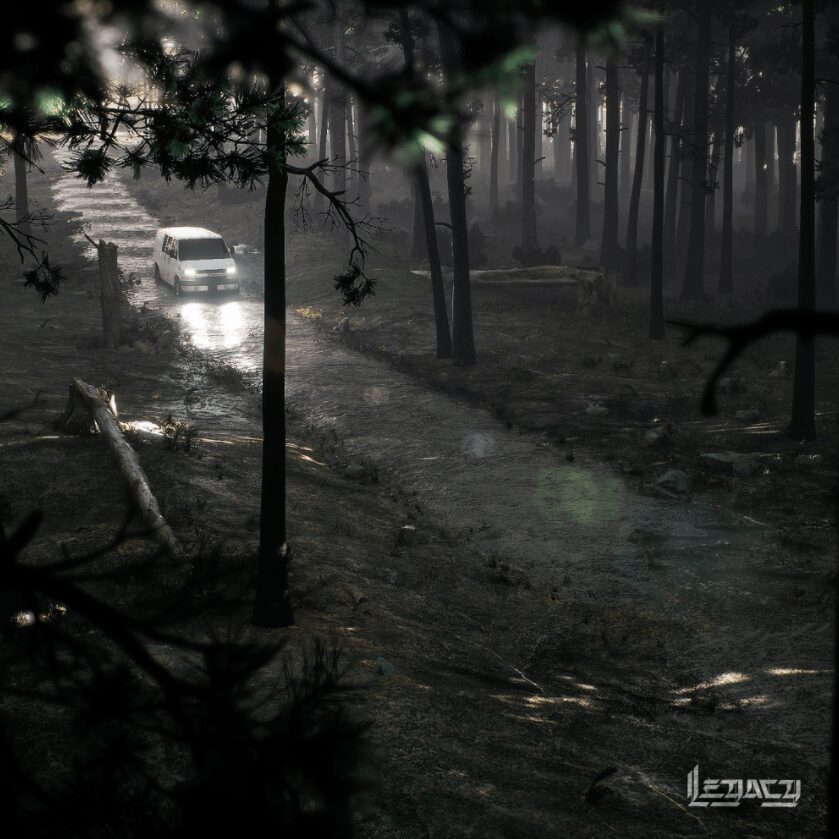 Today, Levitate blesses the masses with the first official release leading up to the debut of his upcoming audio/visual project and album, aptly named Legacy. Unlike any we've been given the honor of exploring before, the Los Angeles resident teases at Legacy's immersive storyline with its opening track and video titled '96'.
Touching first on the video, '96' sets the scene with a slow dirt-road drive through rural landscapes. Soft, natural light cautiously passes between the untouched forestry's denseness as a white van travels with an unknown, yet apparent, purpose. As fresh rainwater beads down the vehicle's glass surfaces, we catch a brief glimpse of the traveling passengers. Casually positioned in the van's rear space, artificial intelligence sits still in an upright and relaxed stance, caged in the metal framework. The remaining two passengers stationed in the front are organic of contrasting generations: One man and one child. 3 minutes and 23 seconds in duration, the brief video invites us to physically feel the emotional weight and silent anxiety of the travelers' journey.
Concerning the musical composition of '96', the track mimics the impending grief and anticipation of its corresponding visual experience. '96' leads with full-bodied harmonizations as performed by Seattle based vocalist, Kody Ryan, bearing a tale of longing and togetherness. Although seemingly simplistic, '96' provides a sensory experience for listeners. The opening lyrics are as follows:
Take a hold of my hand and walk with me.
I'll carry you home. Just be patient now.
So take a hold of my hand because I believe.
I won't let you down now if you have faith in me.
If you have faith in me.
We caught up with Levitate for further insight into his forthcoming project's creation and crafting '96'.
This song means so much to me. Really every song means something to me, but in this case, for a much different reason. I started about two and a half years ago; it was about the passing of my father when I was really young. At the time, I knew fundamentally that I still had growing to do as an artist, and frankly, I hated the idea of some fuckin EDM artist writing a song about my father, even if that fuckin EDM artist was me. But at this point, I'm just an artist, that's all it is, and when working on this album, I revisited this song knowing there wouldn't be a better way to open up my next album. The vibe fit. It sounded like a tone was being set. So after I realized how perfect this was in context, I reached out to an artist in Seattle who I have really been enjoying, Kody Ryan, and I asked that he do the vocal performance I don't have the ability to do. Furthermore, I knew he would nail it better than I can imagine, and he definitely did. I went home and, in the following week, I wrapped the song. When it was finished, I had myself a good cry and called it a day, with no fucking doubt on my mind that's how I was going to open up my album."  – Levitate
The strategic placement of digital sounds with organic textures in both audio and visual presentations beg listeners to confront even their own inner afflictions fully. The artist's unique process and approach to emotion-filled design feel devastatingly personal. From the artist's earliest inspirations to the flawless execution of '96', the introductory track alongside its visual exploration sets a weighted tone for the project's remainder. Art in it's rawest core manifests itself in the form of Levitate's Legacy.