Guest Mix + Interview – Ravenscoon – FUXWITHIT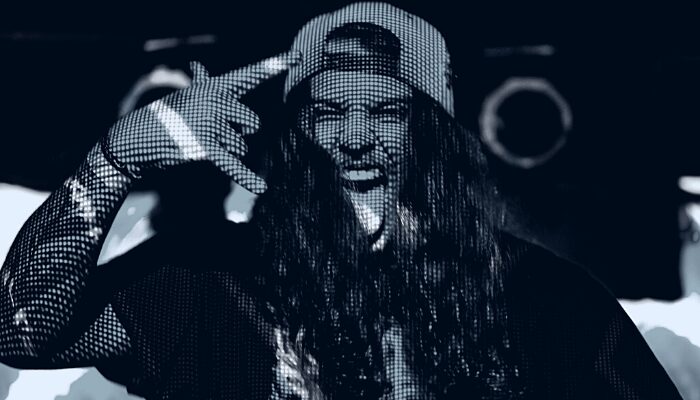 Continuing to cultivate a cult following of epic proportions, bass maestro Paul Conversano, also known by his Ravenscoon alias, has been dazzling the ear drums of bass music fanatics for years now. Showcasing a top-tier mixing ability and an undeniably exquisite taste for both grimy filth and ethereal soundscapes, his well-rounded approach has fiercely captured the attention of audiences around the country. His debut EP MIND released a few months ago, has garnered tens of thousands of plays on SoundCloud, and instantly converted listeners into hardcore fans. Now, we've had the great pleasure of talking to him about his journey so far, the current state of the world and the industry, and what he has coming next. He's also blessed us with the 127th installment of our guest mix series, an hour-long headfirst dive into a diverse assortment of what makes this man tick. Check out the mix and the full interview for yourself below!
A few months ago you released your debut EP Mind to tremendous applause! Can you touch a little on the project as a whole, and your personal favorite pieces from it? 
Yes! I am still giddy with excitement thinking about MIND. MIND was really my first cohesive release as Ravenscoon, and showcased multiple genres from wave to dubstep, halftime, experimental bass, and drum & bass. 
It was my first fully realized vision, from start to finish. I was lucky enough to work with multiple friends and collaborators, including Womping Willow (FKA Masohn), Zuni, Feelmonger, and Born I. I also worked with wonderful artists on the cover art, who I couldn't recommend more: Oozium & SURVIVETHETRAP. The whole thing was professionally engineered by my great friend and bass wizard Kristopher Blazer. It truly was a big team effort.
It was also my first time working with a lyricist on the caliber of Born I. Him and I actually met up at Deja Voom, and then got dinner together when he was in San Francisco. We talked about everything from music to life to spirituality, to how bass music lacks soul. 
My focus with Born I on 'MIND' was to discuss the relationship between oneself and their MIND, how they're connected, how we battle depression, how we love, what it means to be alive. Born really took that and ran with it and gave me this beautiful, almost spoken word verse. I loved it so much that I chopped it up and ran it over the song three times. It's almost a power ballad of a dubstep song, haha.
I honestly love the whole release though. I did my best to write songs that all fit the same vibe, feeling, and I am happy with the reception. I feel like it solidified me and legitimized me as a producer. It showed how serious I am about this project.
Your mixes have been legendary in the underground bass music community for years now. Can you tell us what got you started making them in the first place?
Oh man! This is such a multi-layered question… but.
I have ALWAYS loved music. Since I was a 4 year old kid asking the wedding DJ at my uncle's wedding to play REM and Talking Heads. I carried this love throughout my adolescence, making girls I had crushes on mix CDs. Making playlists on the iPod for our parties and road trips. 
This carried over into college, where I studied abroad in Chile, learning Spanish and traveling/hiking. I actually became really good friends with another person in the program, Lukas Jaehn, whose brother Felix Jaehn is a world famous DJ. Him and I downloaded traktor (which he was familiar with) and he taught me the basics of the program (without even owning or having a controller) and I immediately became obsessed.
I have always had so many ideas of music that I want to combine, and been a huge fan of technical DJs since I was a kid. 
From there, I began just making mini mixes and mashups, teaching myself the program and using my mouse and keyboard shortcuts, since I couldn't afford a DJ controller.
I did this for a few years, making fan mixes for bass music artists, and eventually decided to name myself Ravenscoon, an anagram of my last name "Conversano," made with an online anagram generator. From there, I became more and more serious about my mixes – becoming more and more original and finally deciding that I wanted to try to play shows and make DJing a reality once I got so much positive feedback.
At that point, 3 years ago or so, I started a new Ravenscoon page and deleted all my old fan mixes (ones that weren't flagged for copyright and deleted).
After that I began producing my own music about a year and a half ago – and now I'm here!
Did you have a singular defining moment that made you say "damn this is exactly what I want to do with my life"? Or was it more of a continual build-up of events that lead you to where you are now?
Honestly, I feel like I have no idea what I am doing with my life. I still work a pretty serious corporate job, so I don't feel like I have truly made it yet in music. I might feel that way once it pays the rent.
But music has always been the defining passion in my life, next to writing. I think it's only natural that I followed what I loved and got serious about it. I can certainly be obsessive about the things that I love, so this is a perfect balance for me.
If you could peak into another timeline of yourself that didn't include bass music, what do you believe you would be doing with your life?
I think my life could have gone many ways. I definitely could be dead right now from all the drug and alcohol related issues I've dealt with. I could be stuck in my old toxic and abusive relationships.
On another hand, I could be backpacking the world. Travel and language are big passions of mine – so I like to think I could have escaped the monotony of corporate america, and the mortality of continuing my past addictions.
Thankfully, I've used all of my life experiences to try to become a better person. Bass music and the connections there helped me get my corporate job. Everything has intersected over time to create me, a collage of a human. I feel like I am the sum total of thousands of lifetimes of good and bad decisions.
I'm certainly happy and lucky that my life is the way it is right now.
What artists did you listen to growing up that you feel play a role in the overall sound you've honed-in on for yourself currently?
This is going to be tough because there are SO MANY inspirations. I honestly draw inspiration all day every single day from so many things around me. The person driving past blasting some cool music, the ringback tone a friend has, my friends taste, my roots in hip hop/rap / EDM.
I would say overall the most important influences as an artist, if I had to name them, would be:
Blink 182
Suicide Silence
The Devil Wears Prada
Pretty Lights
Rusko
Minnesota
Bassnectar
AT
Basshunter
Pink Floyd
As I Lay Dying
Deadmau5
Gucci Mane
Young Jeezy
RL Grime
Who do you feel are some of the most progressive acts in the industry right now? 
There is such a wide variety of incredible music being created right now. I'm going to couple that with people who I think are pushing the boundaries of electronic music, as well as people who are using their voices and platforms for good.
I think G Jones, Alix Perez, and EPROM are definitely at the forefront of bass music – especially EPROM & G Jones when it comes to using their voices and platforms for social justice. I don't think their groundbreaking music needs any preface.
Other artists that come to mind are Buku, Of The Trees, Subdocta, Smoakland, Mersiv, Skeler, Heimanu, Kumarion, Deadcrow, iSorin, DMVU, Juche. Vibe Digital is my favorite label right now. They've been releasing the cutting edge in bass and emotional bass music. 
There's a ton of my friends that are doing incredible things as well, like UHNK, Feelmonger, Yewz, Viskus, Super Future, Bromosapien, Zuni, Inspect3r, Womping Willow, SLAVE, Illanthropy. So many names I know I'm forgetting.
Between COVID making it exceedingly difficult to socialize and do the things we love, coupled with the swarm of societal issues we're presently facing, the prevalence of mental health issues is at an all-time high for people. Have you been having any issues with this yourself, and if so, how have you been coping?
Communication. Outreach. Love. Patience. We all need to be kinder, listen more, and check on our friends during this time. Suicide rates are skyrocketing. Rather than be toxic and fight online, we should take a step back, take a breather.
I always struggle with my mental health, so its been paramount for me to do the above. I am lucky enough to live with my girlfriend who helps keep me in check, and have my friends and parents that love and support me.
You've stated in the past that you believe artists with any sizable platform have a moral obligation to speak up about injustices in our society. Why do you believe now, more than ever, that's of the utmost importance?
If you can witness the injustices happening right now and not have anything positive or helpful to say, especially if you have a platform, then you are weak. 
BIPOC are being targeted in the streets by police, murdered, and protestors are being arrested by Trump's illegal DHS gestapo. Immigrants are being separated from their children and locked away. The president is calling Nazis good people. Our institutions are being attacked. Democracy is at stake. 
If you have a platform, you MUST use it to call attention to these injustices. Help raise funds, awareness, anything. We are stronger together, and we need to come together to defeat these fascists now more than ever.
You did a guest mix for us today! Can you tell us a little about how you determine the overall flow + energy of your mixes, and what you prepared for us this time around?
I typically will download a TON of new music and then just fit it together in one flow session like a puzzle. Once I find the first song I really know where to go with it from there. I'll then record it live and then put the mix in ableton and clean it up and mix it for levels.
Today's mix features some of my favorite tunes I've been playing in streams during quarantine. The intro is a mashup of the intro from Sugar by System of a Down, and the remix to War Pigs by Meduso (go check him out plz). The lyrics should explain my views of right now plenty.
I also feature some unreleased music from me, viskus, deadcrow, and iSorin, as well as some classic mashups. I touch on riddim, dubstep, trap, wave, and much more in this mix. It was a ton of fun to make 🙂
What's next on the horizon for you in 2020 and beyond?
I have soooo much stuff coming up! I have been working like a mad man in the lab on new mixes, music, collabs, and hopefully some COVID-proof safe shows.
I have this mix with FUXWITHIT, a remix of WAP by Cardi B (which can be heard for the first time in this mix), a collab with Yewz out on a compilation album, an EP called Nystagmus (with 4 originals), 10+ collabs I'm working on, an EP with Viskus thats ⅔ done already, a wave EP, a bunch of mixes.
I'm planning something special for halloween this year. Two nights. Hallow's Eve & Halloween. 2 mixes, each 90 minutes long for 3 hours total. SIDE A will be dubstep and SIDE B will be drum & bass. I'm going to be having Pickles do visuals like he did for my Return of the Downtempo Adventure stream I did on my twitch channel, and am working on securing a Halloween drive-in show…. Stay tuned there.
Tracklist:
Black Sabbath – War Pigs (Meduso Remix)

—> System of a Down – Sugar

—> Various Acapellas

Cyber G – Climax

Deadcrow – Street Shit

Nero – Won't You (Luceo Flip)

Deadcrow – Overdose

Sayer – Blink (Shlump Remix)

—> Plastician – Wonky

Eptic vs Mayor West vs Damien N Drix – The Endminem (Solo Dolo Edit)

Ravenscoon & Feelmonger – Control

Ravenscoon – ID

Ravenscoon – ID

Minnesota – Desert Diamond

—> Shown Out (Acapella)

Fiyah – Macabre

—> Blue Foundation – Eyes On Fire

Ravenscoon – ID

Ravenscoon & Viskus – ID

Ravenscoon & Yewz – ID

Cardi B & Megan Thee Stallion – WAP (Ravenscoon Remix)

SuperAve – Ride (Ravenscoon Vocal Edit)

STVSH X BREWZR – W.Y.H.A

Hex Cougar – Agatha

Deadcrow – Sorrow

iSorin – ID

Ktrek – Sierra

—> Evol Intent – Under

Just Connor – Transfer Malfunction

Mindex – Eclipsed

Evol Intent – Middle of the Night (Bro Safari Remix)