Guest Mix + Interview – GANZ – FUXWITHIT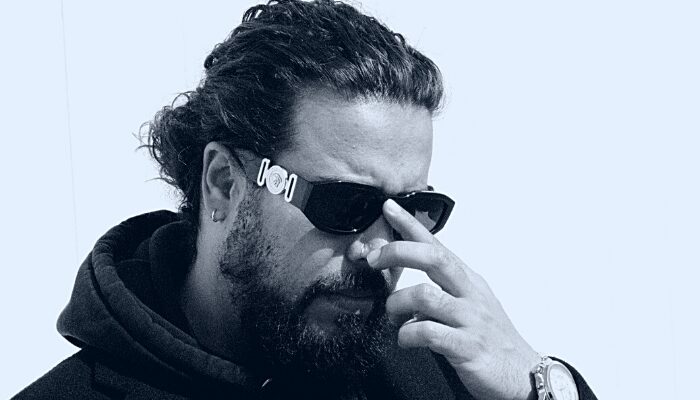 When the name GANZ comes up, three words come to mind: veteran, underrated, and consistent. The Amsterdam-based producer has been around since early last decade, initially drawing influence from the pioneers of future bass to then carve his own unique, exhilarating sound. Staying true to his style by releasing (mostly) independently, GANZ never compromises or succumbs to expectations, instead doing exactly what he wants to do – and that is what has helped him stay relevant and continue innovating.
We had the extreme pleasure of catching up with GANZ to talk about his origins, experimentation, the future, and much more. In addition, we've been blessed with a 30-minute mix jam-packed with GANZ originals, ranging from older demos to new WIPs. Simply put, the mix is an enthralling combination of the sounds that have shaped the artist to this day. Don't miss it below.
Welcome GANZ! Let's start from the beginning. You've been in the game for a long time now, what first motivated you to become a producer? Who were your early influences?
Thank you! I was musical from the beginning so after a while I got introduced to FL studio where it all started. After I did put some first things on SoundCloud people asked for more which motivated me to keep on doing more and more. I love how people are listening to music you put your own story of feelings in and can relate to it. It all started with the first releases on Saturate (German independent label) and Terrorhythm and I became aware of all the stuff Rustie and Hudmo were doing.
How did these influences shape the sound you first brought to the table way back in the early 2010s?
The way they brought all the chords and funky hip-hop influenced stuff blew my mind and that feeling never went away. They inspire me still till to this day. Just the whole SoundCloud vibe was mad inspiring.
Since then, you've stayed true to your roots, but you have recently started experimenting more with genres. Do you feel that experimenting, such as with UKG in your latest remix, makes you a better producer? If so, how?
I've been growing up with an older brother who was going to UKG parties. I was too young so the only thing I could do was listen to the stuff at home by buying mixtapes on CD. I've been always playing a few UKG tracks in my sets over the years and thought it might be the time to experience a bit more with it. It doesn't make me a better producer but it's always good to try more things and think outside the box.
How is the scene in Amsterdam and more broadly, in Europe? Do you have any desire to make a move to North America?
Whole Amsterdam is being silent for over the last two years with a few moments when we got out of a lockdown for a little and everybody went partying. The whole epidemic changed everything so much and also outside of the Netherlands. I'm now finishing all new music to create a new show and maybe I'll get back to the US again after I get my visa renewed.
Tell us about The Hard Headed. When and why did you start the label?
I started the label back in the days because I wanted to put out stuff I wanted instead of being the artist the labels want you to be.
Do you feel that you're achieving the mission that you set out when you first started the label? Do you have plans for it in the future?
Yes because I did a few cool releases on it. I started releasing new music independently again and have been thinking about how to put it out, under GANZ or The Hard Headed but I decided to do it just under my GANZ imprint even tho GANZ and THH are the same.
Tell us about how an unofficial remix you released in 2014 came to be in FIFA 2022. How did it feel to be approached about something like that?
After I dropped it on SC back in the days it got released officially with Elefant tracks, the label of Hermitude. 
Friends and family always told me that one day the track would make it to FIFA since they thought it was a good match so after I got the email from my publisher my heart skipped a beat! And it's still funny to see that a track from 2014 is still new to some ears.
What are your hobbies outside of producing? Do you feel that your hobbies provide a different creative outlet that you can work back into your music?
When I'm not doing music I'm cooking a lot. To clear my mind or get new inspiration. Instead of forcing my brain to finish a track I just make a good meal or whatever and it makes everything easier for me. I'm also teaching kids music in college at The Herman Brood Academy. They inspire me everyday.
What are your plans for 2022? Any secrets fans should be anxiously awaiting?
I've been experiencing a lot with new sounds so this year I've got a few cool tracks I'm going to release. I haven't done any 4×4 stuff since the beginning of GANZ but I'm bringing that back. Have some super cool R&B-influenced tracks with Beach Season (Canada) and a lot more. I've been also thinking about doing a compilation with a lot of old stuff I never put out.
Tell us about what to expect from mix. Where are you taking listeners? 
I've made a combination of older and brand new GANZ tracks/demos+ some collabs and remixes.
Tracklist:
GANZ – Untitled
GANZ – Untitled
GANZ – Untitled
GANZ – Untitled
GANZ – Untitled
GANZ – Untitled
Kito – Strawberries (GANZ Edit)
GANZ – Reminder (feat. Anuka)
Kanye West – Jail (GANZ Flip)
GANZ – Untitled
Memba – Bite Back (GANZ Remix)
GANZ – Strawberry Fields & Mind Places
Netsky – Everyday (GANZ & Katana Flip) (Demo)
GANZ – Untitled
GANZ – Untitled
Oneohtrix Point Never – Long Road Home (GANZ Flip)
Dugong Jr – Ceramic (GANZ Remix)
GANZ – Reminder (feat. Anuka) (UKG Remix)