Good Society Throws It Back in LA with Alexander Lewis, Vindata, Capshun, & More – FUXWITHIT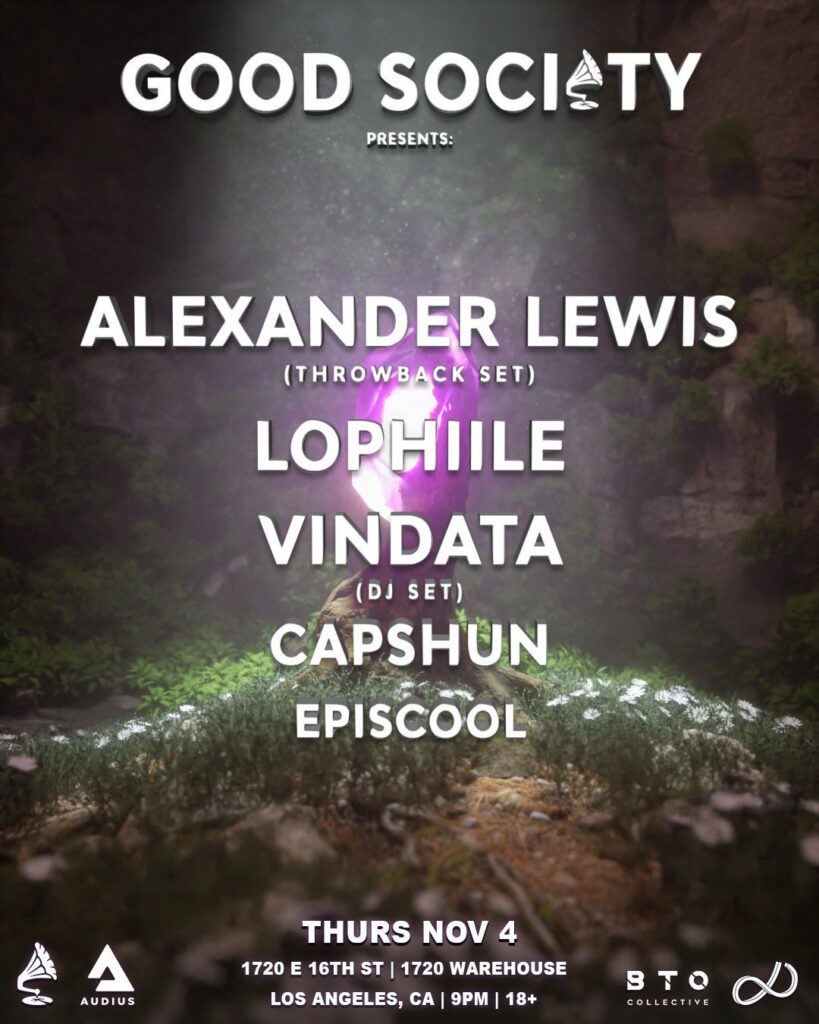 Good Society has been a budding event promoter in the trap and future beats space over the last couple of years, but their lineups are getting more and more stacked with each and every party. For their next event, they're bringing the vibes to 1720 Warehouse in Los Angeles on November 4!
Super grateful to everyone who's rocking with us to make this show happen. There's a lot of trust being instilled in Good Society right now, as one of the newer promoters coming up in the scene, that I hope to return 10 times over.

JOSH YAMINI, FOUNDER OF GOOD SOCIETY
The record label/live event company will be throwing a show every month for the rest of the year, hoping to expand into different territories and eventually a music festival. In partnership with digital streaming service, Audius, Good Society is throwing this event with FUXWITHIT favorites like Vindata and episcool, and even our label launching artist, capshun! We're hyped to see Lophiile throw down in person and headliner Alexander Lewis' throwback set. Really hoping a trap horn gets blown in my face.
"This show is sort of a hallmark for Good Society. I'm bringing together many of my favorite artists, each of whom has pioneered different corners of the same scene, and it's all going down at 1720 which is a hub of the culture in LA. W's all around for the team," Founder Josh Yamini expresses. "It'll also be one of our few shows, up until this point, hosting live instruments as Alexander Lewis showcases his signature blend of hip hop, trap, and jazz with the trombone. I'm definitely going to lose my shit when that happens haha."
Check out the full lineup below and get your tickets here to reserve your spot!