FUXWITHIT Halloween Guest Mix + Interview – ODCM Cuck Squad (CVPTVGON, Dank Frank, Jonnie Boi, & Howker) – FUXWITHIT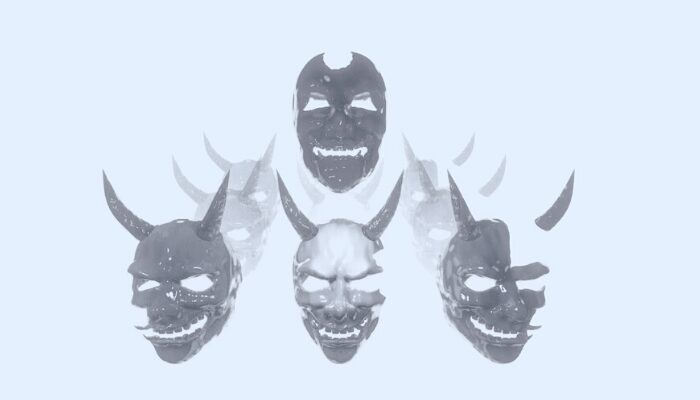 Once in a full moon, evil forces gather to pool their collective chaotic energies into something profoundly malevolent. With Halloween tomorrow having a full moon brighten the sky for the first time in 19 years, we thought it only fitting to bring a little terror into your life. We are proud to present to you the world debut of the first-ever appearance of ODCM Cuck Squad, a 4-person supergroup comprised of CVPTVGON, Dank Frank, Jonnie Boi, and Howker, names that surely strike fear into the hearts of even the bravest of individuals. They've done us the great service of being the 135th installment of our guest mix + interview series, and we couldn't be more excited to share this brand new project with you all. Featuring almost exclusively unreleased music from the boys themselves, this is one hell of a thrill-ride from start to finish. Strap in tight. Welcome to your doom.
With such a large group of talented musicians, how did you all come into contact with each other?
I think all of us met through the Missing Links collective.
Where do all your individual musical roots lie?
CVP – When I was a kid, I used to spend pretty much all day listening to my sister's CDs — Gang Starr, Mos Def, Tupac, etc, so I think from early on I've been a big fan of hip hop. Definitely have a soft spot for late 90s/early 00's electronic music as well.
Howker – I was raised on rock and metal but have explored just about every decade of music possible throughout growing up. I love a huge variety and still love finding new fresh stuff. For example, you'd never guess listening to my music that I'm currently absolutely obsessed with Joji's album Nectar.
Jonnie – Rock/ Metal & Hip Hop
Usually artists hate discussing their name's origin, but with such a one-of-a-kind moniker, we have to ask, where did ODCM Cuck Squad come from?
All – We NSYNC'd it. And then threw a donk on it.
How long have you guys been planning this project, and what went into making it all work?
All – Honestly, it was kind of spur of the moment. I knew the boys and I were sitting on a ridiculous amount of music that needed to be heard, so we did what needed to be done.
What are some recent individual accomplishments or releases that you guys are really proud of?
CVP – Xtra Healthy with the don Space Wizard was dropped on Subsidia recent-ish-ly, and my heart grew three sizes.
Howker – Some of my favorite tracks this year were definitely my individual collabs with the dudes, Jonnie Boi & Cvptvgon but most recently I dropped two tracks with two of my favorite underground labels. One collab with Helios via Wubaholics and one via Wtf's That Sound.
Jonnie – I'm very proud of all my releases this year, I've been blessed with the opportunity to work with so many amazing artists and I couldn't be happier with what I've made. It's been a great year of creation and growth.
With this being our Halloween Spooktacular, we have to ask some spooky time questions. What are your favorite Halloween movies?
CVP – Classic: Sleepaway Camp; Modern: The Color Out Of Space
Howker – Insidious is easily one of my all-time favorites, no doubt. I love the SAW franchise as well, despite how corny it can be at times, the storyline is just too good.
Jonnie – Insidious and the Conjuring series are for sure my top favorites.
What's your guys' favorite Halloween candies/treats?
CVP – REESE'S MF PEANUT BUTTER CUPS.
Howker – No sugar gang!
Jonnie – Beer
Are you guys dressing up for Halloween? If so, what are you going to be?
CVP – I'm dressing up as a music producer with crippling depression.
Howker – Producer/internet shit poster.
Jonnie – Haven't planned any kind of costume for Halloween since I was like 12, probably won't be doing it anytime soon.
Out of you 4, who would die first in a horror movie, and who would make it out to the end?
CVP – For some reason I feel like I would be the first to go. I'd be the dude walking into the dark cabin alone yelling "HELLO??? GUYS? ARE YOU IN HERE??" Make it to the end would prob be Jonnie Boi idk mans looks like he quick.
Howker – Shitttt, I need more info who/what is the killer in this scenario. Wait maybe I'd die over analyzing…
Jonnie – Dan probably gettin taken out first, dude is 57 years old. I have no idea who is making it out we are all probably done for tbh.
With a veritable arsenal ready to unleash, do you guys have any set-in-stone dates for releases that you'd like to clue us into today?
CVP – Keep an eye out for something yucky in November 🙂
Howker – I'm really excited to release all the tracks I have stocked up, I feel like it's easily some of my best work and I'm stoked to share it with everyone very soon. Also, expect a pretty big side project unveiling at the start of next year, something you've never heard from my current Howker project.
Jonnie – Nothing set in stone, the plan is to work harder in 2021 and release more than before !!!
Walk us through the guest mix you all did for us today!
CVP – War, Famine, Pestilence, Death, in that order. But on LSD in the year 3020.
Howker – When Dan hit us up about doing this mix, it really gave me a huge amount of drive to finish up some WIPs and get my unreleased together. Like most people, quarantine and everything going on in the world throughout this year had really put a pretty big damper on my drive to produce. I used this mix as a way to really push myself to get back into my workflow and I feel like this is some of the best music I've put together. I had an insanely fun time putting my tracks into one cohesive piece, literally none of these tracks have ever been heard before so I'm stoked to hear/see the feedback.
Jonnie – Put simply, I wanted to curate a vibe that I resonated with. More than half the tracks in my mix are edits/flips of underground hip hop artists that deeply inspire me. Moving forward in 2021, It would be an honor to collaborate with all these artists and more. I'm excited to see how my sound will develop this year and looking forward to being able to share it with all of you. I truly did enjoy working on this mix and I hope you enjoy it as well
Tracklist by section:
Intro: 0:00-0:33
Howker – 0:33-13:50
Every Track ODCM – ID
Jonnie Boi – 13:50-29:00
Every Track ODCM – ID
Dank Frank – 29:00 – 45:20
All non ID tracks in order, every other is ODCM – ID
Waka Flocka Flame – Hard in the Paint
Doctor p – Sweet Shop
Leotrix – Neo Gangsta
Runnit x Tvboo – Swervin
Soulja boy – Crank Dat
Kumo – Obscure
Dank Frank – Hollow thoughts
Voltra – Read/Write
Skrillex x Damien Marley – Make it Bun Dem x Brillz x etc etc – Callisto (Rvkit flip)
Bo en – time
CVPTVGON – 45:20 – end
Every Track ODCM – ID