From Child Stars to Rising Rappers, grouptherapy. Lets Each Member Shine in 'Truth Be Told' [Interview]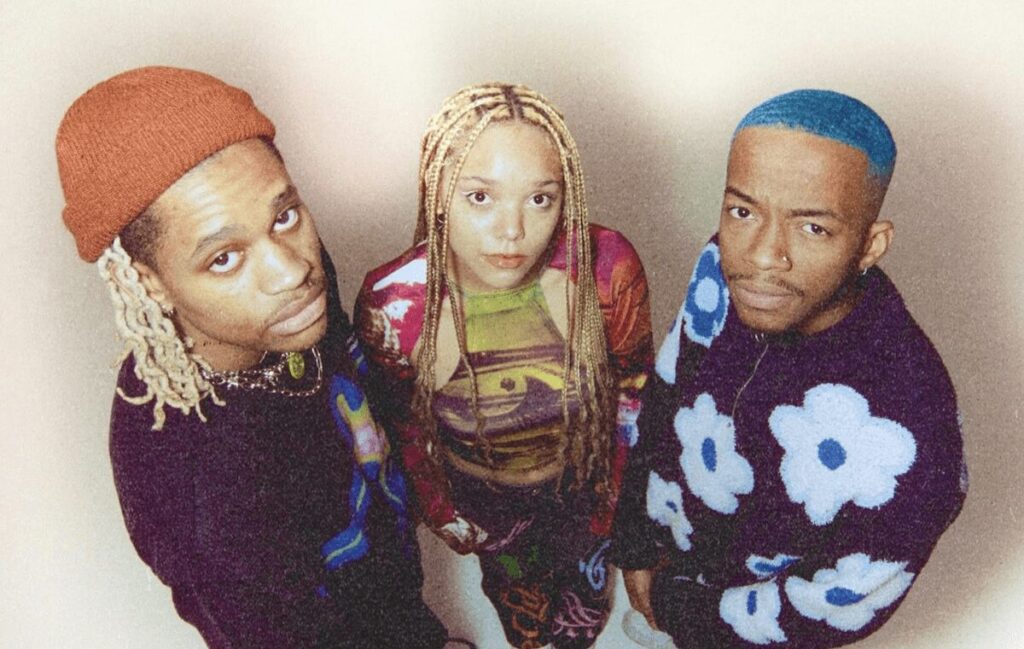 All the glitz and glamour that comes with being a childhood star takes a heavy toll on one psyche. You're an innocent soul to shelter against the machine, only for corporations to value you as a commodity. Hands marred by greed sought to smear any sense of individuality, desiring to make you into the next overproduced, manufactured pop star. Their interest rarely aligns with the child's personal development, and distrust is the currency in that transaction.
In turn, the trio — made up of Jadagrace Michiko Gordy-Nash, Coy Stewart, and Tyrel J. Williams — also known by their stage name Jadagrace, SWIM, and TJOnline, decided to put their faith in each other. Natured by the shared disillusionment of their experience in the film industry, grouptherapy. was born to express themselves how they want, when they want. 
Jadagrace secured her first significant role in 'Terminator Salvation' in 2009. After being discovered by Redfoo. Then, being mentored by Motown Legend Berry Gordy and Smokey Robinson, she released her first single, "Run Dat Back," in 2012 with Epic Records. SWIM, formerly known as KOI, caught his big break when he landed the role of Travis Young in a stage production of 'A Rasin In The Sun.' From there, he appeared on the TBS 'Are We There Yet?" and Nickelodeon's 'Bella and the Bulldogs.' TJOnline, the eccentric yet contained rapper of the group, was nurtured to be a musician. He rose through the Hollywood pipeline, featuring in the 2005 film 'The Naked Brothers Band: The Movie' and starring as a singing voice in 'The Backyardigans' for Tyrone. 
The first public appearance of grouptherapy. was by accident. SWIM's 'S.I.N. Part II' music video shows Jadagrace, TJOnline, and SWIM together in a vehicle, casually supporting their friend. Despite creating music together years prior, the three of them, alongside a couple of other friends and producer Dee Lilly would officially have their musical intentions a year after 'S.I.N. Part II' dropped. 
Their first studio album, there goes the neighborhood. boasts their unorthodox styles in its most authentic fashion. Behind an ebullient soundscape, the collective seems to embrace its status as "newcomers," hoping to create a change they want to see. There were teases of the change they wanted to see ("I just sold a show and still ain't made a fuckin' cent, uh/That don't make no sense, uh") but no centralized theme that connected it all.
Truth Be Told does something different. Everything is better: from the production, their songwriting, making their sounds feel fuller, and their execution. Multiplicity in sounds, the overall feel of the album is volatile. On the title track, 'Truth Be Told,' creamy keys and Jadagrace's background vocals texturizes the scenery for TJ to open up about his inability to forge new connections. Only for that meltaway by drums to remind him who he is. It's a balance between acknowledging the perks of being a star and humanizing themselves despite it. 
Stripe away the sprightly percussion, lush vocals which reinvigorate, and the hyphenated production that careens between chaotic and festive; at its core, Truth Be Told is a journal encompassing the shared experience of three friends. Friends who want to show that they're humans have photobooks filled with remarkable memories and journals detailing their trauma, like all of us. The freedom to be themselves instead of playing out someone else story. 
"When we're writing and making music, we can say exactly what's on our minds," The group agreed in unison. "Even when it comes to the music videos because the music is a reflection of who we are, we end up being ourselves on camera." 
By nature, group therapy is inclusive. With a room full of strangers replaying traumatic episodes one after another as if Netflix's algorithm struck a goldmine, folks from different walks of life all share deep experiences that feasts itself in the dark. The kind of darkness that hides beneath the belly of mountains, scared of the light as if it's a Goblin who resides in Middle Earth. It forces you to understand that you're not only, while not making all about yourself. The beauty of the act of group therapy is solidarity in that each person has their story to contribute, and everyone is there to commiserate.
Similarly, everyone gets their time to shine in grouptherapy.. 'Pink Paper' is dazzling with its swirling keys, with Jadagrace speaking on police brutality, the loss of her father, and how it's led to how untrusting she is. On the punchy percussion-heavy 'Risky,' SWIM stands on the podium alone, boldly telling those who doubt him that they're nowhere close to reaching the heights he has reached. TJ anchors 'Truth Be Told' and 'Mistake,' regulating SWIM and Jadagrace as if they're his featured artists. Everyone gets to opportunity to be the main character in their own story, and the others have no issues playing a supporting role. 
"That's what it's always been about for us," they stated. "and when we don't force everyone to have the spotlight at the same time, we're all able to shine individually."
Their shared journal narrates the doom that weaves between the riches for all of us. The only way to escape its clutches is to see the truth, the light that awaits at the end. But how when you can't even get up and open the blinds? We all go through so much to survive, and it's only so much we can take.
The realization that you can't work yourself to happiness bears down on all of us. It's pervasive, arrogantly displaying itself in every aspect of our lives. To escape work means to live, and that's not a choice afforded to many when work is what keeps the lights on for another month. It's a prevalent theme for the collective. So much is going on in their day-to-day lives. Friends, family, and even therapists see the toll it has on them. "You really gotta stop/I told him try me," TJ shouts on the chaotic soundscape of 'Tribal.' It's detrimental to justify your worth and success by constantly overworking yourself. SWIM adds, "She said, 'you working like there's three of you/ but it's only one of me." on their 2021 single 'Light Day Cypher,' as if his worth is based solely on his work.
It makes sense. They grew up in an environment that chewed and spat out adults with disrespect as children. Each day, they strived to prove they belonged. Seeking the vindication of their hard work but also the validation of knowing they deserve, even if it wears them down mentally.
Truth be told, I want to get a little personal. When listening to the album, I felt everything they shared. Depression is a magus that deludes me from my very sense of reality. Relationships built to be a source of security become abandoned; scarce with visitors. I hear a cynical voice, vouching to be unapproachable, alone when I don't want to be. It's exhausting to look in the mirror and spurt affirmations I don't believe in. And like a magus, it spreads itself to its next victim.
Would you be able to trust anyone when you've been exploited for your talents since? Both the music and film industries have been known to sell a bill of goods, master sales clerks who could sell water to a megayacht. The status symbols that come with such a status come with shady characters, dwelling in both the water and blood. 
"We've learned that many people have a different view of you when you're a public figure, and they also sometimes have an agenda." The group said. "We try and keep the circle small and make sure that people around us are genuine."
The theme of the album is simple. Your pain is no more significant nor less meaningful than others; it's just as valid. But don't ever forget to celebrate the wins, to never underestimate your achievements. The only reason why the dark dwells in the belly of mountains is that the Sun is illuminating everything surrounding it.