bitbird Honor Their Community Through Emotion And Opportunity With 'create together vol. 3'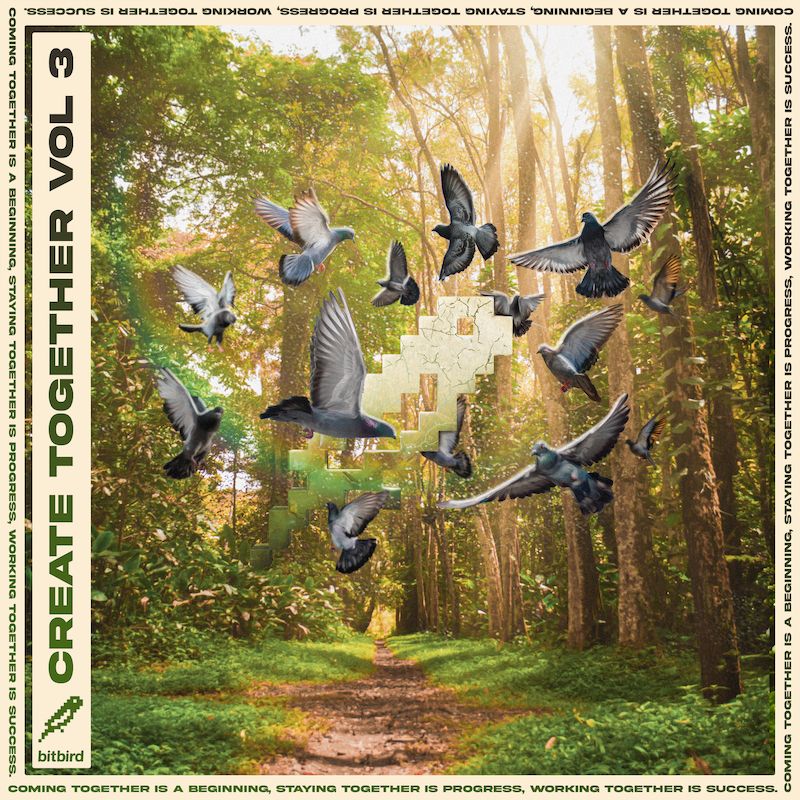 bitbird's community as a whole has always shown true heart and passion for the arts. From their extremely talented roster of artists to their listeners, everyone has a part to play. And it's thanks to their whole movement they've become such a powerful force within the industry. Always innovating and evolving with their members. create together vol. 3 not only honors their whole group but also showcases a bright future for their label and upcoming artists. Changing the game once again with brand new talent, techniques, and sound. Creating a peaceful and mystical home for all to discover and call their own.
Inspired by their signature motto, 'create forever,' the label's fans took the step of creating the bitbird discord channel where all are welcome to connect with each other creatively and spiritually. It was then in 2019, the community started to promote the 'create together month.' A one-month challenge where young up-and-coming artists worked together as one to inspire and push each other to evolve. After sending what they've created to the bitbird label, 'create together vol. 1' was born. From then on, they've managed to continue the series where more and more musicians rose to the challenge. Putting themselves on the map while empowering others to do the same. From having only 10 tracks from vol. 1, to a grand number of 25 tracks created by 41 artists on today's vol. 3, it's truly inspiring and heartfelt to see and hear how much everyone has grown.
Just like the other compilations, the birth of 'create together vol. 3' was held in their discord channel. The activities consisted of a full schedule of masterclasses hosted by the bitbird alumni. Artists such as San Holo, Pauline Herr, Tails, and Dot all participated to share their own knowledge and experiences to inspire the upcoming legends. Even Hein Hammers (previously a part of DROELOE) did a class on visual art creation! With the support of Twitch, Ableton, FL Studio, Auto-Tune, iZotope, and more, they provided everyone with educational resources and discounts on software and hardware. Making the process even more enriching and fulfilling to participate in.
"It's incredible to see how every year the community pushes itself further and shows what it's capable of. Even more than previous years, we have seen collaborations pop up! This shows again how music even in such a polarising world is able to connect people! Music is love, and we love music. create together."  – Thorwald van den Akker, bitbird's creative director
create together vol. 3 is filled with non-stop action, emotion, and happiness. Bringing incredible atmospheres, peaceful melodies, and groovy rhythms to your ears. Gracefully dancing around your hearts and souls while leaving a sense of fulfillment to the highest degree. Powerful drums creations, cinematic environments, and of course some far-out sound design are what you'll find within. Taking listeners by the hand and opening the eyes of many to what's to come from these brand new and passionate souls. Artists such as THREESIXTY, Scro, and Alva Gracia make a stunning debut with the team with their star-striking pieces. While returning musicians such as So Sus, Byegone, and more continue to nurture your hearts thanks to innovative abilities and visions within their arrangements.
All in all, it's a journey worth experiencing for yourself no matter where you are. Inspiring many to continue to create and to be themselves. So make sure to go show your support by streaming create together vol. 3 everywhere via bitbird!