Electric Hawk & HELLBOUND! Team Up For A Massive AV Experience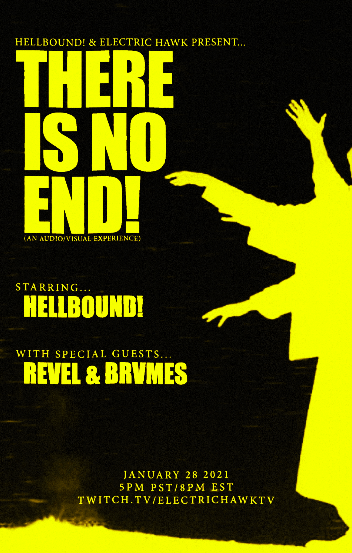 Throughout the madness of 2020, one of the things that helped us preserve our sanity is the emergence of Livestream events and festivals. Whenever speaking about these events, it seems like our friends over at Electric Hawk are always in the conversations, and for all the right reasons. We've come to love the Electric Hawk's streams for their world-class curation and top-notch production value. Here at FUXWITHIT, we were lucky to partner with them for a takeover at their 'Harmony Festival', and every time a new event is announced, we're all ears. 
This time around, our lovely peers are joining forces with arguably one of the hottest rising names in dance music, HELLBOUND!, to debut his audio/visual experience to the world. With special guests REVEL & BRVMES, the night is sure to be stacked full of 808s and 303s. Coming off a stellar 2020 with his debut EP, Afterlife, being released on Kayzo's Welcome Records, HELLBOUND! is looking to carry that momentum into 2021. Make sure to tune in at 8 PM Eastern Standard Time to witness the future of dance music in the making, brought to you by our dear friends.
☠️ HELLBOUND! & Electric Hawk Present: There Is No End! ☠️

We had so much fun this weekend we couldn't let it end. Join us THIS THURSDAY at 8 PM EST for an audio/visual experience with special sets from @itshellbound, REVEL, & @BrvmesMusic!

RSVP:https://t.co/5G9ZQjdxKL pic.twitter.com/z8C4OioPPd

— Electric Hawk ⚡️🦅 (@Electric_Hawk) January 25, 2021