Young Nudy, Ari Lennox & Masego Highlight This Week's New Music Roundup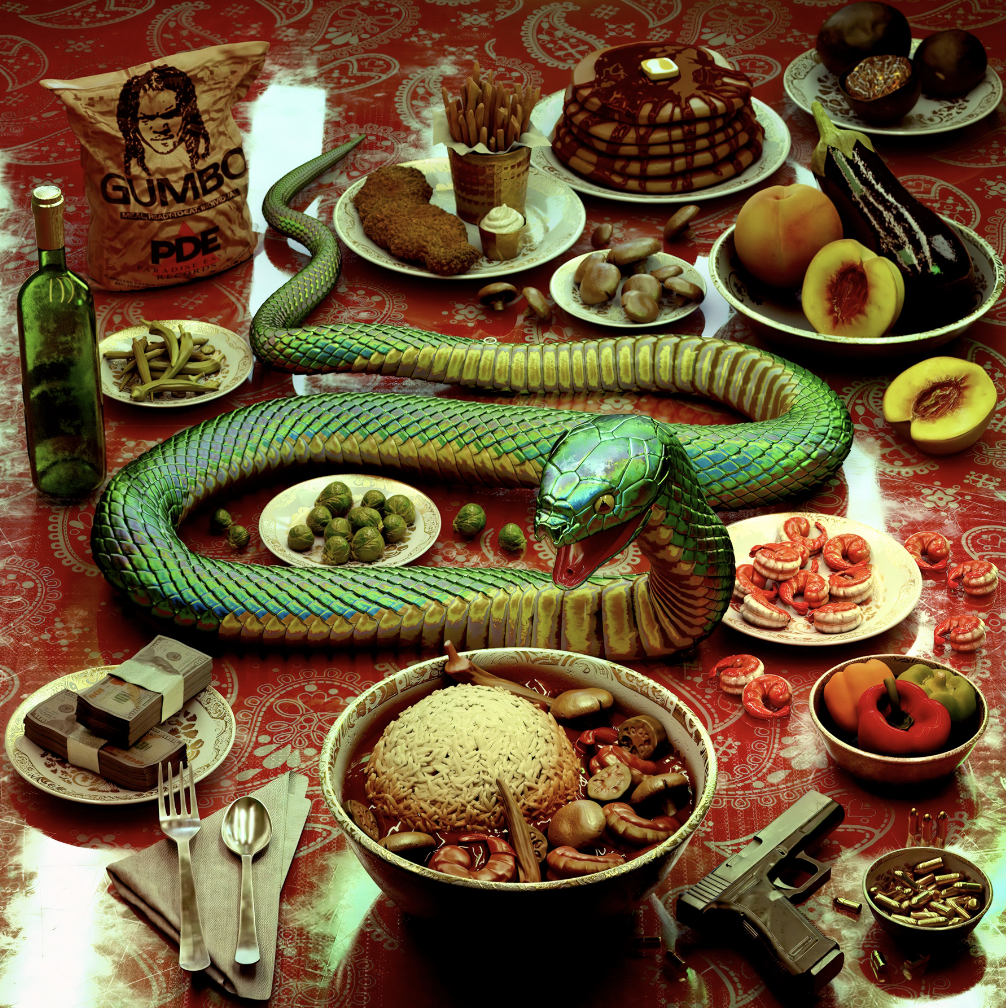 1. YAHYA – Made It Out Of Purgatory

Source:Yahya
MADE IT OUT OF PURGATORY is the heavy-hitting new EP from New York City-based alternative rap artist and musician YAHYA, which comes on the back of his latest album Pieces Of Me (The Full Story) that has now amassed nearly two million plays online, on the back of rave reviews and critical acclaim from fans and critics alike, including Live Nation's Ones To Watch, and BBC Sounds, to mention a few. Produced by Canadian beatsmith Antonio Lamar, Made It Out Of Purgatory tells Yahya's story of escaping the destructive cycles that have kept him trapped for so long.
2. Babyface ft. Ari Lennox – Liquor

Source:arilennox
Ari Lennox stars as a sultry vocalist at a club where Babyface is the bartender in the official video for "Liquor," which was directed by Jean Estene (Blu DeTiger). The track is found on Babyface's Girls Night Out (Extended), which was released last Friday. The deluxe edition of his new project includes the original 13 tracks plus two additional songs: "Sometimes" (with Jenevieve) and "If You Knew How" (with BJRNCK).
3. Jim Jones & Hitmaka ft. Stefflon Don – I Am

Source:jimjonescapo
"I Am" by Jim Jones, Hitmaka, and Stefflon Don brings summer party vibes to heat up the winter season. The video has Jim rapping back and forth between Miami and Harlem. Stefflon provides a chorus where she proclaims her loyalty to her lover. "I Am" provides a blend of rap, dancehall, and R&B that can make any event go up with excitement.
Jim opens his first verse by rapping "It's getting closer, my player days are over, maybe not completely. All jokes aside girl, you know you complete me. You said you like convertibles, I bought that new GT, then I crashed it, we laughed and bought the newest GT…" He continues his slick talk throughout the verses with proclamations of making love on beautiful beaches and "putting more water on her neck than a Pisces".
Jim also directed the video with Will C and Shula The Don. The ending of the video gives a preview of a track from his newest Back In My Prime with Hitmakato be released March 10th.
4. Hotblock Jmoe ft. Yung Bleu – Safe With Me

Source:hotblock_jmoe
Rising hip-hop artist HotBlock Jmoe dropped a new music video for his song "Safe Wit Me," featuring  Yung Bleu. A native of Chicago, HotBlock got his start in the industry in 2019 with his breakout single "Pressure." His first EP "Da Hottest" includes features from major artists in rap and R&B including Chicago-bred rapper G-Herbo, Tyla Yaweh, and Tory Lanez.
The video takes place in a beautiful villa and illustrates HotBlock vibing out with his entourage, "I keep my head above water through the deep end, weight on my shoulders so I'm working through the weekend" HotBlock raps, as he assures the girls that their secrets are safe with him. Yung Bleu can be seen moments later sitting back and relaxing on the yacht, beneath a blue-painted sky.
The collaboration between Yung Bleu and HotBlock came after months of talks of linking up in the studio. "Working on this record with HotBlock was a super dope experience. He's definitely on the path to stardom and has a clear vision of how he plans to take over the industry. I appreciate his artistry and I'm always down to collaborate with artists who have the ability to rap and sing like myself," Yung Bleu said.
5. Genia – Introducing

Source:geniawashere
"Genia immediately stands out on the celebratory track. From the moment the beat drops, she's dropping bar after bar over the soul sample production like she's a rapper in New York during the early 2000s" –DEF PEN
6. Maiya The Don – Dusties

Source:maiyathedonn
Emerging Brooklyn rapper Maiya The Don drops her infectious new single "Dusties." Produced by Derrick Milano and Pliz Naya, Maiya's bombastic bars paired with the bouncy up-tempo production makes for another one of Maiya's signature catchy tracks. This release follows her buzzing hit track and video "Telfy" that she dropped in October 2022 – the video alone garnering over a million views in just a few months nd Maiya's feature spot on Flo Milli's remix for her hit single "Conceited" alongside Lola Brooke. Most recently, Maiya attended New York Fashion Week last month where she performed "Telfy" at the MEFeater show and attended other shows such as Laquan Smith, Kim Shui, Bronx and Banco and more.
7. Young Nudy – Jumbo

Source:youngnudy
Grammy-nominated rapper Young Nudy drops his new album Gumbo via PDE Records/RCA Records. With features from 21 Savage and Key Glock, the 13-track project has song titles stick with the album title food theme with names such as "Pot Roast," "McChicken," "Fish & Chips" and more. Producers on the latest release include Pierre Bourne, Coupe, Kid Hazel, 44wxrld, Naestro, Cicero & Travis March. In addition to releasing his album today, Nudy also dropped the official video for his track "Pancake." Starting tomorrow, Nudy kicks off his 29-date 2023 self-titled North American tour in San Diego, CA hitting major cities such as Los Angeles, Chicago, Atlanta and more. To purchase tour tickets, visit: https://www.youngnudy.com/.
8. Conway the Machine & Jae Skeese – Metallic 5's

Source:whoisconway
The first signee to Conway The Machine's Drumwork Music Group imprint, Jae Skeese appeared on two songs on the deluxe version of Conway The Machine's From King To A GOD, and the first single, "Blood Roses," from La Maquina.  Skeese continued his ascent by not only appearing ("Drumwork" with fellow signee 7xvethegenius) on Conway's Shady Records debut album God Don't Make Mistakes but also by contributing to the album's rollout, as Skeese murked two different freestyles alongside Conway on Bootleg Kev and LA Leakers. 
After finishing up his recent sold-out Reject Mania European tour dates, and announcing his own forthcoming solo album, Won't He Do It, Conway The Machine's Drumwork Records Spring takeover continues with the announcement of, Pain Provided Profit, his collaborative project with Jae Skeese, which will be released on March 10. 
In addition to announcing their forthcoming collaborative project, Conway & Jae Skeese also shared Pain Provided Profit's first focus track, "Metallic 5's," which is now available.  Like the OG Air Jordan sneaker of the same name, Conway & Skeese show and prove that "Metallic 5's" is the standard-bearer for what Drumwork Records values are at the core level; creating street-certified art made explicitly for the culture at large. 
"I just wanted to start the year off applying pressure" Conway comments.  "Me and Skeese definitely wanted to paint that picture, hard beats, dope rhymes and real life." 
"Pain Provided Profit is really the G.O.A.T. and I coming together and showing why Conway is considered one of the illest in the game and why I was the first signed to Drumwork.  We cooked up some incredible records on here and we went back and forth on a couple records on some classic Jada and Styles/Hall N Nash type sh*t, him talking how he talk and me talking my talk.  Con and I really blacked out on this project" Jae Skeese declares.  "Pain Provided Profit is also the perfect appetizer for my Drumwork debut album, Abolished Uncertainties, which is also coming very soon; so I hope the fans are ready for this Drumworktakeover we are about to be on over the next few months!"
Conway The Machine & Jae Skeese's Pain Provided Profit will be released on March 10.
9. ARDN – Plain Jane

Source:ardnmusic
Today, rising rapper ARDN announces his signing to Capitol Records and marks the occasion by releasing his remarkable major label debut single "Plain Jane." With its silky smooth flow and raw, autobiographical lyrics, the track encapsulates the appeal that has made the South African-born, Canada-bred artist one of the most respected and popular new artists. "Plain Jane" is the first taste of ARDN's forthcoming EP, The Bronze Age.
In many ways, "Plain Jane" doubles as a statement of intent. On it, ARDN demonstrates his melodic delivery and nimble wordplay ("I came here to make a killing and I do it broad day") and underlines that he's willing to work harder than anyone else in hip-hop. "Plain jane, plain jane, n****s ain't nothin' but the same thing," he sings on the chorus over a driving guitar line and horns. "Sun went down and the rain came, but I maintain, gotta maintain." 
Influenced by the likes of J.Cole, Smino, and Anderson .Paak, ARDN got his big break when a snippet of "Til The Morning" went viral on TikTok in 2022. Since then, the newcomer has garnered more than 10 million TikTok views and soundtracked over 240K "creates." His music quickly spread across the internet and ARDN now boasts more than 345K monthly Spotify listeners as well as more than 22 million total streams across platforms. 
10. Che Noir & Big Ghost LTD – Noir Or Never

Source:che_noir
Che Noir is emerging as one of the top multi-hyphenates (emcee and producer) in Hip-Hop.  Born and raised in the city (Buffalo) that is currently creating the rawest Hip-Hop in recent memory, Che's ascent has been completely organic; and with each successive project she releases, her patrons continue to grow exponentially. 
Che Noir released her debut mixtape in 2016; which caught the attention of Benny The Butcher, who recorded "Tyson" with her in 2017.  Soon thereafter, she began working with 38 Spesh, who featured her on numerous Trust Gang releases leading up to her 2020 project, As God Intended, (produced entirely by Apollo Brown), which featured collaborations with Black Thought and Skyzoo.
In January 2022, Che set the table, and turned her thoughts into a Michelin chef level full course meal with the release of her breakthrough project, Food For Thought, (which featured collaborations with Ransom, 38 Spesh, Rome Streetz and Armani Caesar), which further demonstrated her massive range, styles, and techniques; from nostalgic reminiscences to crime-driven narratives.
In October of 2022, the Shea Butter Queen branched out even further with the well-prepared appetizer, The Last Remnants; (which featured collaborations with Benny The Butcher, Ransom and 38 Spesh) where she not only thanked God for the bread on her table, but for also blessing it. 
Now, undeniably one of the industry's top rising young talents, for her first release of 2023, its Noir Or Neverfor Che Noir.  Produced in its entirety by Big Ghost Ltd, and mixed by Parks, the raw and gritty Noir Or Never, features collaborations with Skyzoo, 38 Spesh, Ransom, Planet Asia, Flee Lord and 7xvethegenius.  In addition to the release of Noir Or Never, Che & Big Ghost also released a new video for "Veracruz," featuring 7xvethegenius. 
"I reached out to Big Ghost in 2021, and he sent over a pack of beats to me while I was quarantining after catching Covid for the second time. Noir Or Never has been completed for a minute, we were really just waiting on the right time to drop it, and that time is now. I've been a fan of Big Ghost for a while now so it was dope to finally lock in with him" Che Noir comments.  "Noir Or Never is definitely a warm-up for what I have in store for 2023. I have a self-produced LP coming this summer entitled, The Lotus Child, that I'm excited about, and I'm working on an album with 7xvethegenius that will come out this year that I'm excited about as well.  Stay tuned. I promise I have more to come."
Che Noir & Big Ghost Ltd's Noir Or Never is now available!
11. Masego – Masego

Source:masego
Masego released his self-titled album today on EQT Recordings/Capitol Records. While Masego is only his second album, the jazz/hip-hop/R'n'B multi-instrumentalist prodigy has amassed nearly two billion combined global streams in his career to date. Lady Lady, his full-length debut, contained the breakout hit "Tadow," certified Platinum in the U.S., Diamond in Brazil and Gold in Mexico. The deluxe EP Studying Abroad: Extended Stay, which included the RIAA Gold-certified hit"Mystery Lady Ft. Don Toliver," earned Masego his first GRAMMY nomination. 
He's sold out shows and played festivals on every continent but Antarctica – and Masego's upcoming North American tour is almost completely sold out in advance of its March 12 launch. For details on the You Never Visit Me Tour, visit https://www.masegomusic.com/.
"I'm very thankful of the journey. This went from a hobby to a job," says Masego. "I was getting all the things that they say that you're supposed to be fulfilled by and I wasn't fulfilled by it. I had to do a re-evaluation of a lot of things. I said, 'I can't make this what I imagined it to be. So I cannot remain here. I need to move.'"
Masego is that movement. It's a grand, eloquent and somewhat mischievous one, from an artist who thrives on mixing contemplation with extroversion, smoldering romance with knowing humor, studied musical discipline with exhilarating flights of intuition. For this deeply collaborative work, Masego sought out what he calls the "outliers, the savants" – people like Kelvin Wootan, Louie Lastic, Richie Souf, Monte Booker, WaveIQ and Rocaine. See below for track listing.
The album's first three singles – "Two Sides (I'm So Gemini)," "You Never Visit Me" and "Say You Want Me" – have already racked up more than 15 million combined streams worldwide. Clash Magazinesaid, "'Two Sides' is a Gemini love story, with Masego attempting to stick up for this oft-maligned star sign. There's a nimble vocal, one that expresses his playful side, while his jazz roots also shine through on a track that oozes charm.