'UnPrisoned' Exclusive: Kerry Washington And Delroy Lindo Open Up About Playing Roles Inspired By Real People And The Importance Of Black Dads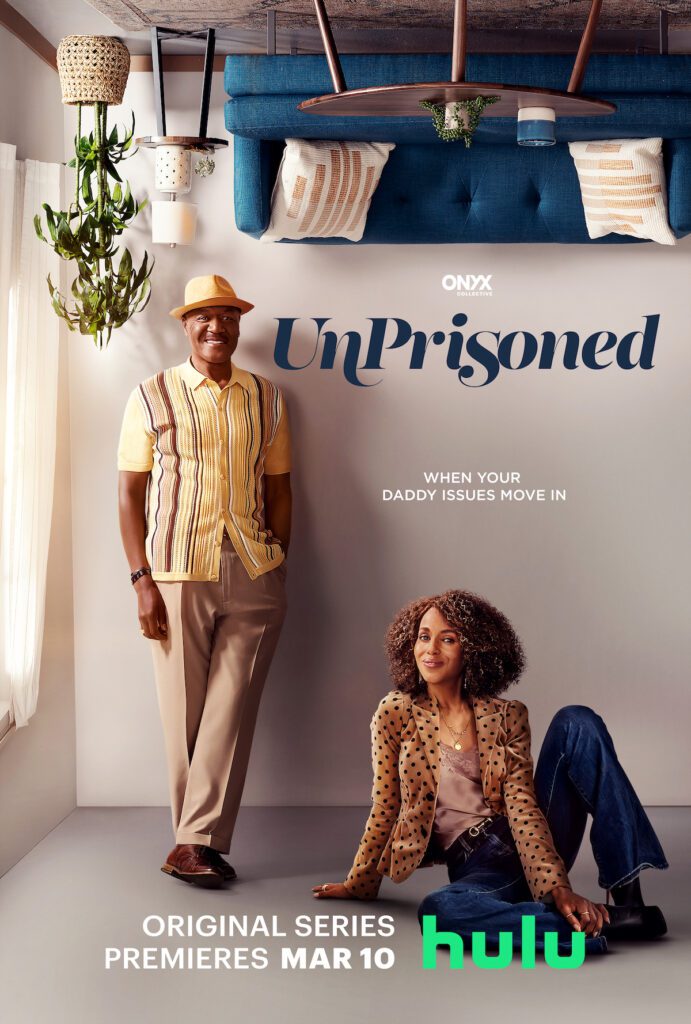 Today is the day that Hulu premieres their brand new series UnPrisoned, starring two of our favorite actors Kerry Washington and Delroy Lindo!
Told with heart and humor, the original scripted series is inspired by creator and executive producer Tracy McMillan's real life story. Kerry Washington and Delroy Lindo both executive produce and star in the show along with Marque Richardson, Faly Rakotohavana, and Jordyn McIntosh.
The 8-episode, half-hour comedy is about a messy but perfectionist relationship therapist and single mom (Washington), whose life is turned right-side-up when her dad (Lindo) gets out of prison and moves in with her and her teenage son, Finn (Rakotohavana).
After we saw the trailer for UnPrisoned we were immediately struck by how well Kerry captured the spirit of McMillan (who we got to know via her unscripted OWN show Family or Fiancé) and asked Washington how she went about embodying a character based on a real person.
"This story was inspired by a real father, daughter, and grandson, and Delroy and I wanted to honor the people, the real humans that inspired this story but also make it our own," Washington told BOSSIP. "We weren't playing them, we wanted to have them be the seed of where this creative process was growing from. I went down the rabbit hole of watching everything Tracy has done, I watched every episode of her show, I read her book twice, and I watched all of her Instagram posts, particularly the Instagram posts I wanted to find that cadence and voice of hers and I think that helped with the rest of it."
Pop culture come to embrace the #girldad so much since the passing of Kobe Bryant and we wanted to ask the UnPrisoned actors about the very unique bond between Paige and her dad Edwin.
"I think Black fatherhood in general is so special," Kerry Washington said.
Delroy Lindo wholly agreed.
"It's critical for a whole range of reasons," Lindo told us. "I am a father myself, I have a 21-year-old son and what I find across the culture is that sometimes dads get a bad rap. Dads and their input sometimes fall between the cracks, partially because the mother is so incredibly important and dominant but I guess if I have a mantra it's 'Don't forget the dads!' because there are a lot of dads out there doing wonderful work with their kids."
Lastly, we asked Washington to say something about Paige's journey to meeting her father halfway, despite them having a family history that most would call highly dysfunctional.
"I think in every relationship, all relationships are about meeting the person where they're at," Washington told us. "You can't be in the present moment unless you can be really present with yourself for where you are and really present with that person for where they are and so I do think in this dynamic it's such a beautiful adventure they're on because they have been in each other's lives. He's been a really present dad as much as he can be from prison and they are navigating what today looks like and today keeps changing and evolving and I loved being on that ride with them."
The story of UnPrisoned is the reality of millions of families who are affected by the criminal justice system in the United States. According to the ACLU Mass incarceration has grown 500% over the last 50 years, with over 2 million people in this country incarcerated today. With this series, McMillan creates flawed but lovable characters from a place of empathy, humor, and soul to honor the families that mass incarceration affects most.
Executive producers also include showrunner Yvette Lee Bowser, Pilar Savone through Simpson Street, Joy Gorman Wettels ("13 Reasons Why"), Jen Braeden ("Love, Victor") and Kevin Bray.
The 8-episode scripted series is produced by ABC Signature and will release all episodes exclusively on Hulu in the U.S. on March 10th