Tune In! Kehlani Talks Young M.A's "Special Package" & More For 'Me Always Radio'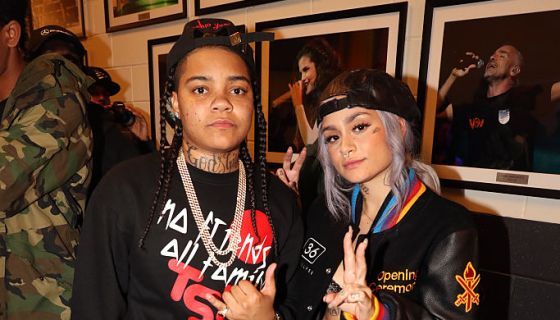 Kehlani hit up Young M.A's Apple music show, Me Always Radio, and talked all things music.
The rising stars discussed the origins of M.A's "Hi Kehlani" line, Kehlani collaborating with Russ on their song "Take You Back," and more. In case you missed it, M.A. rapped "Uh, man I like them tatted b*tches, Hi, Kehlani" on her single "BIG" and it went viral. Tune into Kehlani's reaction below, plus more highlights.
ALSO: Ethereal, Tatted Up Beauty: Kehlani's Most Captivating Social Media Moments
On How "Take You Back" Was Created:
M.A: I know you just dropped a song with Russ. Dope song, too. I just heard it not too long ago. Dope record, man. He's dope too, as well, so that was just a perfect collaboration. How did that even come about? Y'all kind of aquatinted already, right? You've kind of already been cool before right, or?
Kehlani: Yeah. We knew each other for a while, and he was always trying to get a song going and the timing was never right. I was always busy or he would be in town and I would be gone, or I would be wherever he lives and then he would be gone. And it just kept happening like that. And so he actually got on his live and played the song and was like, "Y'all Kehlani would be fire on this." And so my phone blew up, and then I listened and I was like, "Okay, I'm actually in the studio so just send it to me right now." And then we knocked it out and it was really, really cool. And he shot this crazy ass video. The video is crazy.
Kehlani's reaction to M.A's "Hi Kehlani" line:
Young M.A: It's long overdue we have this conversation in general, just from the whole Hi Kehlani line. A lot of people was curious about that line.
Kehlani: I loved it. I loved it. I thought it was really cool. I thought it was funny. I think that public reactions are just hilarious to me in general, so it was funny to see what people thought was going on or what they thought it meant, or just the timing on top of it. I don't know, but I mean I am probably the most heavily tattooed woman in the industry, probably. So it was just, who else could you say? You know what I'm saying?
Young M.A: No it was perfect, it was perfect man. A lot of people say that too. They'll throw that line out there. They'll tag me under your post every now and then and be like hi, Kehlani. It's like a little natural saying.
Kehlani: Yeah, it works. It works.
Young M.A: Yeah, yeah. And a lot of people don't even know you kind of sampled that line. I don't know, we can't say with what, but yeah.
Kehlani: Yeah. I'm still trying to figure out where to put that, what to do with it because the song is super tight.
Young M.A: Yes, it was so fire.
Kehlani: Yeah, it's really cool.
Young M.A: That's why I got to get on it. You playing. Come on, what are you doing Kehlani?
Kehlani: I'll send it to you after we get off the phone, actually, with the verse.
On receiving M.A's "special package" in the mail:
Young M.A: Oh, hold on. Before we even check out, I just want people to know that I sent Kehlani my special package. And she texted me the actually picture of it and cracked up and I forgot. I sent it to her, so it was just so funny that she texted me the actual picture of it. But I knew I had to send it to you. Why would I not send you one, man?
Kehlani: It's so funny because I didn't open it. I was somewhere else. I think I was at the studio, and someone sent me a picture from the house. I thought it was my package, I'm sorry I opened it. I don't know where it's from. I don't know what's going on. I was so, this is the best day ever.
Young M.A: Yeah, that is crazy. Imagine I know. A lot of people, if you don't know what I'm talking about, hey, man, you got to check out the website, shopyoungma.com. It's called play nice. That's all I can give you. Kehlani know the vibes man, that's the homie right there, it's all love.